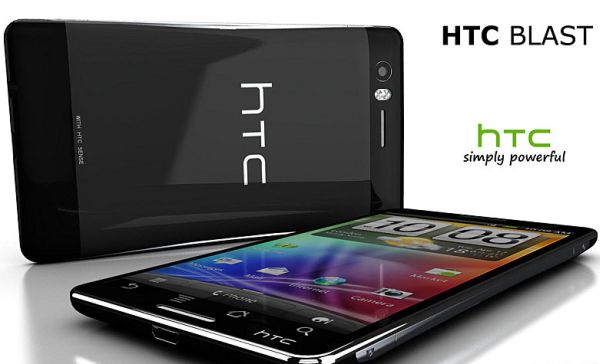 The Taiwanese technology manufacturer HTC has showcased concept for a Google Android Honeycomb featured smartphone dubbed, HTC Blast. The HTC smartphone will not have any buttons in the front panel as it includes the Hand Power technology. The buttonless front of the smartphone will feature a broad 4.7-inch AMOLED display with a 1280 x 720 resolution.

Under the hood, the cutely designed HTC Blast concept will have a Qualcomm Snapdragon MS8660 1.5 GHz dual core processor and Adreno 220 chipset. The smartphone will sport a 1 GB ROM, 1GB RAM, and 32GB in-built storage capacity with an additional MicroSD/SDHC slot.
HTC Blast will mount a 12-MP camera with 1080p full High-Definition video and LED flash in the rear panel. A 3.2-MP front-facing Webcam for video chatting is another peculiarity of the device. Google Talk and other video chatting will work fabulously on the HTC smartphone thanks to the front facing camera.
The forthcoming HTC smartphone will carry regular ports such as HDMI, micro USB, and Audio Jack. Wi-Fi (DLNA), 3G, 4G, and Bluetooth capabilities will turn the device one another rich Google Andorid smartphone in the market. The phone will have a 1,800mAh battery to give improved battery backup.
HTC is a leading player in Android market in the world. The company has recently launched incredible Android smartphones, such as HTC Evo 4G, HTC Evo 3D, and HTC Thunderbolt. Running on Google Android 3 Honeycomb, it is anticipated that HTC Blast will display a greater performance in the tech market. The company has not yet revealed when the smartphone will be up for sale.
Via: NAK Studio