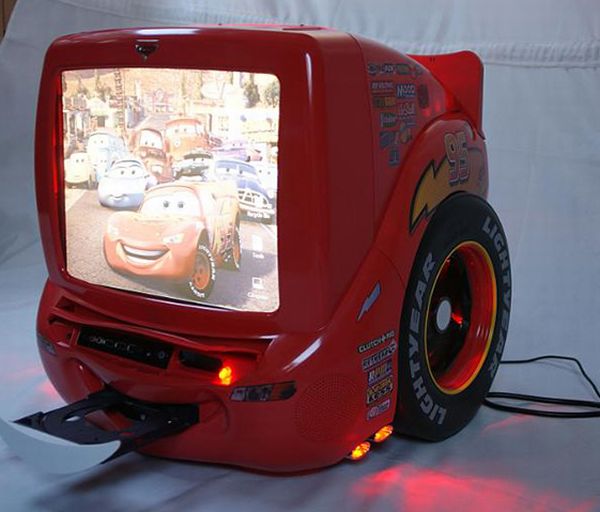 If your kids had enjoyed watching the Disney Pixar movie classic, Cars, here could be another way of reliving the experience everyday and that too with stunning details and light effects too – a PC casemod to animate the character personification of Cars.
The Car casemod or the computer case modifications named Lightning McMod has been designed by Kier as a gift for his highly enthusiast four-year old son who happens to be a diehard fan of the Cars movie. Brought to life with stunning detail, the Lightning McQueen PC got its casing from the themed TV and DVD combo player, refined later with personal touches.
Dutch modder Kier first emptied the contents of the component and then replaced it with a Neovo 15″ LCD screen, Intel Dual Core E6400 CPU, Cooler Master 600w PSU, Gainward GTX285 1024 DDR3 GPU, MSI MATX Micro P4M890M motherboard, and two CORSAIR XMS2 DDR2 2GB RAM sticks, good enough to charge up a kid's enthusiasm in a computer. To get a more themed look, he added custom "Cars" theme stickers to either side of the case and on its CORSAIR XMS2 2GB DDR2. To further dramatize the efforts, the door to the DVD drive was designed to form an ideal mouth to the Lightning McQueen.
The casemod comes with sensationalized lighting set up. Strips of RGB LED illumine the interiors with a variety of blue, red, and green colors. To style the look of motion, a 120mm, red LED cooling fan is fitted to each wheel of the casemod. Having also lit up the exhaust pipes, Kier brings in all the action back into his little boy's world, but free from the honks and screeches.
Source: TechnaBob