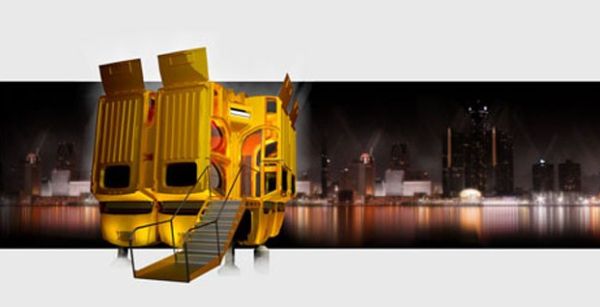 We knew the end for the Hummer was close the moment we laid eyes on this frilly wedding Hummer H2 limo. But for the sake of all things that made the boys of previous generations feel like men, let's hope that not all big boys end up being dolled up before they head out to the junkyard. Luckily for fans of the big SUVs, there are people out there who have found a way to give the Hummer a more dignified farewell. Well, not exactly a farewell in the literal sense because inspired architects over at HPlusF have actually turned the machines into capsule-style modular dwellings.
Using the sheet-metal from the body shell of discarded Hummers, award-winning architectural twosome Craig Hodgetts and HsinMing Fung created the HummerHaus. The theatrical residence may be a little too industrial-looking for some people but it does beat having to cut down a forest to make a home if you're a planet-lover.
Combining innovative technology and residential design, the duo used eight body shells from identical Hummers and attached them to a prefab steel armature to create a solid enclosure that comes fitted with all the necessities of modern life including OEM refrigeration, media essentials, 12V electrical and a heating system.
The structure is crafted to function as a complete home and comes with solar panels, detachable storage, soy based insulation, closet space, bubble windows, a computer desk, a sun roof, a master bed, optional carpeted/tiled flooring and an operable hood and insulated heating tank, a grey water tank, a concrete pier as well as exterior lighting. The project tries to stay true to its eco friendly core by making sure that it provides a sustainable living environment for its inhabitants.
The HummerHaus can also be adapted to meet the needs of various types of users with the Bachelor version being created out of four hummer bodies to suit the requirements of a single man or woman. The River Run version features a large ranch-style layout with full floor-to-ceiling windows that bring in the view.
The version called the Single Family comes with several upgrades options while the version named the Rosette features a large private facility that can be used as an office or studio with a roomy, adaptable space. Two other variants of the HummerHaus are the Co-Op and the Community Center, the former of which has a dorm-style layout with four small private spaces and one large shared living space while the latter is conceptualized more as a gateway to serve as a facility that handles registration and planning at public events.
Via: Dornob/ Treehugger