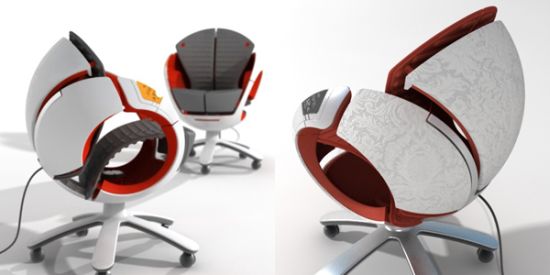 Corporate culture with its hectic and stretched work schedules has imprisoned employees behind the four walls of its vanity structures, resulting in mental as well as physical strain and disorder around the world. Working people hardly gets any time to tone or shape up their bodies. Instead, owing to their sedentary jobs, they layer up on the fat and falls prey to various diseases. However, Hobart I-Cool is a radical seat design that will help you to burn the extra fat in your body even without leaving your seat. The first ever exercise-free seat, creates a personalized micro-environment, according to the preference of the individuals, and tone up their body, using the radical temperature regulation practice.


Design Status:
The Hobart I-Cool seat is a concept design that will tone your body even without sweating out in a gym or having a jog.
Usability:
Regardless of climates and conditions, Hobart I-Cool seat regulates temperature around the users and burns extra calories. It'll prove a boon for people loaded with packed work schedules, and that too within the comfort of their personal space.
Designer firm:

Padwa Design