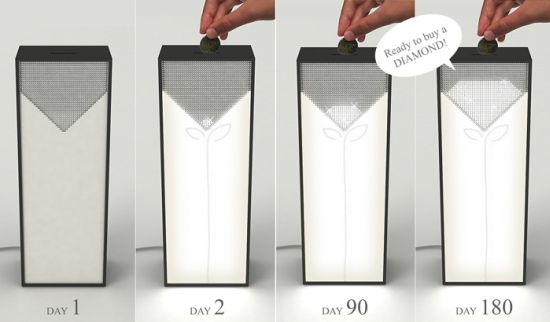 Piggy Bank! We've all walked down that path at some point in our lives. And if you planted your savings in banks and/or stocks, recent events suggest that while home-brewed solutions do not earn interest, they might be after all safer. Anyway, here's a concept that revisits the traditional piggy bank and infuses it with a certain panache and charisma. "Plant A Diamond" is a concept for a modern piggy bank. Using a frosted plastic box, the Plant A Diamond money box uses crystals and LEDs very cleverly. A detector is mounted inside the box on a PCB board. This detector constantly monitors the number of coins that are inside. As the number of coins inside increases, the size of a projected diamond on the outside grows. Once the diamond blooms to its fullest, it is time to empty the box and indulge in a bit of spending. Thereafter, start saving again and "Plant A Diamond".
Design Status:
"Plant A Diamond" is a concept as of now. It holds obvious potential for a fun and practical product.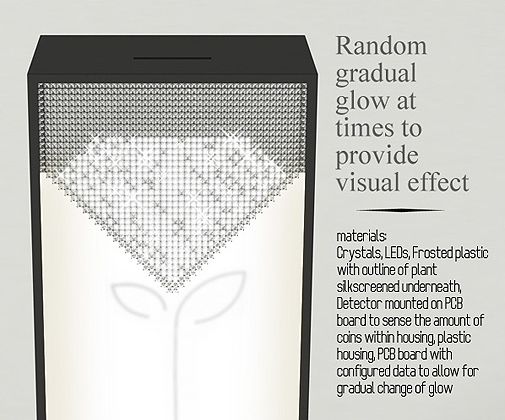 Usability:
While the initial bit about recession seems a bit over the top, "Plant A Diamond" is still a great concept – one, which is reminiscent of childhood simplicity. Children would be the essential target market with something like this. At the same time, adults too would be attracted by its interactive form and the simplicity in its function.
Designer:
Daniel Love from Lion City, Singapore.
Via: Coroflot