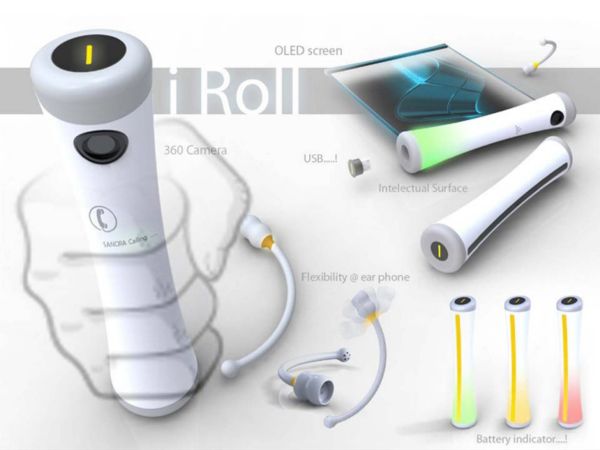 A good few hundred years ago, messages from royal courts were delivered to other kingdoms via scrolls. However, with time, communication technology has evolved by a few leaps but principles behind some of the designs follow the same old patterns. Keeping this thought in mind, an India-based designer, Sudhanwa Chavan, has created a space-saving roll-up cellphone concept. Named as i Roll, this innovative cellphone concept is sure to make waves in the modern world.
Slightly bigger than a pen, the concept takes this cellphone design to a whole new level via a scroll-like design that would allow the gadget to be neatly rolled up. You can even carry this gadget just like a pen in your pocket or handbag as it doesn't take much space. Users will also be able to make and receive phone calls via a flexible headset. In addition, the cellphone features a retractable OLED touch screen that will provide all the requisite functionality, and when not in use, it will remain folded inside a central column. This outer casing will also be made up of an OLED surface that will display vital information like incoming phone calls, mails and messages. The column will also change colors to indicate the battery status and will be fully used as per an individual's needs.
The i Roll will additionally feature a fully functioning 360-degree rotating camera operating on ratchet mechanism and will be tweaked to be compatible with 3G services. The bottom end of the Bluetooth-enabled phone concept will house an expandable memory stick, thus, making the phone usable as a standalone thumb drive with USB connectivity as well.
[Thanks Sudhanwa]