A smoke detector is a device that helps to sense the smoke extremely in the case of indicating a fire. Many people do not use a smoke alarm or detector in the home. But It will be a good safety without risking their lives in the time of the fire or severe smoke hazards. Smoke can be detected either by a photoelectric process called as an optical one or by a physical process known as ionization. Both processes can also be used in a single detector.
One of the best smoke alarms is X-Sense (XS01-WR) Smoke Detector. It is a very compact smoke detector that is designed to be not conspicuous. In case of a fire, it triggers very quickly and makes you reach the signal to save you and the people around you from harm. First Alert and Kidde are famous names in many places, and so X-sense has experienced a tough competition.
Certification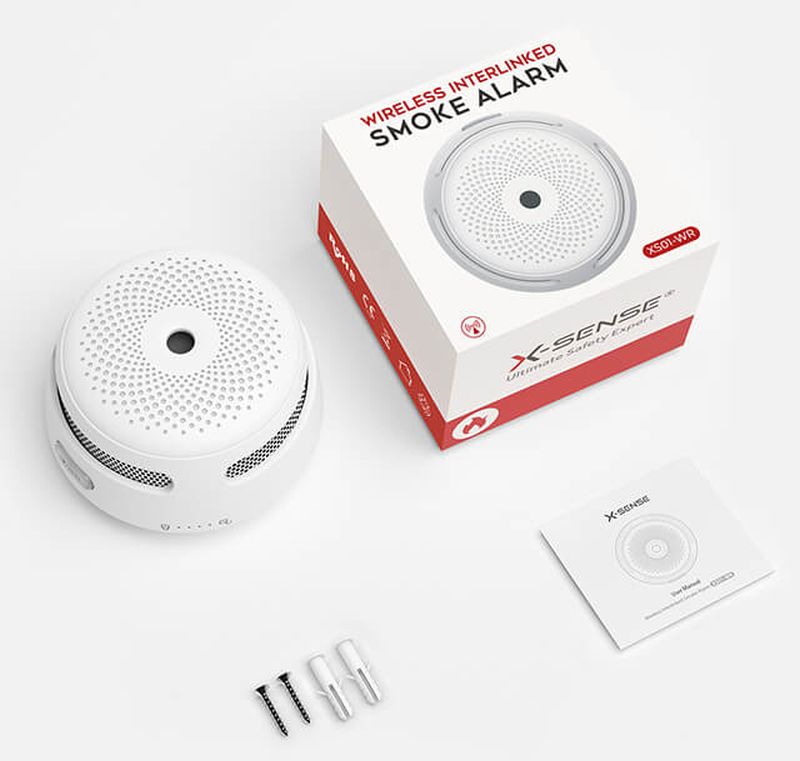 X-Sense XS01-WR is certified by TÜV and proved that it maintains perfect safety measures. TÜV is as standard and expensive as UL certification.As it does not contain a few smart capabilities, you can include multiple units as an interconnection, so that if one unit detects the smoke, all units will respond and sound at a time. It is identified as it does not contain a CO sensor, which we have to buy separately.
Design 
The white circular plastic case is a common design for smoke detectors. So that it will act as a non-attractable piece when mounted to the ceiling. But X-Sense has been unique, which is against the traditional look and created a design for X-Sense XS01-WR that is very small and compact. It is a round plastic case that protrudes a little when attached to the wall or ceiling when compared to the other smoke detectors on the market.
There is an opening in the circular shape of X-Sense XS01-WR at the top of the alarm, which is the speaker, and the alarm includes three cutouts that expose the metallic mesh with multiple holes in the internal part, which helps to allow the smoke into the sensor and thereby triggers the detector. You can also observe a mute button on the side of the alarm that helps to switch off the sound instantly if you truly identify as it is a false alarm; otherwise, it starts triggering again.
Battery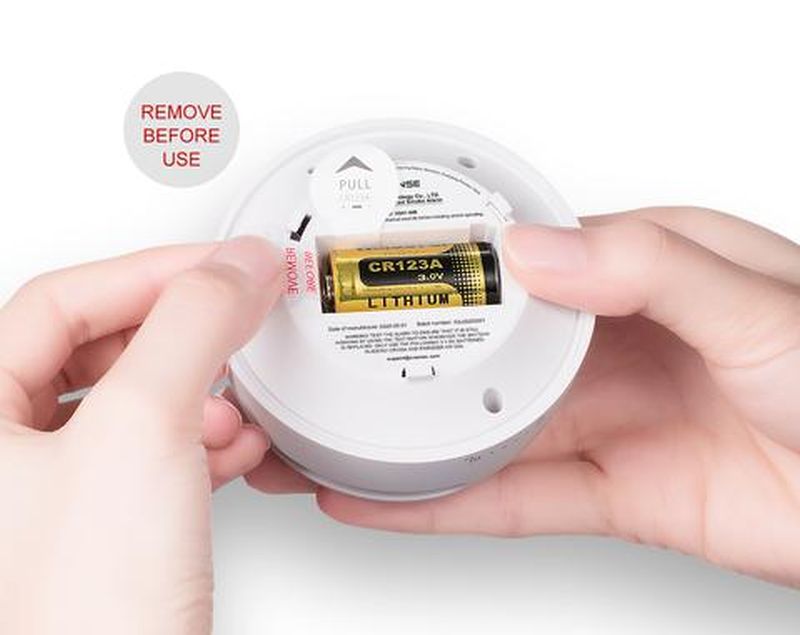 To gain access to insert batteries, you can find it at the bottom of the alarm by taking off the transparent plastic tab. CR123A 3 volts battery is used in X-Sense XS01-WR, which lasts for 10 years. The activation process is to check that the LED test button should flash at once. You need to check whether it is activated or not for every time you insert or change the battery.
Measurements 
The smoke alarm is designed with a diameter of 3.0 inches and a width of 1.9 inches.
Installation process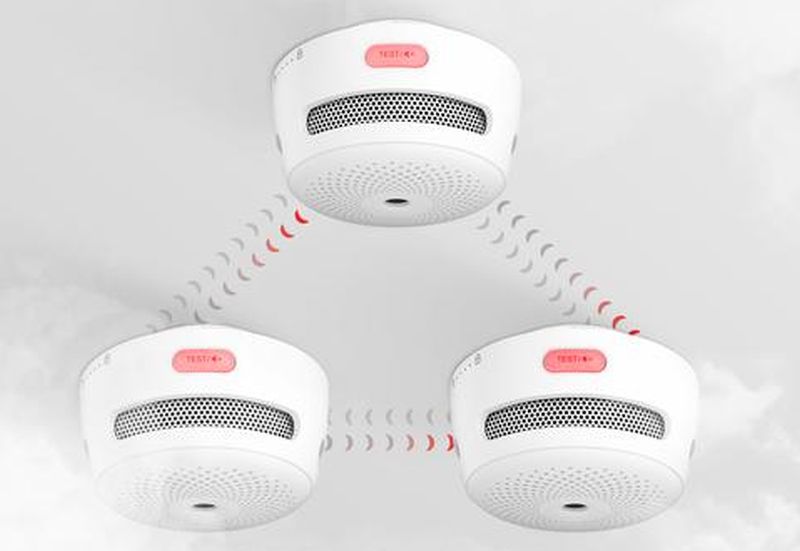 The main thing is to select the right place for the alarm to avoid false alarms that may create an unhealthy disturbance during the night time. The remaining process to install X-Sense XS01-WR is ridiculously easy. You just need to drill two holes in the ceiling or wall after selecting the right spot. Now insert the bracket by using the provided screws and rotate the smoke detector in the direction of clockwise into the bracket. It is considered that the middle of the ceiling as the best place to mount rather than under the stove. Nearly 20 inches away from all corners is a compulsory requirement.
Working 
The chamber which is present inside the device contains a light beam. This light beam concentrates and points away from the sensor. Whenever the particles of smoke enter the chamber, the light will be reflected on the sensor, and immediately, the device starts triggering the horn. 
Some more features of X-Sense XS01-WR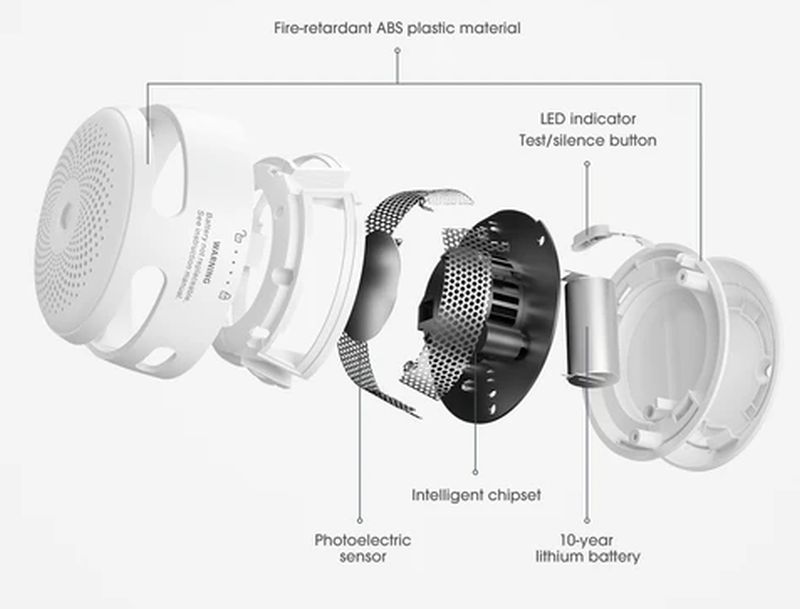 ·         For easy listening of the sound, you should prioritize each bedroom and even in halls for better safety—specially designed alarms with strobes of light to avoid hearing problems.
·         It mainly relies on the optical method, which is the photoelectric process. It is true that the ionization process is commonly used in smoke alarms, but in the present days, it is becoming more hazardous to the environment.
·         X-Sense XS01-WR lets you interlink nearly 24 units to make them work as one device when the smoke is detected.
·         As the X-Sense XS01-WR smoke alarm is using the optical process, it is more accurate to avoid false triggers when compared to the ionization process, which depends on a small quantity of radioactive material to detect smoke.
·         Though it does not have a CO detector, you can have a check on SC06 as it is included with an electrochemical sensor for the accurate measure of the CO levels in the room when it is installed.
·         X-Sense XS01-WR smoke detector is equipped with a wireless radio interface.
·         You can prefer synthetic smoke to test whether the device is functioning or not.
·         It takes 1 to 30 seconds to trigger X-Sense XS01-WR, depending upon the distance and quantity of smoke.
·         Indeed, it creates a complete fire safety system with complete protection either in homes or other places like offices, restaurants, etc.
·         Devices with 10 years of sealed battery are also available.
·         X-Sense XS01-WR has the longest sensing range.
·         X-Sense XS01-WR obeys the European standard EN 14604.
·         X-Sense XS01-WR may cost around $37 to $50 depending on the features like along with a CO detector, heat detector, etc.
If you are using the X- sense smoke alarm of any type like X-Sense XS01-WR, your home is a safe place from fire. It is a smart, sensitive, and intelligent device that can protect very well. Though it does not have a location setting, it can work accurately. Its design, affordability, ease of use, good features, and configuration makes unique and special from other smoke devices.
Conclusion
To ensure the safety of us and our loved ones, we do a lot of things, including paying for security guards, setting up cameras, using the best locks for the home gates, etc. Installing smoke alarms in houses and offices has become the norm at this age. Along with that, it has also become easier to do so. However, you won't be needing a smoke alarm every day. Hence, you need a smoke alarm that has a long term life and is reliable for such situations. X-Sense is a great brand for safety products. And as of now, X-Sense XS01-WR is one of the most popular and reliable smoke alarms in the market right now.
Article Submitted By Community Writer