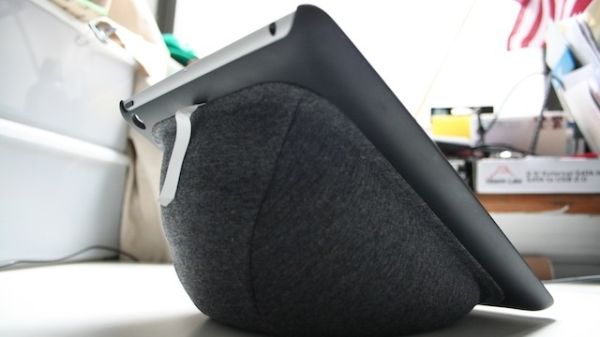 With iPads selling like hot cakes, the world stands divided between two kinds of people, those who already have an iPad and people who are planning to buy an iPad in the near future. It is, but obvious, then that iPad accessories had to flood the market and ride on the huge profit wave generated by this novel Apple product. While there are many such accessories being churned out daily, the one that surely stands out from the rest, for its sheer novelty, is undoubtedly the Incase iPad Lounge Case.
While at first glance it looks like a kind of a tumor growing out of your iPad, it is in fact a cushion, a kind of a pillow that allows you and your iPad to lounge about and work on the bed, on the train, in the plane, on the desk and just about anywhere you wish.
Put simply, the Lounge Case is a kind of a beanbag designed to fit your iPad like a glove, and keep it safe and functioning. Full of soft beads like stuff, its covering is made of that comfortable sweatshirt like material that you love to wear and sleep in. Plus, as the pictures show, the Case also doubles up as an iPad stand, and in fact gives you a better angle then even the Apple's very own Smart Cover.
While the Case clearly offers a lot, if could do better, as it lacks a kind of a screen guard, which would have been the cherry on the cake for users. Plus, with all the rough use you will be putting this case through you would have expected it to be washable, but it isn't. And lastly, it is not easy to put on or take off the case from your iPad, and requires a bit to strain and stamina on your part.
That having said, if you have butter fingers and worry about the safety and health of your iPad then the Lounge Case is made for you, as once inside the Case, your iPad's expensive but delicately thin frame will not worry you one bit, allowing you to use it freely and confidently anywhere.
Via: GIZMODO