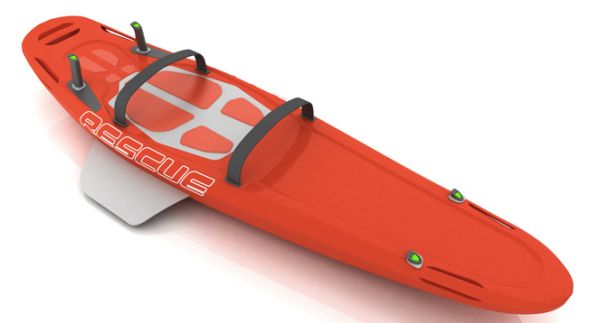 You might have seen lifeguards rescuing people and this project was undertaken to help them further. The aquatic scene was taken into consideration at the initiation of this project. The marine rescue producers observed the difficulties and needs of the rescuers and the problems faced while rescuing people. A lot of data was analyzed, which included access to the beaches, the kinds and limitations of the existing emergency vehicles and environment characteristics. The Search of new means resulted into the planning and design of this concept. The idea of Titus came as a means to bring relief to the marine coastal environment.
The concept appears like a boat and the weight and size of the concept ascertain excellent portability as well as better manageability. The line and even the geometry of Titus is designed in such a way that it can ensure quick as well as efficient relief in all kinds of marine conditions. The factor of safety is also maintained both for the rescuer as well as the victim. The complete propulsion and the instrumentation of Titus is environment friendly. The design of Titus ensures simplicity in driving as well.
The concept of Titus came up in response to the requirement of new and better techniques of rescue at the sea. Over the years, rescuing has become increasingly articulate and complex, which calls for better safety, speed and efficiency. Therefore, this led to the birth of this amazing concept of Titus.
Starting from the looks to the technology and features, Titus has everything that will help in rescuing people in danger at the sea. It is a great attempt to put forward greater speed along with proper safety measures and even efficiency for rescuing people. Rescuing people with Titus will become very easy and effective and it is easy to carry, which ensures a fast start to the rescue operation. Moreover, iIt takes due account of the environment around us.
Via: 4P1B