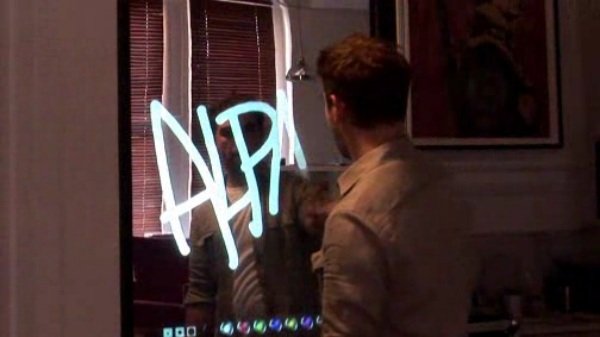 Mirrors with LCD panels have already made an entry into our lives, but what they lack is the power of human touch. Igniting the fun element is this mirror which will put all other products to shame. If you are fan of touch screens, Interactive Mirror will win over you in no time. Designed by Lit Studios, the Interactive Mirror acts as an over-sized touch screen that gives you the power to read, draw, watch movies/videos, paint, browse assignments and pictures, and that too without straining your eyes.
Put up the notes on the mirror and revise while brushing your teeth. Missing your friends, simply start a slide show and see it coming to life with all the people you wanted to see. Feel like doing nothing, go ahead and doddle on it. With so many choices, it will captivate your interest instantly. This will surely make bathrooms all the more special and worth flaunting. All you need to do after putting up this mirror on the wall is make a seating arrangement because looking at it just for a few minutes every day will not be enough.
So, you thought mirrors were just meant for personal grooming or complimenting oneself. Think again!
Via: Ubergizmo