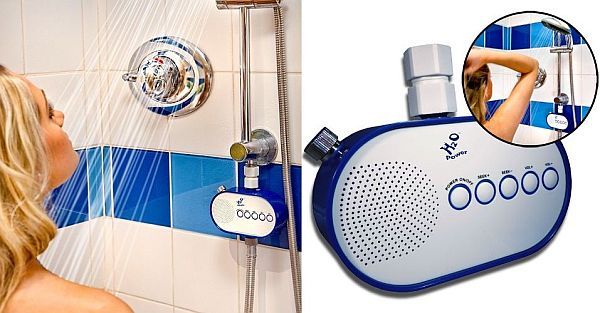 Are you the one that is a fan of the echo-like sound that comes from you vocal cords when you effortlessly hum in those small tiled box or glass box in your bathroom? Or are you the one that is in love with the aforementioned idea but is anxious of those hassles of music systems under the shower? Be it problems circumfusing battery replacement or power cords?

Then the H2O Shower Power Radio is an ultimate solution to it. It's not only waterproof but runs on the water pressure, saving the grace from those tiresome batteries having to be changed every now and then. Much to the surprise, it doesn't die off when the water is turned off, as it salvages the excess energy for the re-run. The shower radio is easy to install, as one need to just align the radio in sync with the shower hose, making the water to pour down the H2O micro turbine. This is then further driven through a generator that in turn churns energy and kicks off the power mode in the radio. Besides music you can also tune in through various FM channels and bring your ear to news and information as well.
And the show stealer – It doesn't burn a hole in your pocket, as it is available at just $56.
Via: Crunch Gear