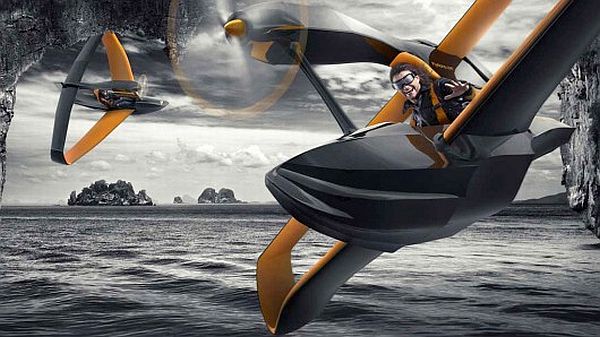 Harking back to those nigh weightless aircrafts from the time of the Wright brothers, and combining it with some futuristic aerodynamics, we get a very unique idea; an idea that could well epitomize the all new and exceptional FlyNano. Conceived by Finnish aeronautical engineer Aki Suokas, the FlyNano is made entirely of carbon fiber composite, and additionally it can land and take off on water. But the important feature is its weight, at just a total of subtle 70 kilograms.
The above picture may well be Sucker Punch-esque, but there is no fantasy regarding this fascinating conception's specs. The FlyNano's wingspan is about five meters; it has a maximum take off weight of 200 kg, whereas its speed range is 70 km/h to 140 km/h, with a service ceiling of 3km. FlyNano's true airspeed is about 140 km/h at 75 percent power with a theoretical operational distance of 70 kilometers. The low weight of 70 kg (as already mentioned) is partially achieved by usage of light carbon fiber.
There are three variants available – a 20kW all electric version, and petrol-fueled 24 bhp and 35 bhp models, with the latter being planned as a racing version. The electric version has a range of around 40 km, but the additional advantage would its relatively noiseless features (because of the low-speed four-blade propeller). And finally coming to the important part for potential customers, i.e. the pricing – the most expensive of the three variants only comes at a cost of just €27,000 (US$39,000). The first deliveries are already expected to start by early August.
Via: GizMag