Bet it everything, today we are lucky enough to have creative versions of them. Same goes for table designs that are available in such unique shapes and patterns. They add tremendous joy and excitement to the interior decoration. No matter whether it is looks or utility the modern day table lack nowhere. The Folding Tables by Lifetime Products is one such fine table. Let us see why it is so special.
Folding Tables by Lifetime Products
While many of you have heard about folding chairs which can be stacked one over the other, the same concept when it comes to tables is rarely used. It takes no brainstorm to recount that folding tables which can be stacked one over the other helps to make it more convenient, like it does in the case of chairs. However, very few companies have so far truly made any move toward manufacturing something similar. That is indeed when Lifetime Products Inc came up with their range of tables, which has undergone another facelift.
Innovation related to furniture is indeed at its best with Lifetime Products, Inc. The much loved furniture company has recently launched another breakthrough item, adding another accolade to its existing reputation of ease and quality. Moreover, almost all items manufactured by the company come with a guarantee and are designed to serve many purposes for its consumers.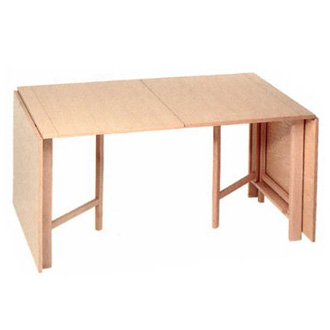 The newly invented and recently launched range of utility folding tables will surely be of much help to the company's existing fans, especially since the holiday season is around. While stacking chairs together after an event or a small party is common, stacking tables together in a neat and practical manner is bound to have many takers. Using their blow-molded technology of creating such tables is surely guaranteed to make the utility really precious.
Let's go over the finer points of the product.
On What makes it Attractive
The mere idea of several tables stacked together at one go, sounds precarious. However, with the new design, there is in no way that the stacked tables will tip sideways or slide, owing to the new nesting design. Moreover, stacking so many tables together means that packaging, storage and most importantly, transportation is going to be way easier than usual.
Also for people who are fussy and focus on attractive detailing, the new product lends a good chance for the same, along with the practicality. The look is modern and sleek and is boasted to hold an obscene amount of weight on it, if distributed evenly. Another important thing about this new product is that, the whole thing is really not that heavy. The special materials which have been used to make the thing have made it light weight and yet with renewed strength.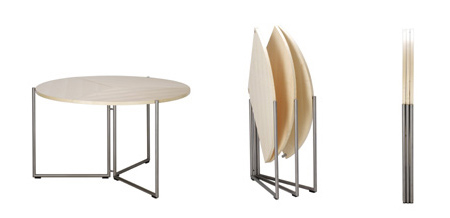 Other Facts about the Product
The list of agreeable features related to the product also includes carry handles which have been molded to make it easier for the purposes of shifting. This added feature makes it real easy for everybody to use. While the whole texture of the thing is very attractive, the durability of the product has not been compromised with. Like any other folding table with the company, this product is pretty durable and is protected from harmful sun's rays, making it ideal to be placed outdoors.
The tables have also been made resistant to stains and is not said to crumble or chip off or peel even if the worse takes place, for a very long time. The whole system is weather proof and will not easily suffer endings such as corrosion and rust. Moreover, the product is priced very nominally and can be actually used for every kind of utility required in. Above all, the company guarantees a sure shot 10 year guarantee over the stability or else you will surely be properly recompensed.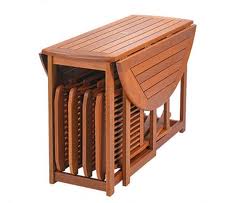 Some More Unique table designs
The world today does not reveres ordinary things but the unique and extraordinary stuff fascinates us. Following are such unusual table designs that will certainly leave you wondering as to where from the designers got such ideas from. Have a look:
1. Sparkle Palace Cocktail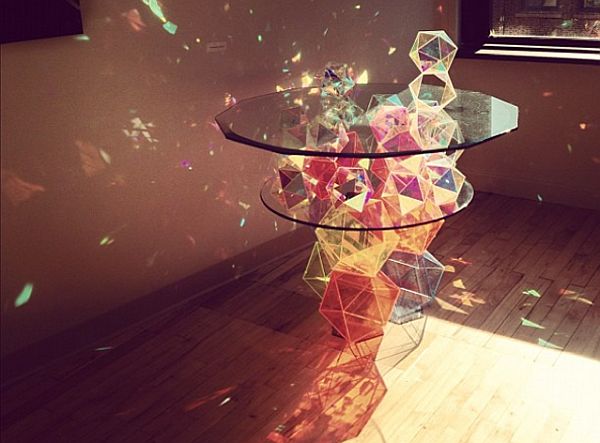 John Foster is a designer based in Minneapolis. He is behind this beautiful creation, the unique cocktail table. It is so wondrous that your guests would be starstruck by the table rather than the drinks. The crystal glass cut divides the light into beautiful rainbow reflections that you can see on the wall.
2. Extruded Tree Coffee Table Design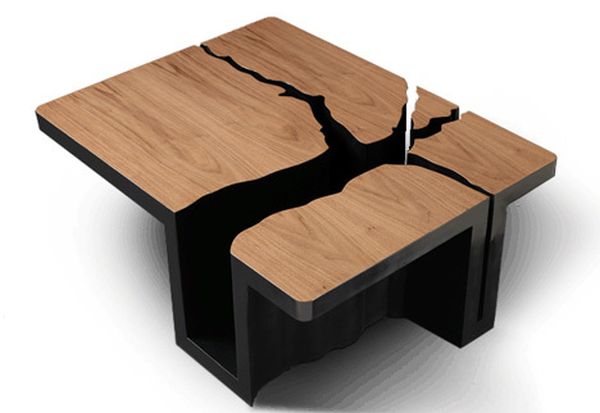 This table is a unique design from Link Studios that presents a beautiful design on one side of the table, that of a tree silhouette. There's a broad opening at one end to store things like newspapers, and magazines.
3. Tilted Wood & Glass Coffee Table Design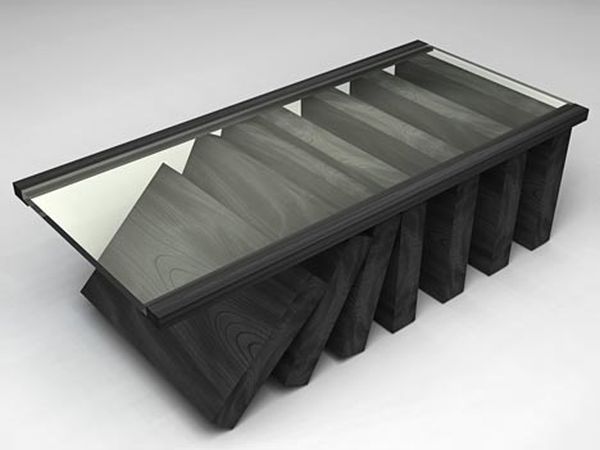 This tilted wood and glass coffee table represents tilting of tiles in a slow motion sequence. However, the design looks simple to create but in reality, it is a pretty complex design. It requires a great deal of precision to give perfect angle and position. It isn't easy handle the tilting blocks.
The design is available with a wooden top. However, we donot prefer you to buy that. It would spoil all the show, as you will not be able to see the design from all sides. Therefore, a glass top with wooden sides is just perfect for this table. It is absolutely worthy of being a style statement in a drawing room.
4. Table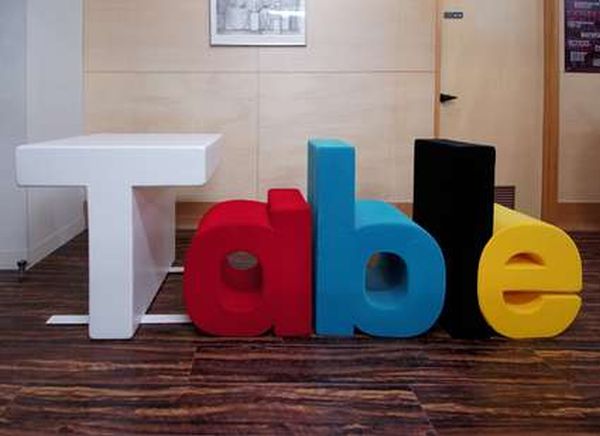 The Table is a form of literary furniture. Its creator isby Toshinori Kamiya. A table has a very high quotient of fun and functionality. Japanese designer has created this unique design wherein the alphabet "T" is the table with wide table top, and the other alphabets (A,B,L,E) form three comfortable seats because L and E together form a single seat.
5. Love Me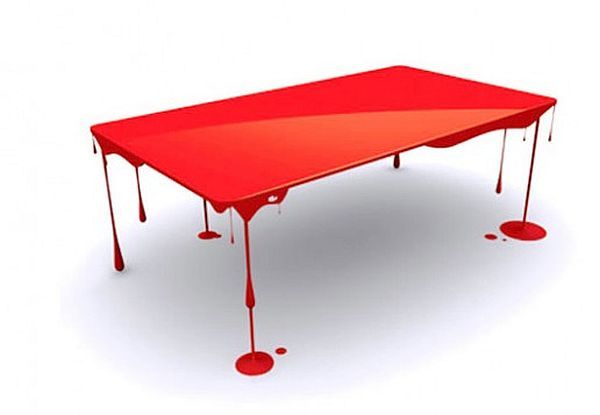 A highly creative design that gives an illusion that the table is melting. The red color table looks as if the paint is dripping and it is melting.
6. Wooden LED table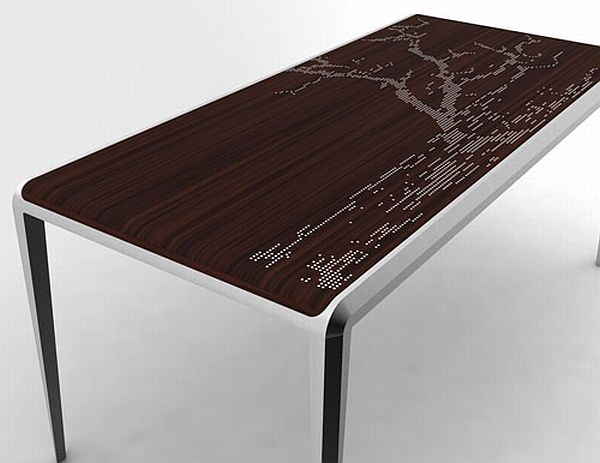 What you see above is a LED table that, in a way, tends to blend the traditional craftsmanship with a thoughtful use of organic material. Replacing non-recyclable plastic with wood, the unitary tables weave themselves into something that is really utilitarian.
Beautiful pieces of design like this can compliment any home. This contemporary style table is meant for creative or fashionable people who might like to decorate their home with interesting pieces of art and furniture.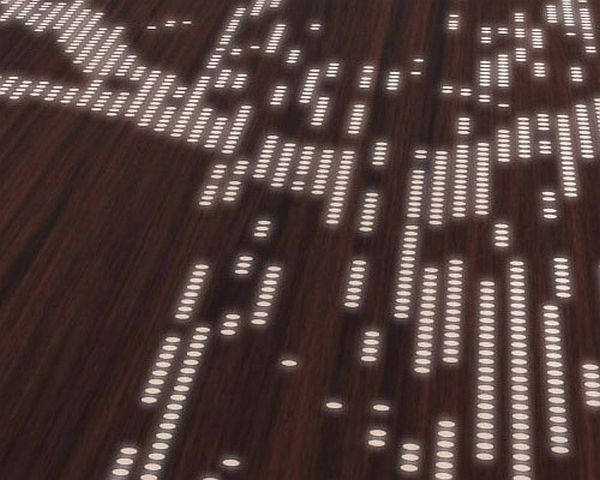 The tables seem magical. They are have LEDs which can take almost any shape. For example, you can have a tree glowing in your table ! How cool is that. So, basically, it is tree shaped LED that glows 'in' the table. Just to add more color to it, the light emitting diodes (LED) have motion control feature.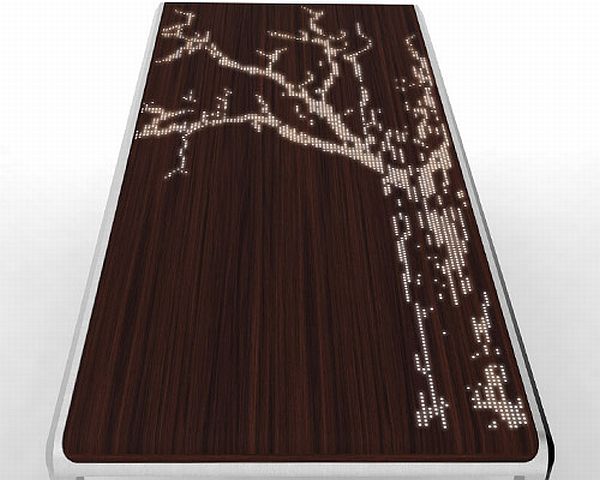 The company is taking orders for any design that the client wants integrated with their tables. Although such tables make for great sights in exhibitions, or probably under Iron Man's hands, you too can have the luxury of owning one of these tables which are sure to catch attention from everyone.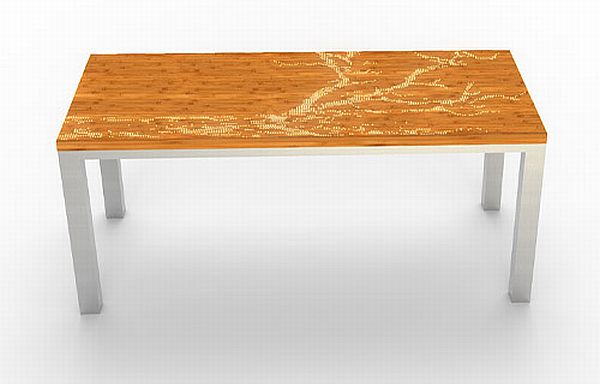 Apart from being an eye catcher, sort of attention seeking table (how many of such do we have). We are still trying to think wide as to what purpose would they really serve.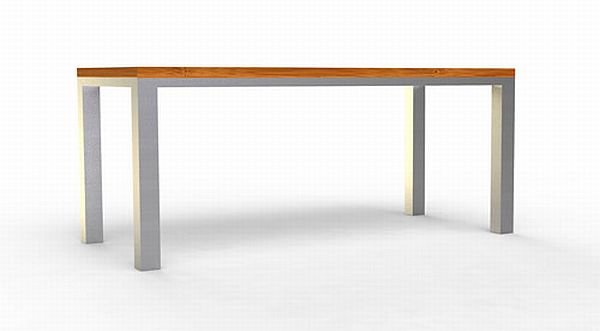 Via: Arbonata