Luxury and sustainability are like two opposite poles which never meet. However, in certain rare cases, they actually do. The Pontoon Solar-Powered Boat is one such rare case. Let us see why this boat is so special and if stands anywhere near the popular luxury yachts out there.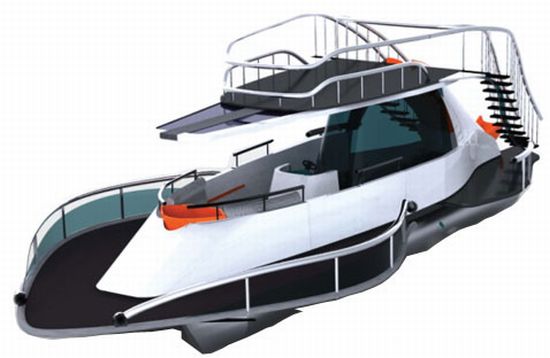 You may have cruised in some of the best party boats around, burning a big hole in your pocket with equally finest price tags, but the "Pontoon" by LA-based designer Christopher Williams is a party boat with difference that provides a luxury retreat for your weekend parties without robbing your bank accounts. Apart from its opulent aspect, the party boat is build under sustainable lines to double the essence of your festivity floating on the waves.
Featuring Triumphs' advanced Roplene construction system, a dual wall system made by roto molding marine-grade polyethylene, the Pontoon also includes super resistant flooring and transparent plastic ensures safety of the sailors, while Actramat acrylic ensures optimum flexibility, fade resistance and good looks.
Integrating solar panels on the roof that moves up and down to follow the direction of the sun throughout the day, the sustainable boat also incorporates foldable fabric that spreads over the deck to protect the sailors from direct heat of the sun, other than allowing privacy.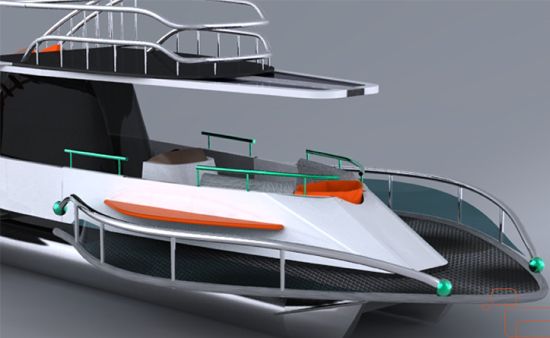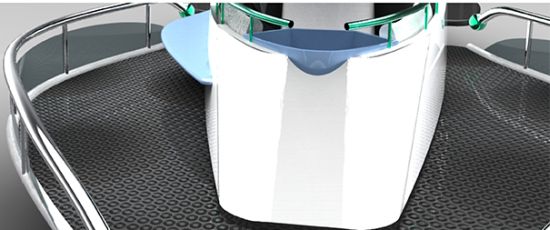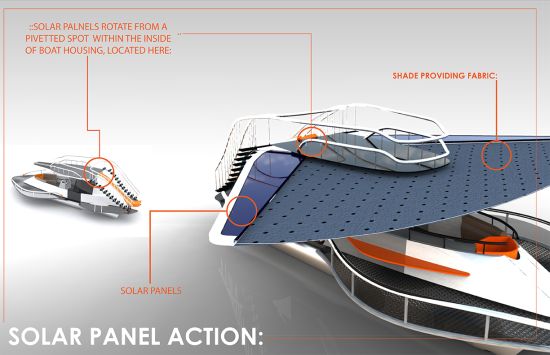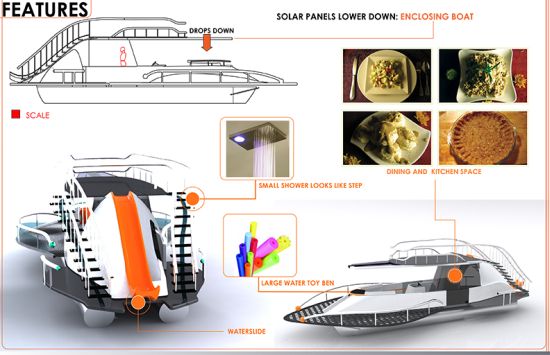 Some Other Futuristic Yacht Concepts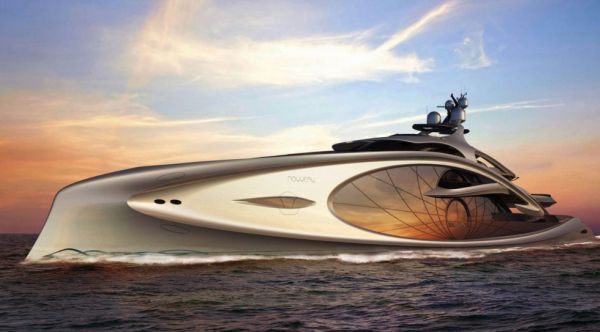 Everything in this world is undergoing change because of the innovative ideas, and yachts are no exception to this. Following are some out of the world yacht concepts, which are a brainchild of some creative designers.
1. Concept yacht 'Nouveau'
This concept is all set to change the entire definition of a yacht, as it is so high on the aesthetic value that hardly any yacht of the past fits this criterion. The yacht has two VIP cabins with a superior design, and there is a space on the deck from where one can have a panoramic 360-degree view of the surroundings.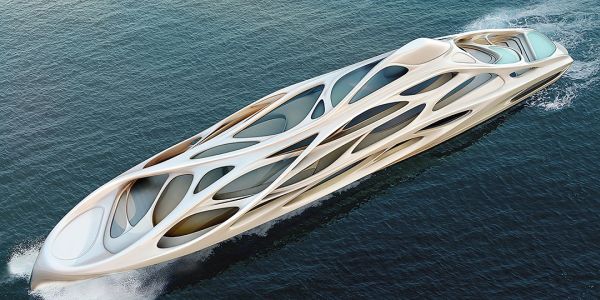 2. Yacht design by Zaha Hadid
This is a design proposed by designer Zaha Hadid. The design takes inspiration from underwater ecosystem. The hull shape resembles that of a sea animal. The upper part of the yacht looks like an exoskeleton of an animal that is found in natural marine bodies.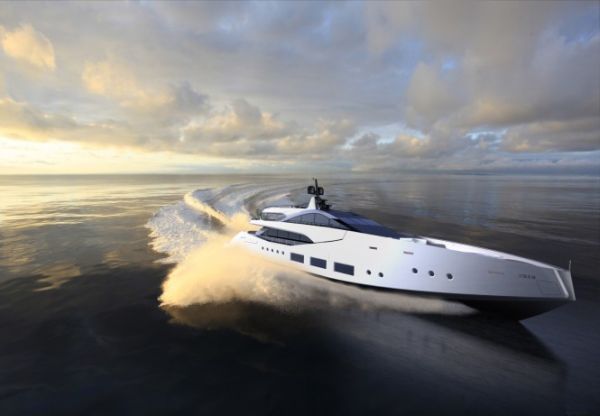 3. ACAPULCO 55 concept by Christian Grande
ACAPULCO 55 is a 55-metre long yacht that has muscular designs and is quite powerful. The designer has given the hull a black color to show the sportive nature of the yacht. The freeboard is clean and aerodynamic, as the bow anchors hide behind the special flush housings. We get to see a harmonious joining of the upper and the lower deck.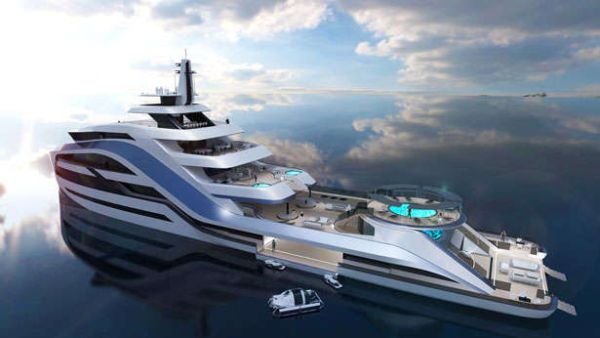 4. Selazzio 95
Selazzio 95 is the latest design from the house of Dutch yacht builder ICON. The yacht builder has worked with Austrian design house to design this amazing explorer yacht. This explorer yacht has ample outdoor deck space. The design is based on the 95-meter hull platform, a 22-meter beam that supports spacious living rooms. The interior design is based on the theme of columns and spherical shapes.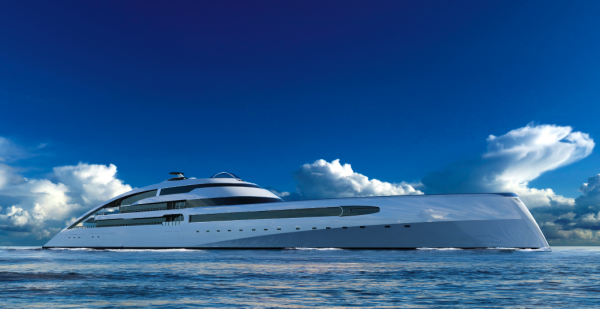 5. Breeze 137M
Breeze 137M is a fresh concept from Sinot Exclusive Yacht Design, which has a new approach and amazing nautical spirit. Careful use of materials and architectural detailing has given this concept a breathtaking design. It is spacious, luxurious, sustainable and comfortable. Breeze 137M is perfect for a relaxing day out with family and friends.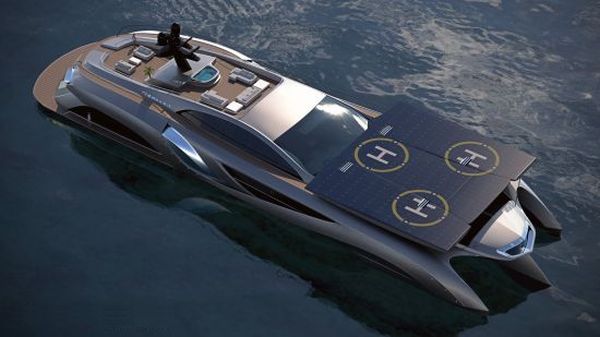 6. The Xhibitionist
The Xhibitionist is not just a yacht but a floating office as well. It is Swedish designer Eduard Gray's latest creation. The designer kept latest trends and requirements in mind while creating this design. According to the designer, the Exhibitionist is fit to serve as a concert venue, a floating office, and an automotive showroom.
The penchant for innovation and remarkable creative ability has made certain designers to come up with futuristic yacht concepts. Depending upon practical factors, we might or we might not see these future yacht concepts. However, even what we have is no less when compared to these yachts. Let's take a look at the fastest yachts that we have right now.
Six extraordinarily fastest yachts in the world
Yachts are the recreational boats or ships usually used for lounging and luxury purposes. However, the yacht manufacturers have moved a step ahead to provide the yacht lovers with new designs of yachts to experience speed as well. The yacht manufactures have also given an opportunity to use those yachts as a mean of transportation. The modern yacht engines can reach up to a speed of 55 knots, which can help people to avail a voyage to their destinations.
Let us discuss few of the fastest yachts recently manufactured.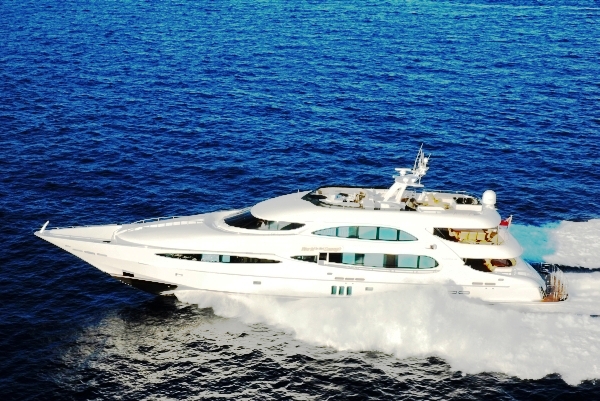 1. World is not Enough
The World is not Enough yacht was designed by Dutch naval architect Frank Mulder and manufactured by an American company, Millennium Super Yachts. This manufacturer is responsible for designing and producing most beautiful and fastest yachts in the world. The yacht runs on two Paxman diesel engines and two Lycoming gas turbines and produces a power of about 20600hp.The yacht can reach to a speed up to 70 knots. This yacht has an impressive luxurious interior completely designed by Evan K. Marshall. This yacht can accommodate up to 10 guests.
2. Fortuna
This yacht was built for King Juan Carlos of Spain who has a flair for travelling in speed moving vehicles. It gained the honor to be the fastest yacht in 2000 with a speed of 68 knots by beating the previous fastest 66.7 knots set by John Staluppi's Moonraker in 1992. This yacht is propelled by three Rolls Royce gas turbines and two MAN diesel engines. It was built by Izar. The length of this yacht is 41.5m.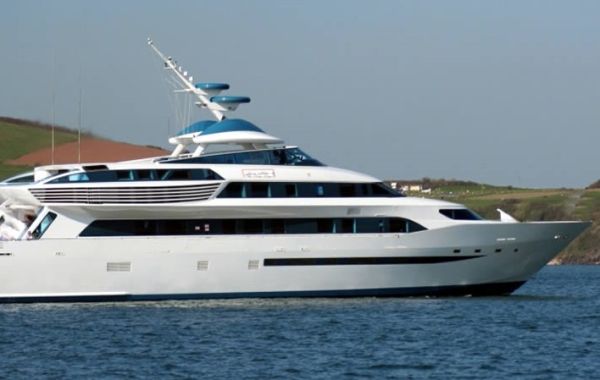 3. Alamshar
This yacht can include very large gas turbines. The propulsion system of this yacht has been a unique and innovative one. Devonport had designed this model. This yacht uses 6 gas turbines and 3 water jets to be propelled. The length of this yacht is 50 meters. It can reach a maximum speed up to 65 knots.
4. Gentry Eagle
Tom Gentry, the designer of this yacht has also many records as far as the speeds of power boats are concerned. The propulsion used in this yacht is a single surface drive. The length of this yacht is 34.1 meter and it can propel at a maximum speed of 64 knot. The engine of this yacht produces a horsepower up to 11,560.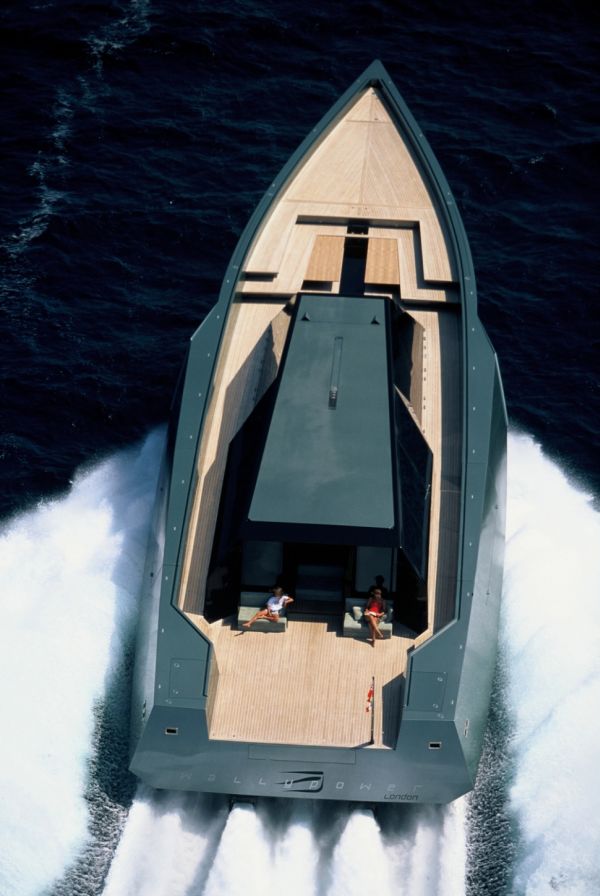 5. 118 WallyPower
This yacht runs at a speed of 60 knots. It has a sleek design and it is driven by three Vericor TF50 gas turbines, each driving a Rolls-Royce Kamewa water jet. The exhaust system of this yacht is made of titanium to save weight and provide resistant to the high temperatures generated by the gas turbines.
6. Brave Challenger
Brave challenger was initially known as Mercury and it was built by built by Vosper for the Greek shipping tycoon Stavros Niarchos. It was designed by Peter du Cane. The engine of this yacht has three gas turbines combined with surface drives that generate a horse power of 13,620hp and it can reach up to a speed of 60 maximum knots.