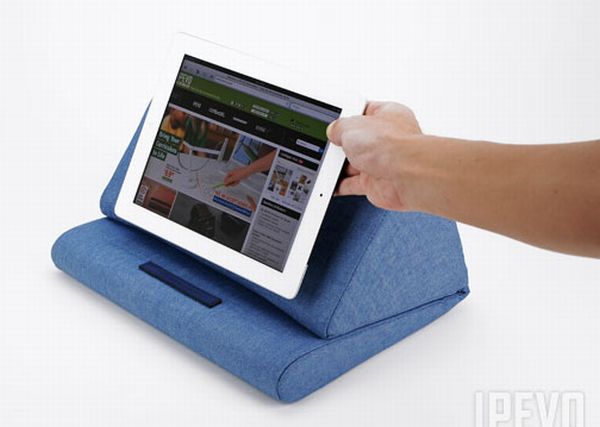 In these technological times, not only we humans but our gadgets need a resting space too. So here is a pillow for your iPad, the IPEVO Cushi. Yes, you read it absolutely right. It's a cushion for iPad. It completely conforms to the human body and lets you enjoy a complete hands-free experience. Also, it can be folded out to support a keyboard along with support for your wrist. Well, this surely is something which every gadget-addict will like.

Made of soft foam and pure soft cotton denim cover, this Cushi can be used anywhere and everywhere. You do not need a hard surface to rest this cushion, it can be rested on your lap, hands of a lounge, bed, floor, anywhere. What's more you can change the angle of viewing by just adjusting your legs accordingly.
This versatile pillow can be used to read e-book readers, tablet computers or even your day to day books and magazines. Well, this definitely seems to me a very comfortable little thing. Am sure, your iPad will reward you by performing better if you gift it this wonder. The cover is removable and washable, and the product just weighs 8.57oz. I am loving this little thing, what about you?
Via : IPEVO