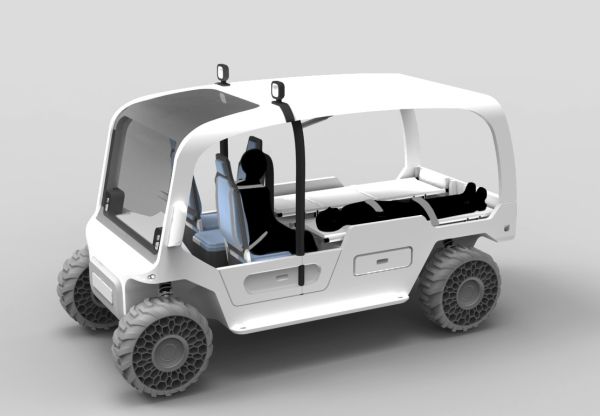 The world has recently been hit with many natural disasters and the sad part is that we can never be totally prepared for the ones that are
headed for us in the future. Though the governments around the world and their various agencies routinely perform drills that could better prepare them for such disasters, the truth is that every hurricane, earthquake and tsunami brings in a new wave of the Nature's fury. Since it is humanly impossible to prevent natural disasters, all we can do is better prepare for the aftermath. This specialty vehicle concept created by Stephanie Knödler tries to do the same by integrating a first aid station into a disaster rescue vehicle.
Christened "Elliot," the lightweight rescue vehicle has been designed keeping in mind the traumatized terrain emergency workers and vehicles have to operate upon after a natural disaster hits. With a specially-created rescue station on board, the Elliot has been envisioned with custom-created tires that would be able to drive over any kind of terrain and through wreckage to get to the people that need medical help immediately. The vehicle will then be able to dock and unload the rescue station at appropriate places and provide first aid and emergency medical care to the injured.
When the rescue station is unloaded from the back of the vehicles, the freed space also doubles up as an ambulance. An innovative feature in the design allows the driver's seat to be placed in the middle, allowing two paramedics or rescue workers to flank either side of the driver, thus saving precious seconds from the time it takes the rescue personnel to unload themselves from the vehicle.
The ergonomic design of Elliot also allows it to fit into airplanes and shipping containers, which basically means that a whole fleet of such vehicles can be easily transported to disaster-affected areas. Six lashing points at the side of the vehicle also allow the vehicle to be attached to parachutes and dropped from aircrafts which makes it a perfect disaster-relief vehicle for areas otherwise inaccessible by traditional means.
[Thanks Stephanie]