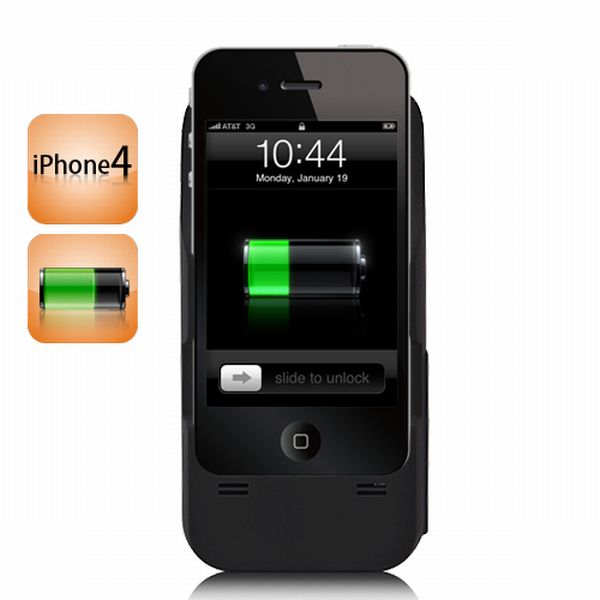 Charging batteries can be a big mess at times especially when you are outdoors. Finding a place to bring your gadgets back to life can prove to be quite a task. And what if you misplace your charger? Oops! This sounds really scary keeping in mind how electronic gadgets have become an important part of our life in modern times. But thanks to the solar power, charging our devices has become really easy and pocket friendly as well. Bringing the charm and benefits of sun-rays in your life is, iPhone 4 Solar Battery Charger + Holder.

This iPhone 4 accessory has an embedded battery that has a 2400mAh capacity. This battery easily stores the power from sun rays and is quite handy due to its feather weight. All one has to do is simply charge the battery by connecting it to the PC with a USB cable, after which it will keep exploiting the solar energy all day long once you slip it inside your phone. When the phone is charged, the LED indication will inform you about the same.
Well if you think this is it, then you are highly mistaken. Beside charging you iPhone 4, it also comes with an additional capacity to feed your gadgets like cellular phones, PSP, MP3/MP4 players, media players, etc. with green energy, thanks to its 5V USB output port. This slim thing with all the magic intact not only saves on the electricity bill, but also encourages for a clean and green environment.
So, next time when someone asks why your phone was switched off, think of a better excuse than a low battery because it will become history with iPhone 4 Solar Battery Charger + Holder. Charging iPhone 4, iPhone 3G and 3GS has never sounded so easy!
Via: Chinavasion