Many of you must be very picky while designing the interiors of your house or office. We would always want our home décor to be enchanting in its visual appeal and quality. Having said that, unique wall clocks can definitely add to the look. Although, in today's world of phones and laptops, use of standard clock has become obsolete; apart from their functional attributes, these cool clocks can serve as the best style statement.
Multiple clocks are available in classical, iconic designs for different places – such as kitchen, living room, bedroom etc. However, to choose the best one for your personal space is a real task – in the context of new capabilities, alarm system, and other smart features. The post is thus intended to bring forth some uniquely styled masterpieces, which can be purchased to adorn your living space.
Sparrow Clock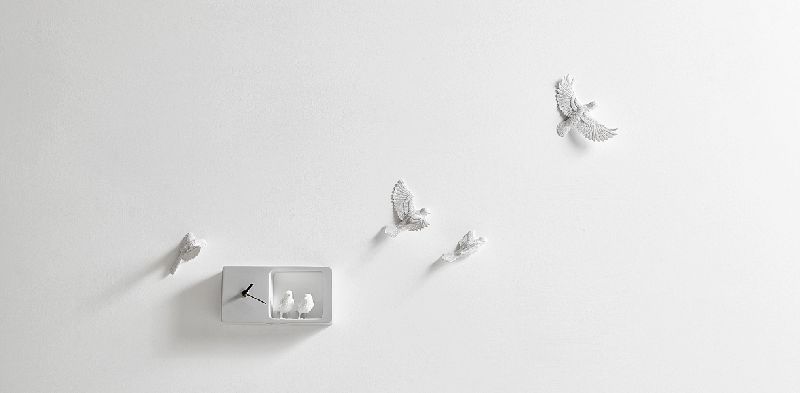 Sparrows are the migrants. They fly from one destination to another destination in search of their dreams. Sparrow symbolizes a change in your life, a change for the better! Many times, you might have noticed them outside your window! They spread joy and celebrate time. These birds are not meant to be forgotten over the period of time, on the contrary, one needs to record the happy time with them. These unique wall clocks with the option of 12 detailed sparrows, when placed in your living room, can serve as the beautiful masterpiece spreading life and happiness.
Clock from a recycled wheel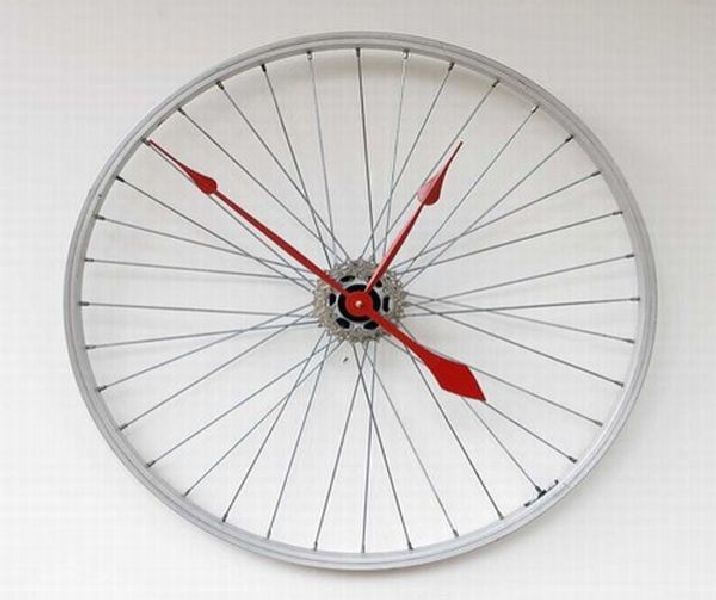 The clock has been created from a used aluminum Mongoose bike and can be mounted directly on the wall, through the hub given along. The clock when mounted gives an illusion of being hung off the wall. The movement of the clock is set to be high torque quartz movements that are being concealed through a rear cassette gear. These unique wall clocks can be great unconventional art pieces when placed in your living room; thus, expressing your inclination towards a better environment!
Pet Pendulum Clock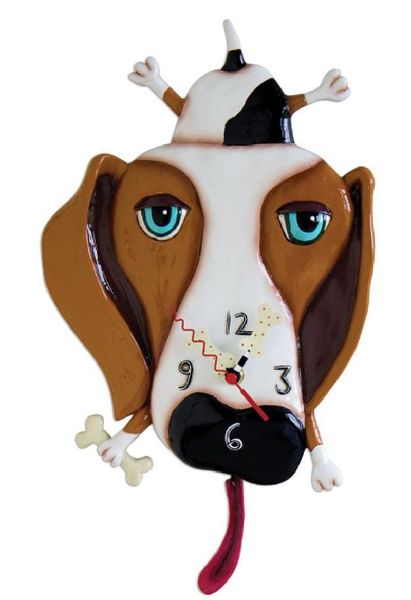 Animal lovers would be happy to know that now their good time is in their favorite pet's hand! This unique wall clock is made with a design of a dog or a cat. Moreover, you can also choose an object for your pet – be it a wool lump, flower, bone, mouse, or a tennis ball. The part of your pet's hand will be a pendulum.
France Clock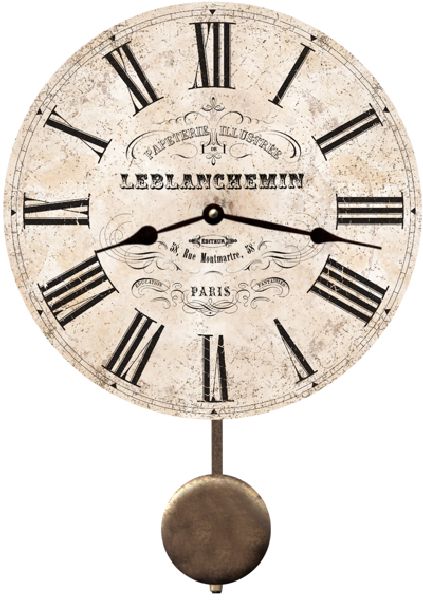 How would it feel when a strong ferocious lion is being transformed into a super cute Charlie -the lion to be a part of your kid's room décor? This unique wall clock is a symbol of exquisite workmanship. Your kids would definitely love to check time, just to see a lion with a wagging tail.
Kevin Malone Wall Clock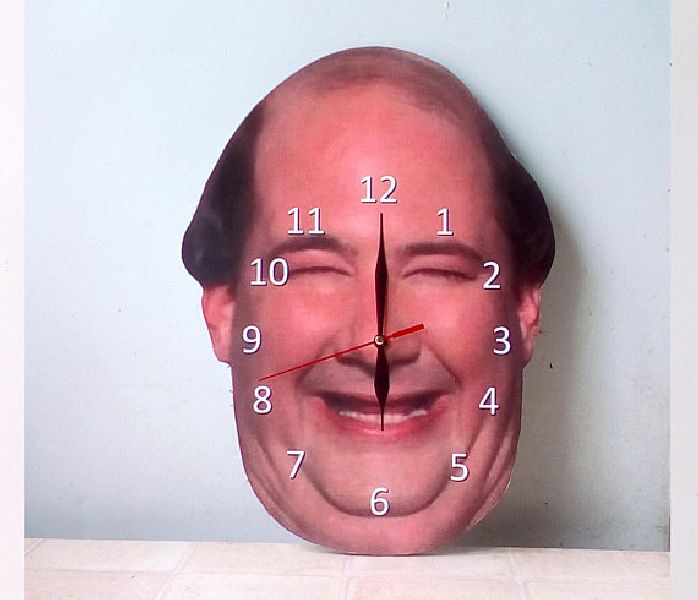 This clock can be easily mounted with its built-in hook, given at the back. The face is being printed with a modern polypropylene without Plexiglas. Because it's Kevin Malone, this unique wall clock is apt to be a centerpiece of your bedroom, possibly to cheer you up in the morning and to let you know that your good time is always with you!
Goldfish Clock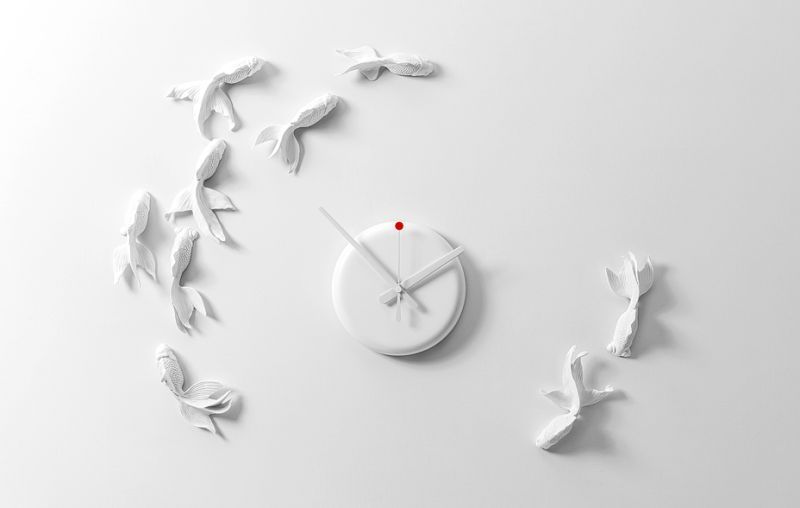 This unique Haoshi contains nine free-floating goldfishes. If in case, you are a firm believer of feng-shui; the clock placed on the eastern corner of your house can be auspicious for wealth and prosperity. Goldfish, dragging their beautiful long tail in sync with the rhythm, floating randomly with no rush, when used as one of the latest wall clocks, can be a perfect combo of a good time and good luck.
Ambient Weather Modern Wall Clock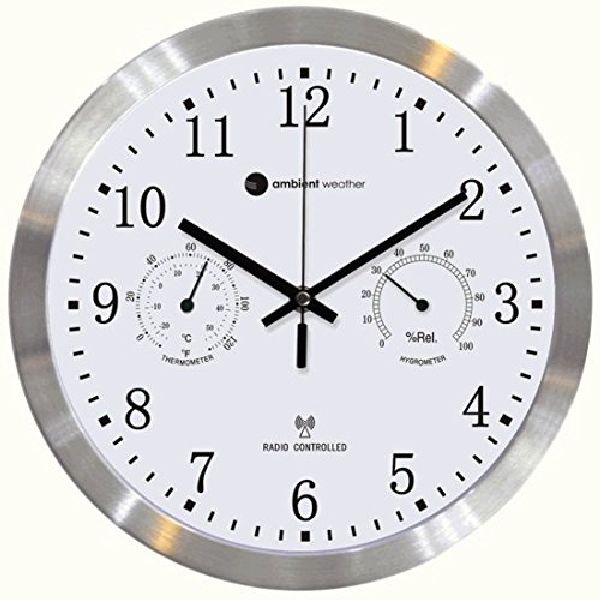 If you are a tech savvy and really wish to turn an ordinary clock into an extraordinary unique wall art with radio-controlled time; then, this one you would really love to have! The clock has a built-in technology to automatically rectify time, according to the radio signal; and hence, it will always be accurate, even in seconds. Moreover, it automatically adjusts its time zone and daylight setting, without a need for manual handling. It has temperature and humidity sensor as well to monitor surrounding.