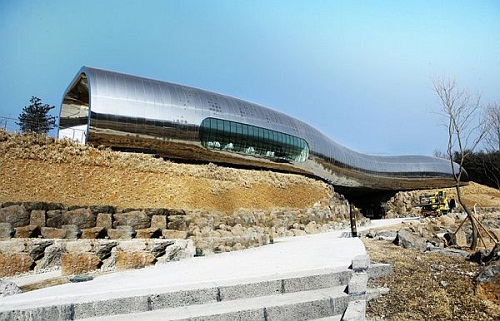 Jeongok Prehistory Museum, built on a primitive site in South Korea, makes one remind of the jet age. Designed by France-based X-Tu Architects, the museum is now complete. It's a multi-sensory space that is so very evocative of environments and atmospheres of the Paleolithic era. Being an epitome of conservation, the museum is built between two peaks, keeping in mind the ecological factors. Jeongok also is a blend of contemporary and ancient times. The museum is spread across the site in a way that it honors the natural watery abundance around the area.
The museum is made up of a double wall that is very similar to reptile skin complimenting the landscape. The sight changes as day progresses. The tubular form body made of stainless steel makes the view quite alive.
This unique museum flaunts an educational and activity space. It also gives an interactive platform to the visitors. With its interior replicating a micro-themed atmosphere, this museum is quite exceptional. The locally grown flora and dependent fauna come together to make it a picturesque and a one-of-its-kind museum.
Via: Designboom