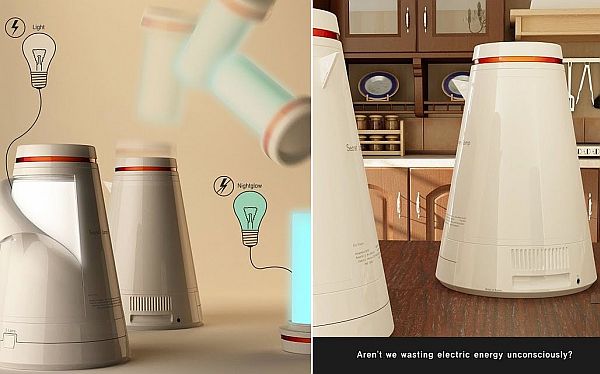 Illuminating your dwelling comes coated with a few drawbacks, one of them being the wastage of energy when the light source is left on. Sleep makes a person so lazy that to stay in the comfort of one's bed we skip switching the bright light to a milder glow as well. Jongwoo, Choi has designed the Secret Lamp which will shower you with the flexibility to adjust the amount of brightness you want. This will make sure that wastage of energy is kept under control and hence, will act as an environment savior.

The kettle shaped lamp has been covered with a sheet that controls the amount of light. Using it is simple and doesn't require much effort or extra buttons that may leave you baffled. Simply tear it out to decide the brightness level and save energy. The control switch/sheet can be attached and detached easily with the help of magnets that have been placed on both top and bottom corners. The lamp has been fitted with a 5000 mah battery, which can be used even when unplugged from the charging source.
This is not it. Secret Lamp has another secret in the form of nightglow light buried inside it. All you have to do before going off to sleep is, remove the cap and place it wherever you want to. This will produce a glow that will neither pierce through your eyes nor burn a hole in your pocket.
So, illuminate your home while keeping your surroundings green and cutting down on your electricity bill as well, with Secret Lamp.
Via: mypdportfolio