None of us needs an introduction to clocks. They have become such an integral part of our lives that we hardly ever notice them. In most of the cases, their utility overpowers their aesthetics. However, there are certain innovative wall clocks that are so charming that they deserve a second look. Lithium-ion 'Black & White' is one such wall clock.
Lithium-ion 'Black & White' Digital Alarm Clock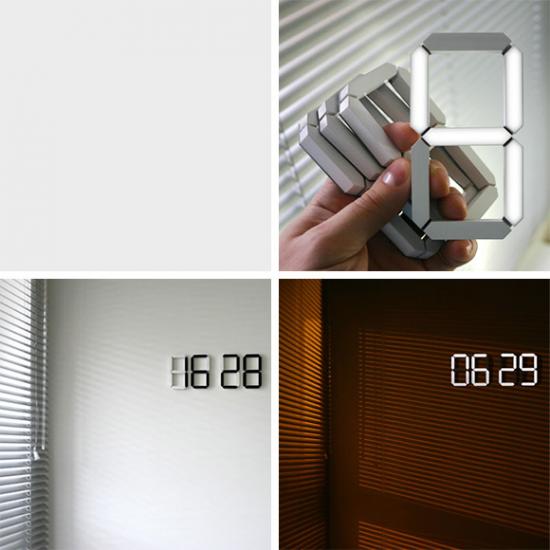 In the recent past we have seen some of the complicated watches, taking your breath out in finding the accurate time. Making life easy for the users, designer Vadim Kibardin has designed a digital clock called "Black & White Clock" that comes in the shape of figures to tell you accurate time with minimum fuss. Removing the case of a regular wall clock, the digital watch is finished with polycarbonate and Organic Light-Emitting Diode (OLED) and generates power from lithium-ion accumulators. Featuring touch-sensitive controls, each figure of the clock (measuring 60 x 110 x 10mm) works independently and has self-contained power supply. You may autonomously place, rather attach, the translucent white clock on any surface. The clock includes a light sensor that switches it to an invert mode and turns the figures white in the dark and black at daytime.
Some Other Mind-Boggling Clocks
These days there are plenty of innovative concepts available as far as the design of the clocks is concerned. Some of these have a multipurpose use. Let us check out some such innovative concepts in clock designs.
Measuring tape clock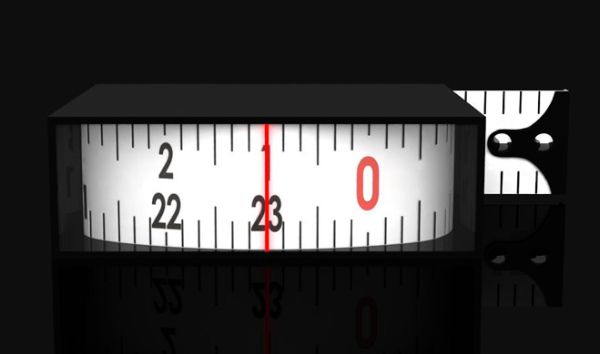 This clock is inspired from a measuring tape. There is a central red line which remains in the fixed position. The numbers move from right to left and left to right. In this clock, the time is measured from 0 to 23. There is a winding device for winding the measuring tape. This device winds up with the help of a spring.
Rhei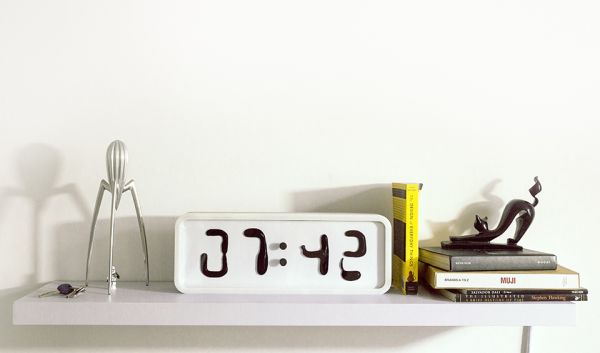 This digital clock is based on the concept that time flows. There is a rhythmic flow in Rhei. Each moment is animated differently. The animation is never repeated twice in a day. This clock is a beautiful amalgamation of the laws of mechanics and the laws of nature. In this clock, a liquid illusion is created. Tangible shapes are displayed in the digits of the clock.
Wonder wall laser shooting clock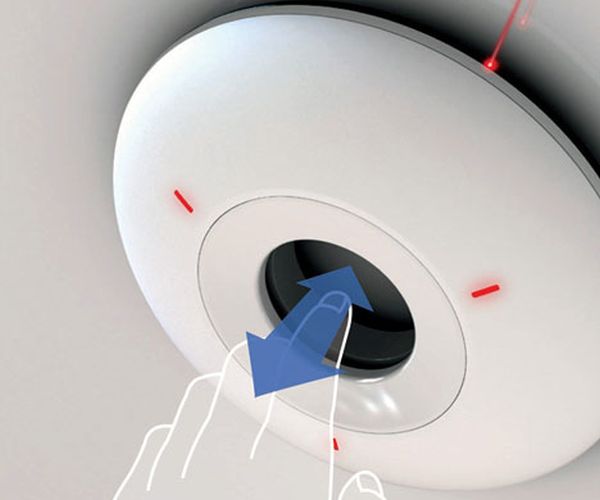 This is a clock which knows multi-tasking. This dainty wall clock has several other applications, touch screen and lasers. Lasers are used to point out at the time and you can see the numbers on the wall's surface. There are many other things that your laser shooting clock can do.
It can tell you currency exchange rates, weather conditions, keep your schedule for the day, play music and display the name of the artist on the walls. You can actually compare this awesome clock with your home computer.
Zeit LED wall clock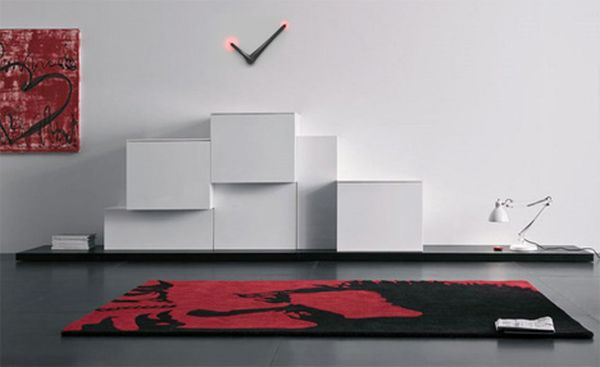 This clock is a combination of analogue and digital elements. This LED clock has two hands, which move on the wall and display time. At the end of the hands, the digits are displayed. This clock has been designed by Uttam Banerjee. The light display of both the hands of the clock does not overlap. When the hour and minute, hand light up the hour hand become dark. The beautiful combination of the analogue character of the hands and the digits makes this clock design unique.
The light gap clock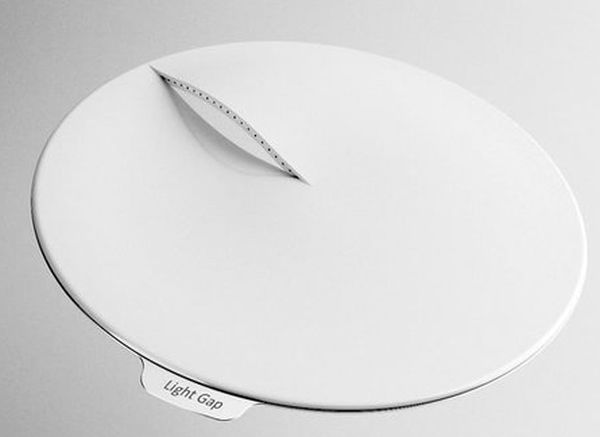 This clock is designed by Chengyuan Wei, Fangtian Ying, Duyin Qin, PengxiangJia, Fan Zhang, Huabiao Shan, Yu Zhang, Chen Zheng, Guanyun Wang &Lifu Yao. It works on solar energy. This clock has solar panels. The clock has to be placed in a place where it can get plenty of sunlight. There is a slit on the face of the clock.
This slit is illuminated with the sunlight and this forms the hour hand. The solar energy is absorbed by the clock and this is used to charge the batteries. This energy from the batteries is utilised by the clock as a power in the nights. This light gap clock, therefore, uses green energy and is environment-friendly. This clock is a classic example of renewable energy.
Shadow clock or the full wall clock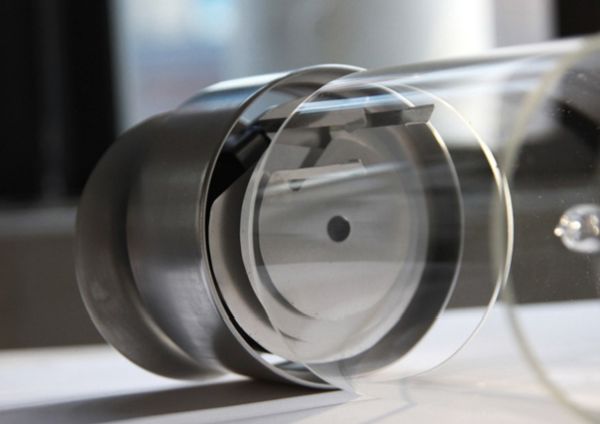 If you wanted a clock of the size of your wall then go in for the shadow clock which is a full wall clock. This clock has been designed by Hanhsi Chen and Chiyu Chen. You can actually call it a lamp which is a clock or you may even call it a clock which is like a lamp. The three different hands of the clock are in the form of three different shadows which come from the light of the clock. The clock has halogen bulb and quartz movement mechanism.
These new concepts in clock design will change the entire look of your decor. With their innovative designs and great concepts they will surely bring about a revolutionary change in the concepts of clocks.
7. Clapperboard Digital Alarm Clock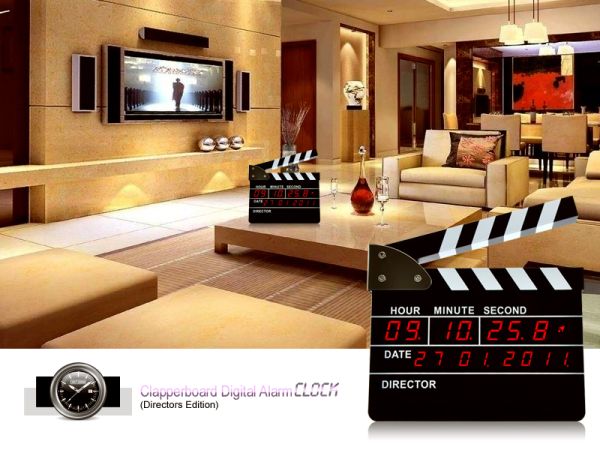 Feel like a director while switching off the alarm, which will quieten only after you clip the board like you would do at the beginning of a shot or it will keep signalling you for a good 10 minutes. Date is shown in a dd/month/year design. Coming with a 24-hour format, you may even note down the exact second and deci-second exhibited on it. With a dimension of 185mm x 225mm x 26mm, the clock comes with an LED display.
So, all you aspiring directors or one's who wish to clap the board the way it is done professionally here is a chance to do so, that too without any director to instruct you. And if you have a friend who is crazy about movies or loves collecting unconventional stuff, what better than gifting him a Clapperboard Digital Alarm clock.
8. Digital Zen Alarm Clock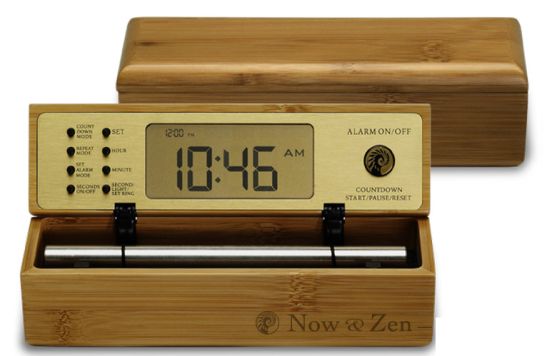 The despicable sound of an alarm clock is the last thing that one would like to get up listening to in the morning. However, the Digital Zen Alarm Clock is a timepiece with difference that increases its chime gradually (from soft to loud) to wake you up with grace and beauty. Perfect for yoga, meditation, bodywork or any such practice, the latest alarm clock can be "programmed to countdown to zero and chime, or to strike its chime repeatedly at any set interval." Users can adjust the sound of the chime, thanks to the silent striking mechanism with a "high" and "low" chime volume control, according to their likings.
Featuring a lighted digital display which when plugged in with the included AC jack lit full-time, the clock runs on 2 AA batteries. Available in two sizes, a 7.5 inch "B Tone" chime and a 9.5 inch "E Tone" chime, for $110 and $120 respectively, the portable clocks comes in bamboo, solid walnut, solid maple and solid hardwood high gloss black lacquer finishes.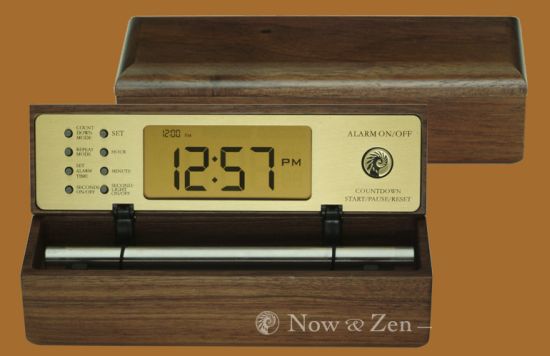 Read More: