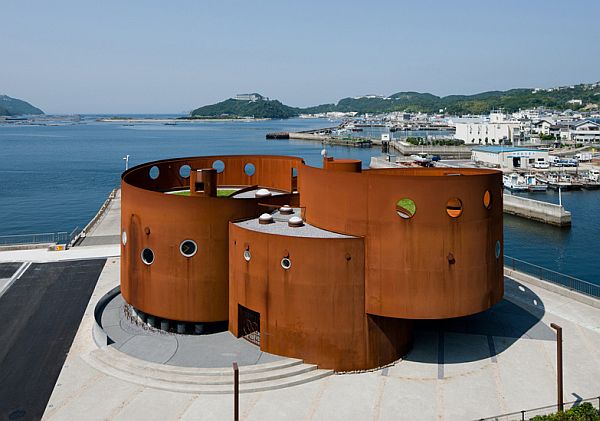 A huge number of people in Japan were washed away by the wild floods during the recent tsunami. Had there been something like a tsunami refuge building in place, we would not have lost such a large number of people. With this idea in mind, the Endo Shuhei Architect Institute based out of Osaka has come out with a two-storey building that is all set to act as a tsunami disaster preventive control center.
Named Looptecture F, this building acts as a perfect refuge that is located in Minamiawaji City of Japan. The structure is made out of steel and looks like a spiral staircase. It has got two levels. The main or the first floor is elevated above the ground in order to let the waves pass underneath it. We can also see a number of holes in the building that would be useful for draining water in case tsunami floods inundate the ground floor. The building is located at the sea port to put an eagle's eye on the sea and to find out if there are any tsunami signs.
At level one and two, there are lavatories — men and women, a central control room, an exhibition room, a machinery room, a hall, a disaster learning room and EV. All in all, Looptecture F is going to erase the tsunami blues in Japan. The government there should undertake such projects and build such structures in all tsunami sensitive areas of the country.
Source: Design boom