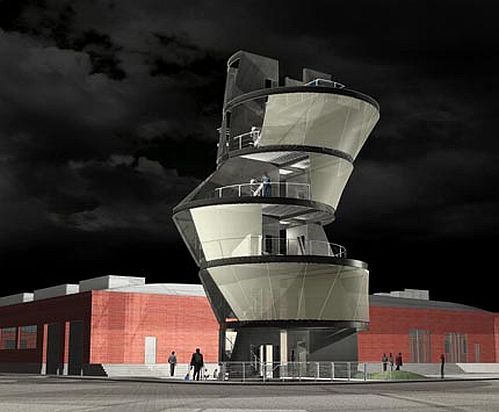 Nothing denotes the evolution of human civilization quite like the landmarks we build as representatives of the aesthetics of our time. From the London Bridge to the Great Wall of China, man-made wonders are peppered across the face of the earth as reminders of the great civilizations of the bygone eras. Following the fashion, the city of Los Angeles is set to have an ultra-post modernistic tower to symbolize the city's inherent character.
The construction of the proposed Gateway Art Tower will require the demolition of a 1940's two-storey masonry building, which currently occupies 5,235 square feet. Located at the prominent corner of Hayden Avenue and National Boulevard, the new structure will be built from steel and is estimated to cover 1,486 square feet upon completion. The function of the tower is primarily to serve as an entrance to the current Conjunctive Points development and as a gateway to Culver City from the Los Angeles Metropolitan area.

According to the proposal, the tower is to be 72′ high with an approximate diameter of 30′. A series of conical 'screen' segments will make up the form of the tower with each segment measuring 10′-6′ in height. Each conical segment will be unique, stretched between a cantilevered steel ring beam armatures. The structural surface will be illuminated by backlight or other media, giving it a glowing visual look.
Each of the five floors of the tower is to stand at 12′ intervals with an exterior stair and a glass-enclosed elevator. The excavated base of the tower is envisioned to serve as an amphitheatre.
Source: Eric Owen Moss