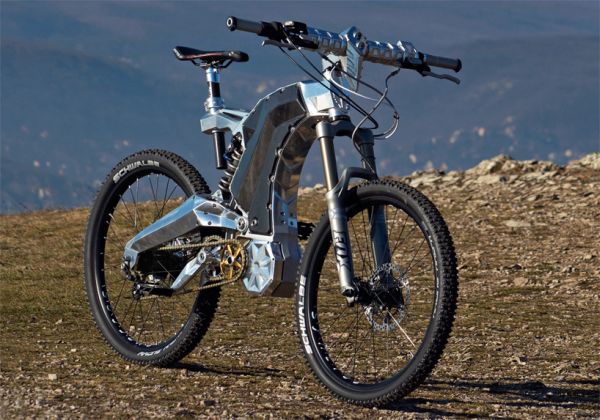 When 30 specialists in engineering, industrial design and optimization come together, what happens then? Obviously a new innovation! This team has crafted a luxury hybrid electric bicycle named "M55 beast." Making a debut at the 2010 SEMA auto show in Las Vegas, this bike does a good job on coarse and abrupt topography hence, is excellent for off-road riding. Two low-priced aluminum versions of the "beast," the "daemon" urban bike and the "shadow" model, have also been fabricated.

With a capacity to cover 90 miles with a single charge, it can attain a speed of 40mph. Powered by 22 tenergy batteries used in hybrid cars; the energy from pedaling is transformed to kinetic motion by the interfacing of specially made aluminum alloy crank arms with especially designed chain rings. The power input of the motor relative to the rider is mechanically optimized by a sensor monitored drive arrangement. When the user requires extra torque, sensors will signal the system of the hybrid bike.
With an assured 9% less loss of batteries over 1000 charge cycles, the electric motor of M55 rises above the limitations that most ebikes come with. With an implanted LED lighting system that has control buttons and displays digitally even visible at night plus a gear change apparatus, the handlebar plays the role of a control panel. To keep the rider safe when starting the bike at an elevated stage which may lead to a rush forward, a special mechanism is put to use. Assisting while pedaling backwards is a separate optical gate. The whole assemblage including the handlebar control is impermeable, making it an all weather bike.
Via: Designboom