You may know a lot of life hacks and theories regarding how to build a successful online store, where to begin, and so on. But let us tell you what we know! The essential part of optimizing any store on the internet that makes everything more enjoyable for consumers is sorting. Products — your main weapon and main assistant because everyone comes to your store to buy something. And if you have a mess here, people would probably turn around and go somewhere else. It's just impossible to find what you need when everything is not in the right place. This extension will help you organize products and the way they are stored much better than anyone in this world. Create rules for sorting, control the way they are applied, and do a bunch of other things that will bring you profit.
Install one of the best modules for Magento 2 to take control over sorting into your hands and see how far you can get making business. We are glad to share secrets we know with you to make yourself familiar with the most important aspects of eCommerce and this extension particularly.
Working Principles
The ranking system is a base of this add-on, which means you can choose any variable to set it as a ranking factor and sort products, according to their position among other products with the same factor. The module assigns a score to every product, where the minimal score is -100 and the maximum — 100. After that, you are free to make special sorting criteria that include ranking factors.
The module is oriented on improving the ability of items to be found. You can create your own principles of arranging products in the catalog to correspond to your ideas and your main goals — increase sales and revenue. So, you are the only one who decides what consumers will see when they visit your store — the best offers, new items, popular Magento 2 sorting categories, or something else. In other words, this extension provides you with flexible customization of all soring options to be able to satisfy everyone. When people feel no complications upon navigating in your catalog of goods, it makes their overall impression and user experiences much better.
The possibility to use product attributes for making up new sorting rules means you have a great space for creativity. Besides, you are not limited by the number of used ranking factors when it comes to sorting criteria. The only thing that matters is to provide you with the opportunity to sort good properly.
Features
Ranking factors and how they work
So, what are these ranking factors? Let's look more precisely and figure it out. But before we will talk about possible attributes to choose, it's needed to mention that these factors can be applied with the highest priority, which means they will be the first condition to be applied. Possible sorting parameters:
Date: Compared to the default possibilities of Magento 2 where you can only rank items from old ones to new ones, Magento 2 advanced sorting add-on makes it easy for you to sort products, according to their exact time of adding or updating. This helps to get rid of confusing situations and show customers new arrivals.
Attribute: Use any attribute or several attributes to promote some particular items like limited offers or something extremely particular. To work with attributes, use the admin panel.
Image: Move products with no pictures attached as far as possible. It's essential for buyers to be able to see the way products look before purchasing them. That's why it's pretty reasonable to keep beautiful, bright, and full pages at the top.
Product rating: We tend to trust other customers' opinions regarding certain products because we just can't afford to spend too much time reading tons of information and comparing different models. As a result, we choose the one with the best reviews, which means products with higher ratings should come first.
Best-sellers: You can also place goods, according to how many times people bought them in a specified period. You can either support existing best-sellers or try to increase sales of less popular items.
Profit: If you want to make more money, then promote products that have the best marginality.
Rule:The number of possible examples is endless because this factor is made of dozens of attributes or their combinations, which provides you with enormous flexibility.
Availability: This is one of the most crucial ranking factors you can imagine. The reason is that you can rank goods by their stock or inventory status. People can't buy something that is out of stock, and they won't wait until you finally get a new arrival, so it's better to be able to filter such products before searching. But if your task is to make consumers pay attention to the last items, you can also place them on the first page.
Sales per View: Get to know the engagement of potential customers, which means how many times a product was bought, compared to how many times it was visited. Some items are overlooked. Meanwhile, some products, for example, too expensive ones, catch a lot of attention, which can be used as good promotion.
Popularity:This factor is quite similar to the product rating because it's based on the conversion rate. However, the idea is to either increase revenue or push those who are far away in this race.
Discounts: Promote products with special prices by placing them at the top to get the best results.
Sorting Criteria
As you can see, this module offers great flexibility in terms of sorting. You are able to create your own sorting principles to satisfy your business needs. And to make it even simpler and more effortless, you can combine ranking factors into criteria. With the help of the preview feature, you can see how the catalog will be seen to potential customers.
Combinations: When you create a sorting criterion with multiple factors, factors are applied one by one, starting with the main factor. Sometimes, the structure of these factors is also quite complex. Each of them supports two sorting options: from the lowest to the highest, and vice-versa. It gives customers great variability and allows them to find the most sophisticated item.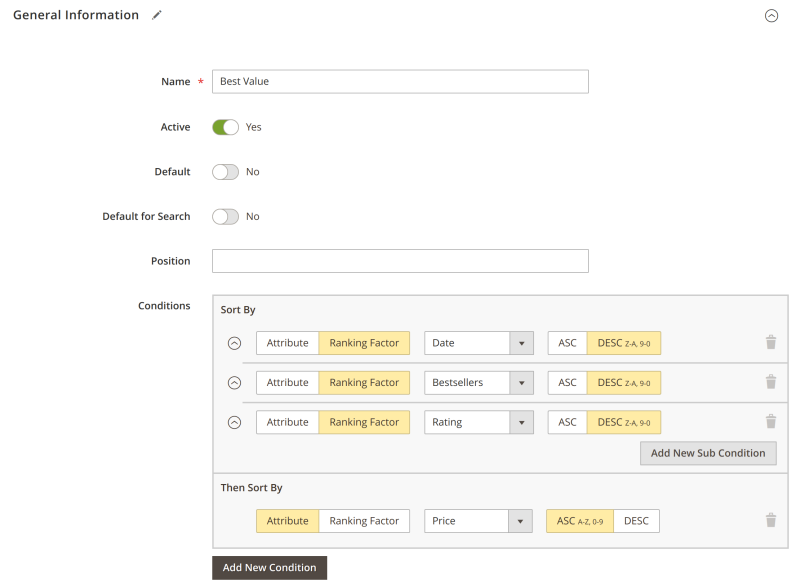 Score Calculation: The extension lets you calculate the sorting score using one of the following methods: 1. By adding factors separately. This is a linear way of applying when the sequence goes straight from A to B. 2. Sub conditional factors. In this case, the module calculated the sum of each factor.
Default criteria: Choose an option that will make the best item appear right in front of consumers and set it as default. This will make your store look more attractive and increase the conversion rate.
Additional Features
Here are a few more features that make this extension worth purchasing:
The search results page: Here it's also possible to add sorting options. This is a perfect extension for default options that provides you with new possibilities, such as overriding default options. This will make your items always look good, which positively affects your business.
Widgets: Choose the way the products will be listed in various widgets. To do this, simply select the necessary criterion from the menu. Each widget can have its own sorting rule. The Store Views to apply various criteria for similar widgets.
Preview: See how products will be sorted before applying any sorting rule to make sure everything looks exactly like you want it to. Use this to get to know the information regarding scores. To access required items without having to manually browse the product list, filter the product grid based on product attributes.
Debugging: Enable this mode to see where the issues are. See if something goes wrong with the score calculation. The information will be presented in the form of a grid. Also, you can check the exact position of a particular product.
Conclusion
As a merchant, you have to control your shop and every element of it to achieve the best results. And it's pretty important to understand your clients, feel them, and supply them with exactly what they seek. We mean the art of sales — manipulating goods to keep everything in balance and increase revenue. Give your clients the best opportunities to feel comfortable. With the Magento 2 Improved Sorting Extension, you can fulfill your dreams where everything is arranged properly without any difficulties. Sort your products easily and increase your conversion rate!
Article Submitted By Community Writer