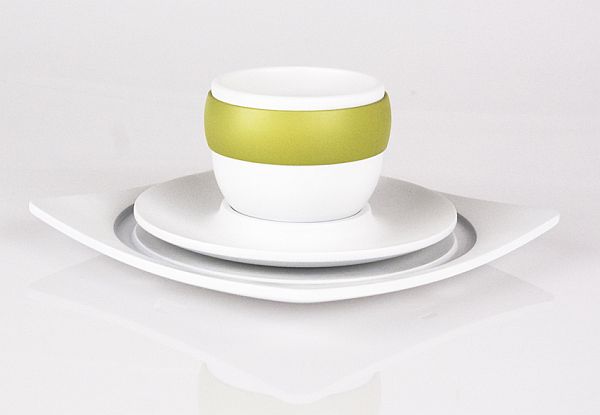 Life in today's era is moving at such a fast pace that people are going away from all the basic etiquettes. Even while eating table manners take a back seat and people gulp food like a liquid and move ahead. To keep all the table manners in place specially while using cutlery and dishes, Magnetic Cutlery has been designed.

Cutlery has been designed in such a way that it will encourage 'good etiquette' while dining. Two main components that have been used to craft the product are: a ceramic body and silicone insert. It will change the way a user interacts with the cutlery. Both the components play a vital role and will make sure the whole dining experience is nothing but perfect.
The ceramic body will make sure that the product is used in a perfect way. The cup carved out of this ceramic body has a round base, which is a signal that it can never be placed on a flat surface like a table. The cup looks best as well as complete with a saucer and they should always be kept together. Both are incomplete without each other and the design will further make it clear.
Silicone is heat resistant and has been intelligently used in the design. The material is elastic which means it can stretch and fit to the curve of the cup. In case of the tableware, the ceramic body is responsible for the relation between user and the product. On the other hand, the way cutlery acts when it comes in contact with the dishes is guarded by silicone.
Both the ceramic and silicone body work in conjunction. Moreover, cutlery is kept in place with the help of slot-ins that come embedded with unusual earth magnets. So, if you want that even in today's word someone guides you through all the good etiquettes then Magnet Cutlery is the answer.
Via: oliverboulton