Pencils are supposed to be cheap and easily spoiled, we don't give much care to the pencils we have. But there are designer pencils which are exquisite and which you will have to spend more than an average pen, to get your hands on one.   
Caran d'Ache Varius Ivanhoe Mechanical pencil

This Swiss made mechanical pencil has a simple yet elegant design. It's made of stainless steel, plated with sterling silver and then coated in rhodium. The 7 mm graphite lead pencil has a coat of mail on the midsection which adds more luxury to it. Varius Ivanhoe is available for $499.
Yard O Led Elizabeth XC Victorian Pencil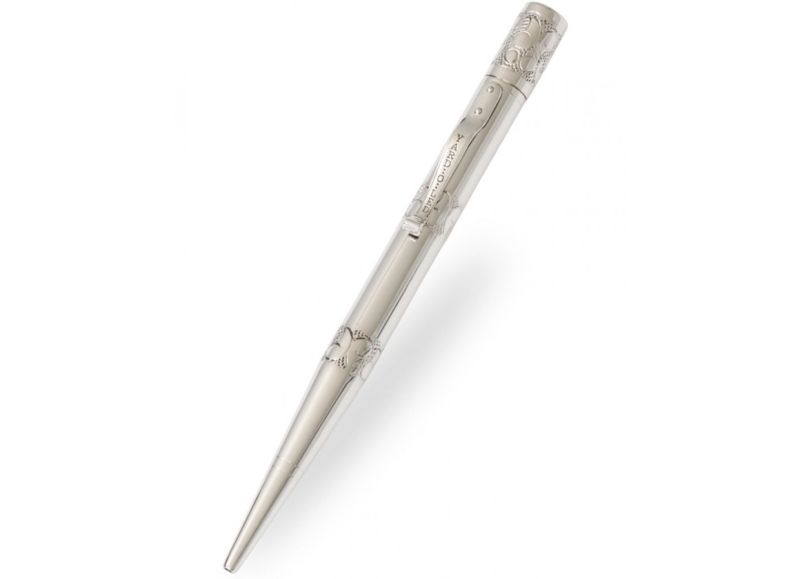 There are only 90 units of this marvelous art piece available. For a price of $475 you can get one between your fingertips. This mechanical pencil crafted from sterling silver has handcrafted Victorian designs all over it.
Porsche Designs Tec Flex

From the iconic luxury supercar makers, this mechanical pencil is like the 911 Carrera. It's smooth, streamlined and elegant. Tec Flex is made from stainless steel and interwoven with golden threads, because why not. Adding to these features it is also silver plated and a palladium finish on it. The Tec Flex can be yours at a price of $295.
Loclen L3 Black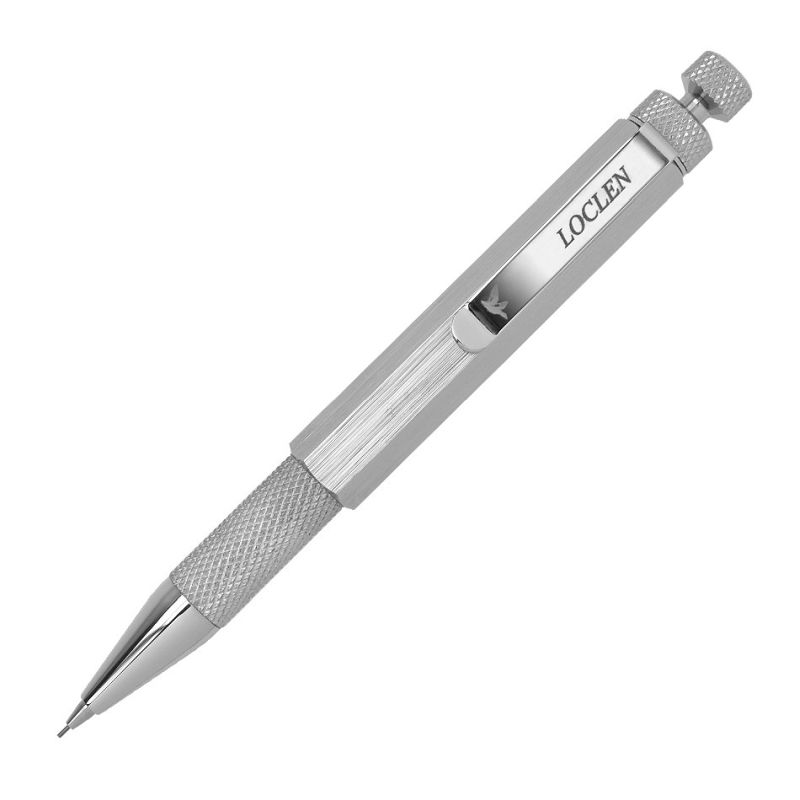 At $160 a piece this is one of the best designed mechanical pencils ever. It has knurled grips and made of gunmetal finish. The hexagonal design adds ergonomics and grip, the nose cone and the clip is polished to shine.
Porsche Design Mikado Mechanical Pencil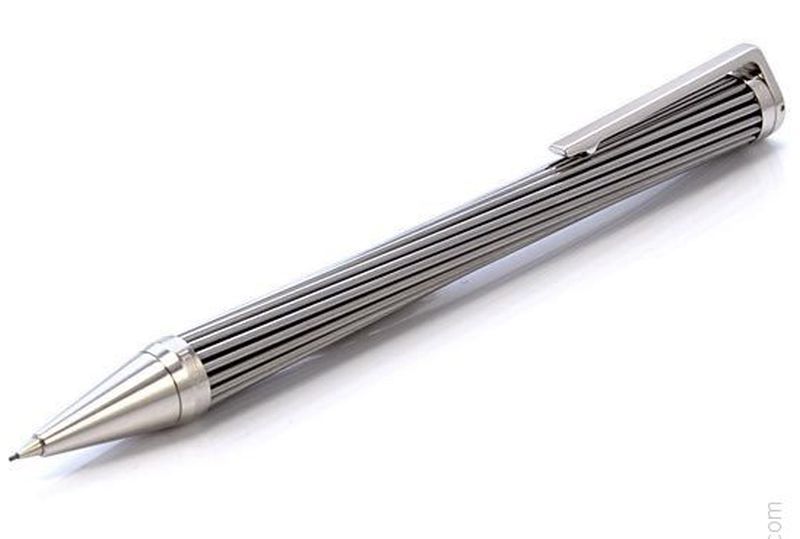 Another marvel from Porsche design, Mikado is a piece of art and engineering excellence. This platinum coated stainless steel pencil pushes down the graphite leads down with the help of 17 cylindrical tubes. Mikado has a price tag of $300, but considering the engineering part and the brand name it's worthy of that price.
Montblanc Oscar Wilde Limited Edition Writers series Pencil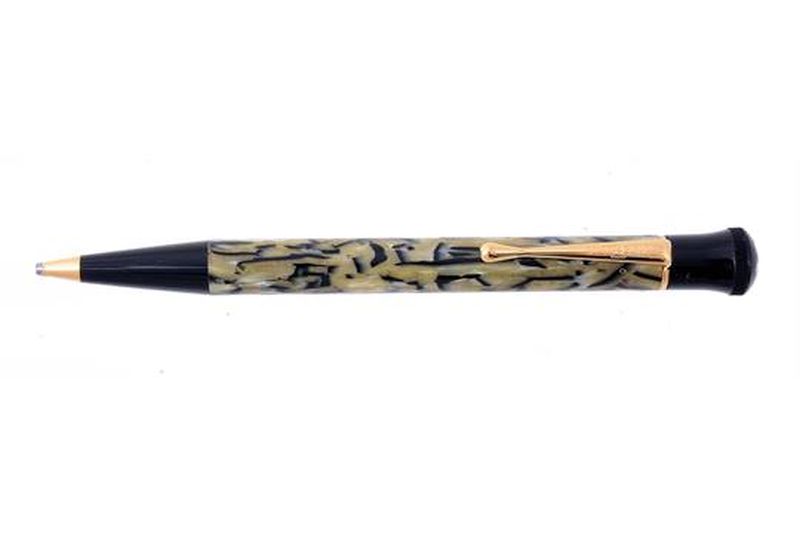 This limited edition pencil made by Montblanc in the memory of the renowned writer Oscar Wild was sold at $475 apiece. Like the writer the pencil had all sorts of luxury details on it, it was made of black and pearl resin with a marble finish, the clip and the tip was made from sterling silver and coated in gold. 
Smythson Viceroy Pencil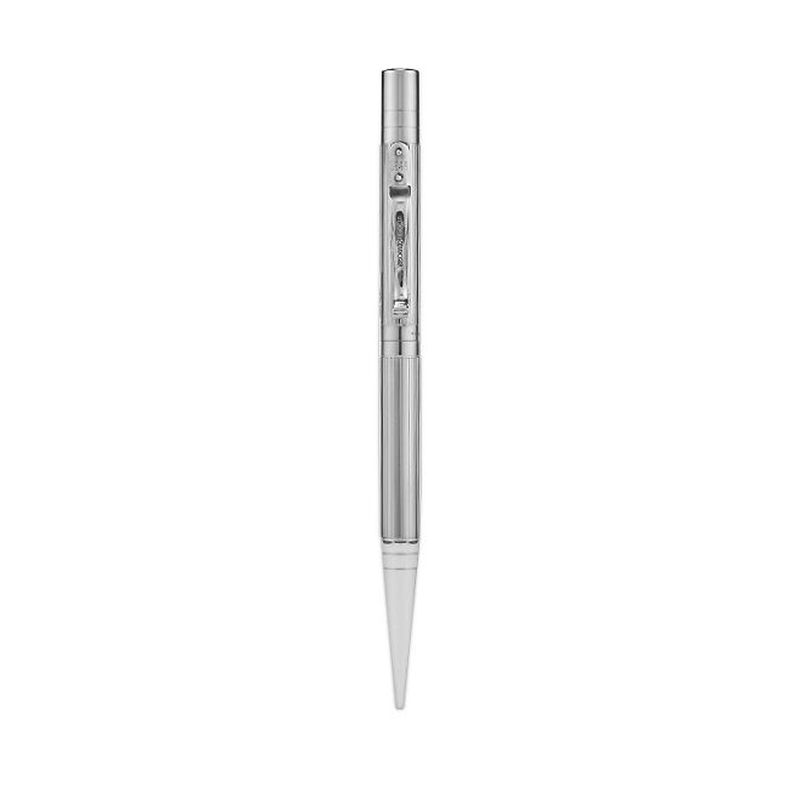 Viceroy is made of sterling silver and can be brought for $320; this twist mechanical pencil has elegance written all over it. It comes with a plush pencil case and you can get the pencil engraved personally if you add some extra cash.
Montegrappa Bugatti Pur Sang DT Mechanical Pencil

This pencil inspired by the one of the fastest and costliest car on the planet is made by the Italian luxury writing instrument manufacturer Montegrappa. The Bugatti Pur Sang Dt comes with dual tone metal and resin design. The engraved surface has designs like the interior of the Veyron, and the cap comes with a macaron Bugatti logo resembling the front end of the car. This is the one of the most expensive pencils ever created with a hefty price tag of $1500 per piece.
Montblanc Meisterstuck solitaire Malachite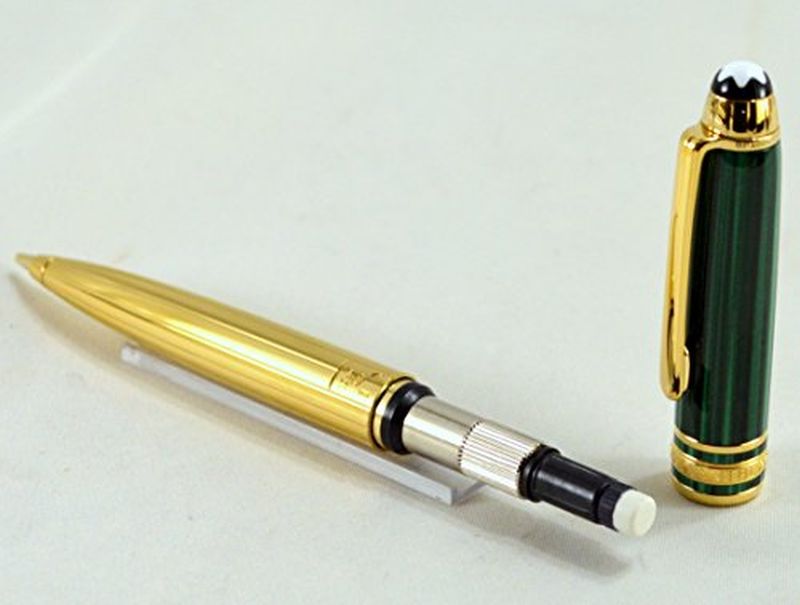 This pencil is made of gilded sterling silver and plated with vermeil giving it a bold royal finish. This pencil made to pay homage for the music maestro Mozart, is having a cap made of malachite. This is the smallest pencil in the Meisterstuck range from Montblanc and costs around $1200.
Montblanc Rare No 10 Octogonal 14k solid Gold Propelling pencil

This is a collector's item, as this old age pencil is made from 14k gold and is engraved with rich wavery designs. It's said that this pen was found inside a cigar box from the cellar of Annemarie Rosler, who is the daughter of C.J Voss, the founder of Montblanc. The estimated cost of this mechanical pencil is around $4375.