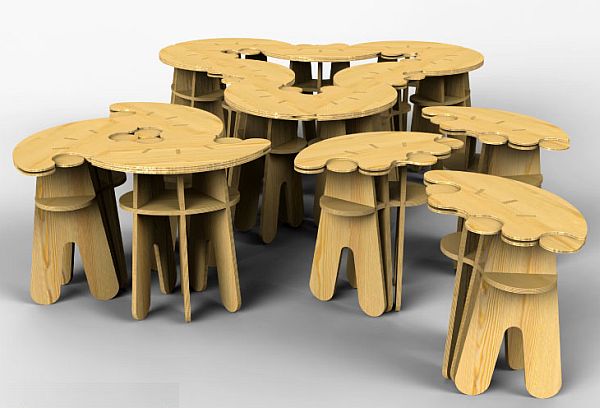 How would you feel if your coffee table just becomes a jigsaw puzzle and you get the fun to assemble it when you need it? How will that help you if your space is smaller and you can keep your coffee or side table flat under your bed when you don't need it? Won't that be of real utility for a piece of furniture? If you feel so, you have a solution here.
Joseph Louis Tan has just launched the new MEW modular tables in Sydney. They are made of 6 mm thick water-jet cutting sheets and hoop pine plywood of 12 mm, which makes them light enough in weight to be carried easily wherever you want them. The materials are sustainable on their own, which imparts sustainability to the tables in turn.
The simple and versatile coffee tables and side tables have been designed following the Japanese wood joinery to make them flexible and easy to use at any corner of the room or outside. They are as simply reassembled as your child solves the jigsaw puzzle in their spare time. Their carefully designed deep crests and troughs sit point by point at the time of assembling and give the structure its necessary strength. They don't require any adhesive or fixture to assemble them.
Topping it all is the fact that you can create a number of designs as per your likeness and need by arranging the different parts in different ways. Just play around with the parts and you will get a new table at your every coffee break.
Via: Joseph Louis Tan