Paper lanterns have been a huge part of Asian cultures for centuries now. Lantern festivals across Japan, Vietnam, Hong Kong, Singapore, Malaysia, Indonesia, China and Thailand mark the last day of the annual lunar New Year celebrations where hundreds of thousands of paper lanterns are released into the atmosphere by people. The use of paper in domestic lights isn't as widespread. Given how easily paper burns and how easily contemporary light bulbs heat up, paper based light fixtures are deemed more of a fire hazard than a thing of beauty.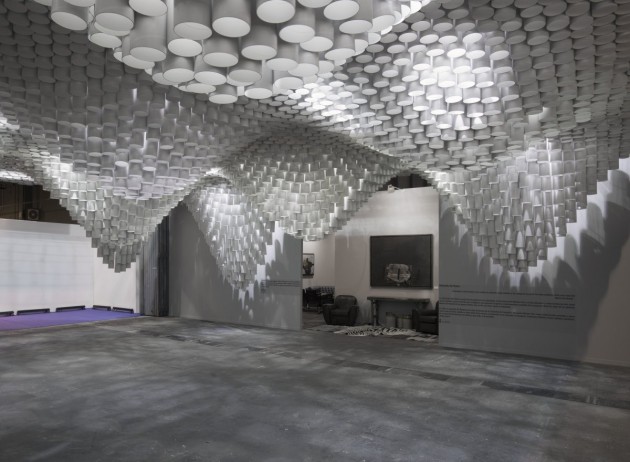 ---
However, the good folks over at Cristina Parreño Architecture and MIT have collaborated to create a fancy new art installation for the Madrid-based Art Fair ARCO that centers on the use of innovative Paper Chandeliers. Blurring the boundaries between architectural project, art installation and light fixture, the project basically covers up the entire ceiling and is designed to provide a nice sense of special depth to a room while flooding it with white light.
Made out of paper tubes, the big undulating roof that makes up the Paper Chandeliers project provides the room with a subtle movement while creating spots of light just like regular chandeliers do. The installation thus creates an effect similar to the appearance of stalactite in caves. At some points, the installations hangs close enough to the floor to hit the top of people's heads though at most places it is high enough to stay well out of their reach. The wave like appearance of the art installation of accentuated by the sparing use of lights that allow only a few rolls of paper to light up at a time. This helps preserve the chandelier like appearance of the lights used in the project. The team behind the project hasn't stated whether the lights will be commercially available or not.