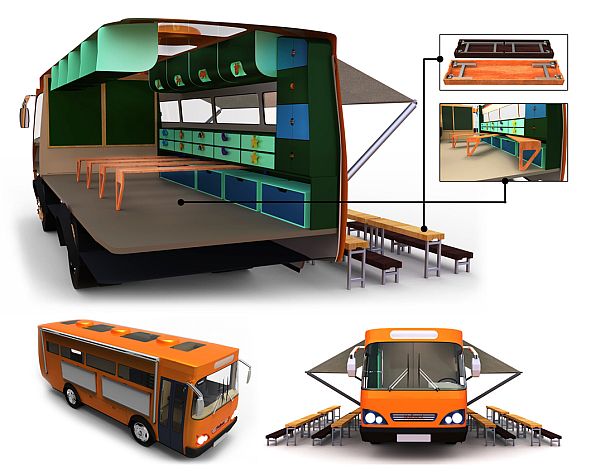 Third world countries remain devoid of even basic facilities like food, shelter and education. Being poor, they can't even think of building a school after every few miles. This leaves children with no alternate means of education, which forces them to stay uneducated. Singapore based designer Victoria Koo assessed the whole situation and came up with an ingenious idea in the form of "Mobile School."

If children can't go to the school, why not bring the school to children? Wow! The mobile school is actually a bus, which will travel from one place to the other and impart education. It comes equipped with basic facilities like books and furniture, which can be snapped easily. The whole setup is done in an open area, where the furniture can be placed around the bus. The interiors are children-friendly and come wrapped with opportunities to learn.
The bus can travel to inaccessible and distant areas that have a very low literacy rate. It can reach slums and villages, where erecting a school is a distant dream. Education will unfold opportunities in terms of jobs and a better lifestyle for underprivileged kids. They can get basic schooling, which will make them aware of their rights and social laws.
Mobile School is a step ahead to impart basic education, which can change the whole life of an individual in developing countries.
[Thanks Victoria]