The Nunavut Tower, a concept by rzlbd, reflects the insatiable human endeavor to conquer his surroundings. Somewhat similar to Biblical Tower of Babel, though in a positive note, Nunavut Tower challenges rules of gravity and laws of modern architecture to provide a unique space and experience to its inhabitants.
Inspired by the lifestyle of the caveman, the Nunavut Tower supports the notion of a vertical cave that not only offers the experience of humans' primitive past but at the same time satisfies human spirit to climb greater heights. To give it a form that is entirely divorced from conforms of modern architecture, the elevating habitation does not observe principles of identical topology. As a result every space or floor is unique for an individual.
The structure's assimilation to nature is further reflected in the fact that the tower is constructed in the virgin lands of Nunavet, in North Canada, where floating icebergs lend the feeling of an ever-moving terra firma. But it's the sight of the marvel that gives pleasant shock to the biggest of architectural geniuses for the unbelievable equilibrium represented by the structure which is neatly hidden in the invisible alignment between masses. A remote but perfect getaway for the restless souls, it is inspired by the arts of the local Inuit artists of the arctic.
For those who have a strong longing to dissolve themselves in the natural environment, Nunavut Tower is akin to a pre-historic resort that provides a splendor-filled view of constantly changing natural surroundings, hence, the question of monotony doesn't arise as the tower itself becomes a mobile vertical cave sitting on icebergs.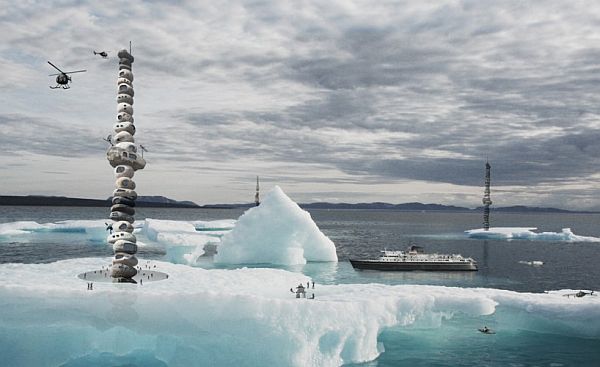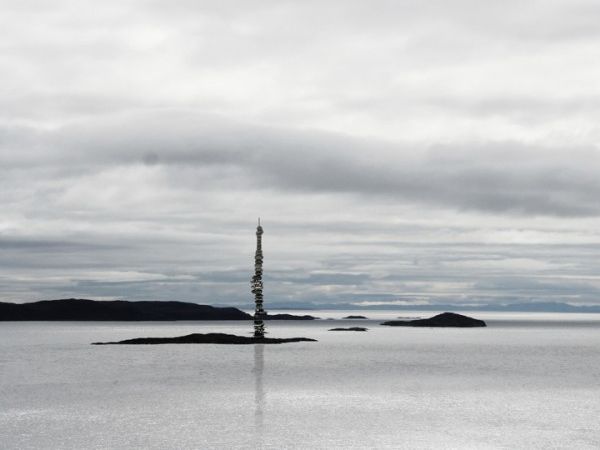 Source: archdaily