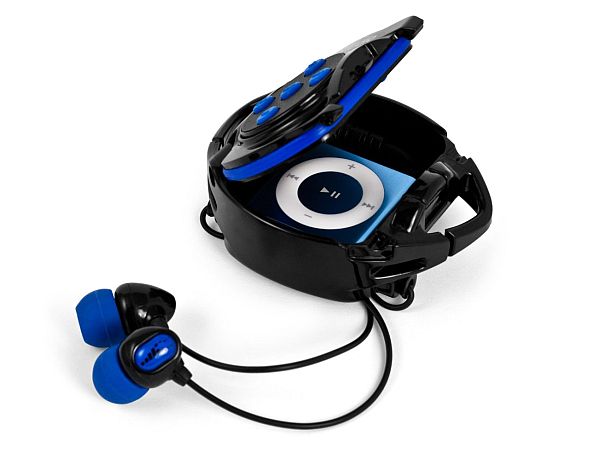 Gold medal swimmers Micheal Phelps and Natalie Coughlin helped develop the only waterproof iPod case for swimmers and water athletes. It had been developed for the 4th generation of iPod shuffle, which in themselves are like little Pandora's boxes, containing a lot in a small casing.
These convenient shuffles can now be now be strapped inside this interval headphone system and because of its integrated goggle loops, it can be attached to any standard swimming goggles, leaving the swimmers hands free and happy with the 'music in the house'. It is submersible up to 12ft/3.6m underwater, which covers any standard swimming pool depth, and its built is designed to withstand heavily chlorinated or salted water, and all levels of moisture and humidity.
It also comes with with five pairs of earplug attachments, so that one can chose the plug which fits perfectly and comfortably into one's ears. This water tight fit and the bass amplified sound through integrated headphones, make for a warm and pleasing, personalized experience.
So for all you water babies out there, get your hands on this new H2O product developed keeping just you and your comfort in mind.
Via: Amazon