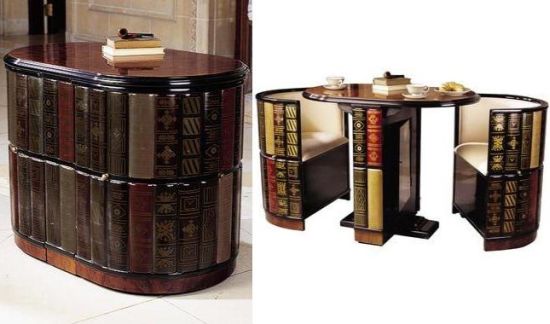 With increasing precision and sleekness in designing, furniture isn't just a square or static object in homes or offices anymore. Giving the impression of being a bookshelf at first glance, the Nettlestone Library Ensemble is actually a library table with two tone-on-tone cushioned barrel chairs on casters and hidden compartments. The glossy and space saving furniture comes with a marvelous hand-painted and lacquer-finished top, enhancing the living space with its metallic design. The elegant furniture unit comes in a compact (41″W x 26″D x 30″H) size.
Design Status:
The Nettlestone Library Ensemble is a ready product that is available at the Skymall for $950.
Usability:
The 'Nettlestone Library Ensemble' is a functional set of library furniture that can also be used in homes, as a study table for your kids, or offices as a side table. Its innovative design and fine looks are good enough to place it in any modern residential as well as commercial apartment.
Via: 7gadgets