It is an established fact that most of us spend about a third of our lives doing absolutely nothing but sleeping. Make no mistake, the human body has been designed in a manner that it needs to rest and sleep in order to combat the challenges of the next day and ultimately, life.
Since doing things in fashion has become something of a trend, it is hardly surprising that the beds that you sleep in can be of so many different designs. Of course, when you are tired, a normal bed does the trick very well.
However, there are so many more options, which might just be therapeutic as well as stylish. Cannot harm to take a look, can it?
Unique Shapes and Sizes
That is correct. Why always choose beds, which are square or rectangular? You might as well want to experiment with different shapes.
Let me ask you a question. Do you like hamburgers?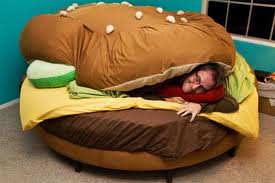 Just think, that warm burger bread which gently and admittedly very tastily encircles a patty with mayonnaise and lettuce and extra cheese and ketchup.
Would you then like to sleep in or on a hamburger?
Yes folks, this dream of many have come true and let's just say that you will love the warm and cosy feeling of soft pillows, even softer sheets and of course the circular cushions.
The more serious kind can also choose from say the bed, which floats.
Yep, you heard it right mate!
The invention has aptly been named as Magnetic Floating Bed and is already quite a favourite amongst many. Like the name suggests, magnets are used to keep it in suspension and strong cables are attached from every corner to the ground in order to keep it in place.
Shell Cloud Up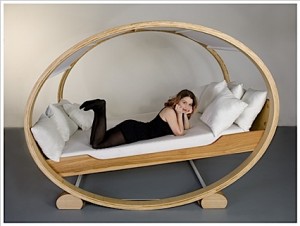 Though it sounds sinister, you would like to experiment with some other forms of bed as well. For example, how about reaching cloud 9 on your Private Cloud?
You see, with the bed you would not even have to walk or hire a rocket, you can just rock and reach cloud 9 while sleeping.
Another neat bed of choice would be to choose a Nap Shell. This aptly named bed is perfect for power naps and the design is such that people with back pain and problems with their spine might just have the best comfort.
If saving space is what is on your mind, you can either choose from the Book bed or simply choose Bed up!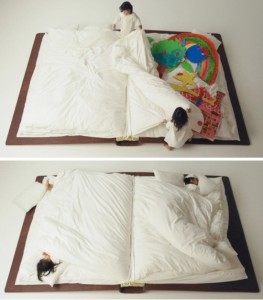 The book can be folded and the up could be down, at your discretion!
image:-Thefrisky, furniturearcade