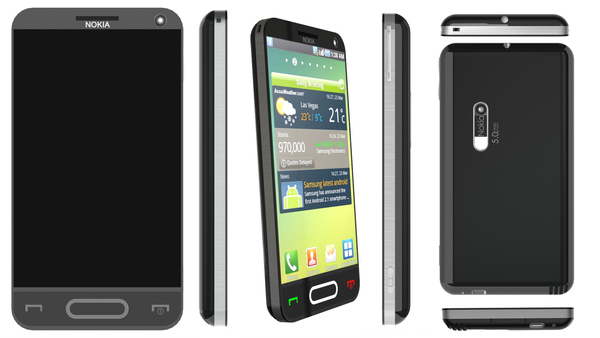 What will happen if Nokia, Apple and Google come together? It will give birth to a Mobile Smartphone. Dimitris Morianos has come up with a mind boggling concept that will make eyes pop in surprise. The designer has tried to incorporate the enchanting design of an Apple gadget and android from Google in a Nokia handset.
The phone will come embedded with a 5 megapixel camera and support 3G. A 640×480 front camera will also be fitted on the gadget. It will have dimensions of 15cm x 8 cm x 1.35 cm that will house a large screen. A height of 15cm was chosen keeping the iPhone in mind for a wide touch screen experience, while a 1.35cm depth will ensure that the latest technology gets enough space. Nokia phones never delete buttons from their designs and Dimitris has tried to retain the trend. He has put the classic answer and hang-up buttons at the bottom. The right side of the gadget will feature two additional buttons for volume and camera control.
The smart phone will be available in two basic colors: black and cream. The black handset will feature medium gloss plastic buttons with no curves. This will give a smooth yet slippery feel and lead to the menu and answer icons. LED in various colors is used by the icons, which will help the user answer calls or navigate even in dim-lit environments. The black version will be crafted mainly from black high gloss plastic, amoled glass for the screen, chromium plate for the logo and other details and brushed metal for the sides to give an expensive look. The camera and volume button will be made from matte metal, which will let the user locate the buttons easily by touching.
The cream version will be made from high gloss plastic. Clear plastic will be used to craft the answer and menu buttons, which will give an eye-catching look when LEDs are on. All other materials are same as the black version and will protect the phone when it falls down. The stem has been given a curvy appearance, which will help the user hold the phone safely.
[Thanks Dimitris]