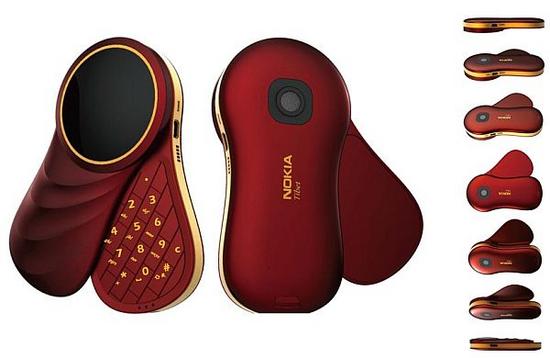 To serve the Buddhist monks, Nokia is out with a unique cellphone which will religiously blend with their personality. Taking inspiration from the Motorola Aura is this cellular phone with a rotatable keyboard guard which is designed especially for Buddhist monks.
What makes it special?
Its main aim is to spread Tibetan Buddhism and provide services like Tibetan calendar and holidays. With a facility to play Tibetan songs which other phones fail to and added entertainment for them makes it an exclusive one. Unlike others, a Tibetan language input method is a requisite for these individuals which limits their interaction with community members and other nationalities. It makes them feel handicapped when it comes to talking to family members or friends on important events. Giving all these flaws a serious thought, it inspired the creation of the Tibetan Mobile phone.
The design:
Since the phone had to be special in terms of showing Buddhist traits in its designing, Nokia exploited the most important thing needed when monks meditate, Mandala. Foreseen as a "sacred space," a Buddhist Mandala is regarded as a place separated and protected from the ever-changing and impure outer world of the Samsara. It's considered as a place of Nirvana, so Nokia crafted the phone in a circular form for added tranquility.
Prayer wheel concept:
While praying, after reading a scripture, Buddhist monks rotate the prayer wheel once. Amassing virtue with the help of this wheel are these Tibetan Buddhists. With a prayer wheel fixed on the phone, it will come in very handy while allowing monks to offer their prayers.
Round screen:
For Buddhists, "round" symbolizes emancipation. Also the Mandala wheel is the same shape. They feel that round being the universal law, their life begins and finishes calmly this way. Keeping all these factors in mind, the circle shape was a perfect fit when it came to the screen design.
Rotatable keyboard guard:
Replacing the candy bar, flip, slide, clapping and other models is this Tibetan mobile phone with a keyboard guard that rotates. When turned around it gives an impression as if the Mandala is rotating as well.
Touchscreen:
It's said that a gentle human touch can heal any pain, so why devoid the monks from the power of touch when it comes to technology. Real scriptures can be made to rotate just by using one's finger on the touchscreen. So, introducing the touch affect in the Tibetan phone will further make the usage effortless.
Drape design:
To keep uniqueness and personality of Tibetan's intact, it has been made to look like a drape on a monk's robe. Styled in a delicate and graceful way is the keyboard guard, designed cautiously keeping away from any clear relation with the Tibetan elements.
Color:
Enveloped with a matte-frosted saffron color, it has religion etched all over it. Narrowing down on the color doesn't come with any difficulty. Having religious significance for Tibetans, it had to be red when it came to choosing a color.