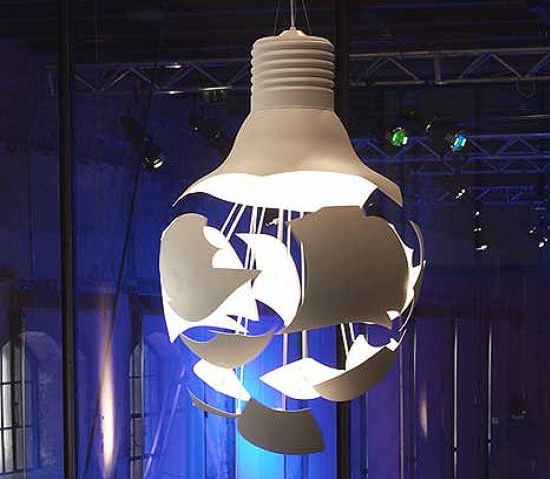 Northern Lighting a Norwegian company recently introduced two uniquely creative lighting ornaments that are far deviations from the common wall or ceiling pieces. They are the Scheisse, and the Moo. Bearing names as peculiar as their design, the name Moo is slightly considerate, at least compared to the name Scheisse. The name Scheisse makes us wonder whether the company didn't know the meaning of the word, or whether it just has a different meaning in their dialect. Anyhow, the designs are nice and inspiring. The Scheisse light ornament is not the everyday chandelier, and it will definitely be far more imposing and memorable than a chandelier.
It is bound to draw all eyes wherever it is hung, at least until it becomes common. It is built as a tribute to the incandescent bulb as one of the greatest inventions that ushered in the modern era. It is amazing how the designer came up with the idea to make the Scheisse in an exploded format, instead of simply making an extra-sized bulb. The Scheisse is constructed mostly from steel, but still weighs a mere 3 and ½ kilos. This just gives a perspective of how thin the plates are.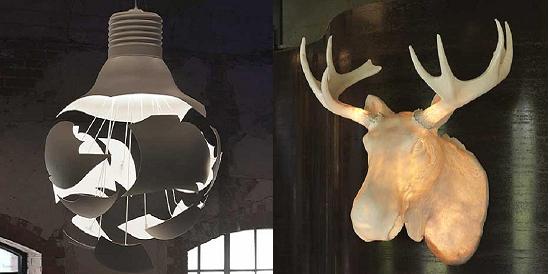 The Moo, although it sounds like moo of the cow, is actually a short form of the Moose it is shaped like. Need I say more about a glowing Moose head hanging on the wall? I'm guessing the inspiration for this is that the designer felt that wall space was being wasted by hanging a Moose head in one space, and a light ornament in another, therefore he decided to combine the two, leaving more space to hang some more of his eccentric ornaments.
Sarcasm aside, I really appreciate the creativity behind the 'broken light bulb' Scheisse, and the 'shining Moose head' Moo.
Source: Moco Loco