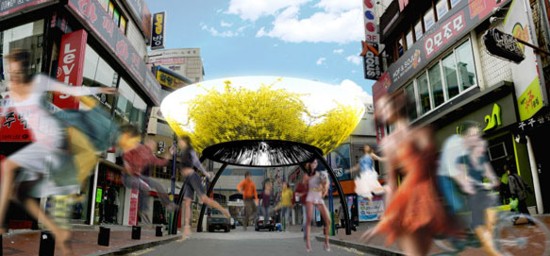 Architectural excellence meets sense of purpose in this aesthetically designed device. The Novon Media Bowl is a futuristic approach to give a vibrant touch to the treadmill lifestyle of urban places and inspire a variety of activities through voluntary participation of citizens.
Conceptualized by the design team of Mass Studies, the Novon Media Bowl is designed to revolutionize the streets of Seoul with its galactic presence. It will be located at the crossing point between a 8m-wide two-way street and a 12m wide road that connects the Nowon Station to the 35m Nohai road to the South.

The 14m diameter x 9.4m high Media Bowl is a giant spherical screen comprised of 3512 (200×200) LED screens. The spherical screen will serve as 4 seperate screens for each direction, but would also exhibit a continuous movement and identify itself with the mercurial behaviour of an urban street.
The Media Bowl will also serve as a roof structure and turn the street into a venue for various functions such as projection of sports games, street performances, street parties, election campaigns, outdoor weddings etc.