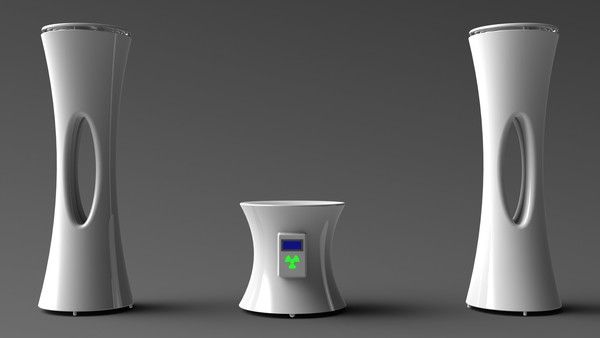 Look at the product captured in the above picture. Figuratively speaking, don't they look like lamps ready to kill all the gloominess around? But in actuality they are speakers crafted in a sleek and trendy manner with very clean cuts. Christened as Nuke 2.1 Speakers, they have been designed by Francisco Lupin for the 2011 Cristalplant Design Contest. The speakers have been designed to make you experience high quality music.
Francisco wanted to make a three way speaker that would make the musical experience all the more mystic. The material it has been carved out from is quite flexible and can be given a lot of shapes in terms of complex modelling. The substance used gives similar advantages like Corian does and makes the design all the more appealing. The three pieces somewhat resemble an hourglass.
The two towers on the side solve the purpose of a medium speaker, a subwoofer and a twitter. What looks like a small piece in the middle is very powerful in actual terms. It has been fitted with an amplifier system and a big subwoofer for producing blaring music.
If you are music lover then Nuke 2.1 Speakers are worth a try.
[Thanks Francisco]