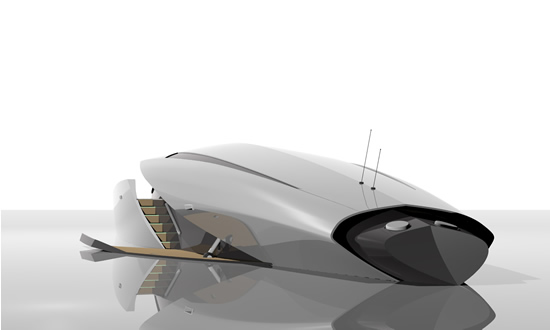 Design Status: Olympian is still a blue print for blue waters.
Insight:
Our seas are speckled with numerous boats, yachts and liners that ferry people all over the blue waters. Varying in shape, size and style, there are endless options on the horizon. However Tristan Hipps has emerged to bump up the norms of a luxurious yacht with his Olympian. His mega yacht sails in majestically at 151 feet. However the designer has slimed down his concept's form to steer clear of the bulky tag. Powered by a v-16 twin turbo diesel engine, Olympian can zoom up to 35 knots. However the highlight of Tristan's mega yacht is that the motorized swim platforms on the front can be lowered to the sea-level. This allows other smaller vessels like speed boats or jet-skis to dock in with out fuss.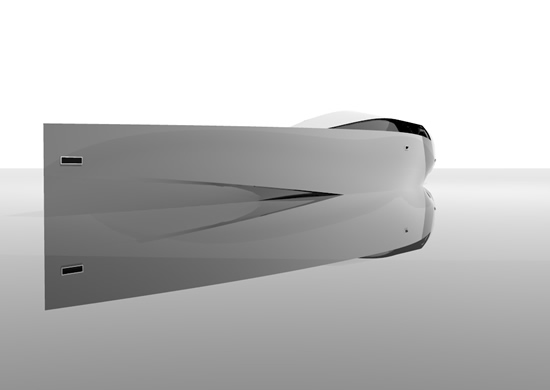 Usability:
It's akin to opening a garage door to park your vehicle. Once docked, simply take the flight of stairs to move up to the deck. This can be fun for those who want to wander over the blue waters in different modes of vehicles. For its size, it can only accommodate six guests and four members of the crew comfortably. However not much is mentioned about any other designing aspects. I would have loved to know what interesting features are hidden inside the Olympian too.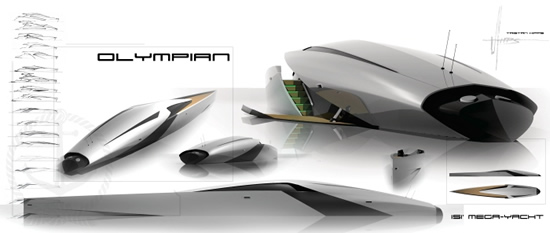 About the Designer:
Tristan Hipps is a student at College for Creative Studies, majoring in Transportation design.
Thanks Tristan Hipps