Right now, what most of the eco-friendly products suffer from is a lack of advertisement. Furthermore, even if such products are advertised, then that is done by highlighting only their sustainable aspects. However, that appeals to a narrow audience. To make the product appealing to the public in general, we should highlight other the other aspects of the product as well. For example, the easiest way to promote recycling is by working on recycling bin designs. Everybody would like to recycle their stuff just to use the catchy bins around them. Bins from Jianye and other futuristic trash cans mentioned in this article state this point perfectly.
Bins from Jianye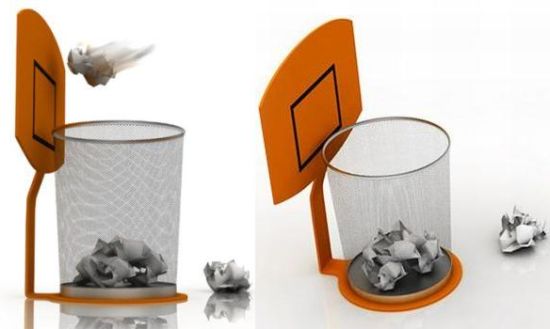 While Beijing holds the Olympics, we're amidst some serious new designs that reiterate the same Olympics spirit; Chinese designer Li Jianye is there to back me up with iOlympic Wastebasketball. A lazy bum that we are, its sheer design and style keeps me engrossed in the look it offers. There's nothing to be apprehensive about its usability as it fits so easily beneath a trash can and would add some finesse to my workplace. Sincerely, we believe it's the best out of Jianye's iOlympic 'daily life athletic designs collection'. Surely, these bins from Jianye wouldn't turn anyone into Michael Jordan, rather would make your office and living room tidier and neater than before.
Some more recycle bins similar to bins from Jianye
1. e-Bin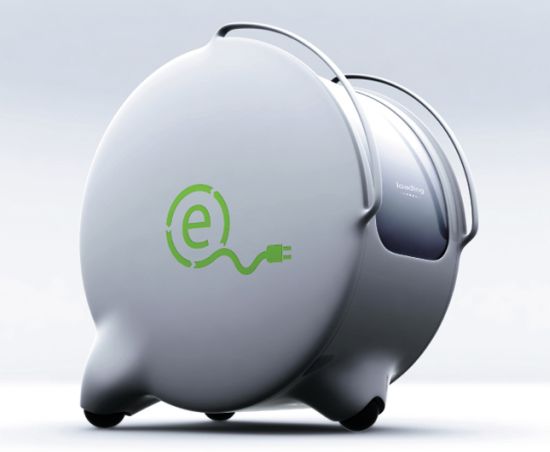 Runners-up at "The 4th Bin" design competition, the "e-Bin" by London based designer Baharash Bagherian is a smart, mobile and versatile electronic recycling bin that can be programmed to communicate relevant information with both the user and the recycling company, thanks to the integrated touchscreen technology. For the bin tells the user if it is full and suggests the location of the next nearest bin, while informing the recycling company to come and empty its contents. Moreover, it tells the user if their item is not suitable for recycling.
Designed for both outdoor and indoor use, the e-Bin is big enough to hold items like televisions and easily slips in a home or office. Finished with vacuum-formed carbon fiber sheets to make it durable, strong, all-weather and lightweight, the trash bin uses solar power to recharge its touchscreen lid and requires an administrator password to become maneuverable. Featuring a unique logo symbolizing electronic recycling, the e-Bin will encourage the buyers to purchase the goods that could be recycled without harming or polluting the environment.
2. Ecomod
Does rubbish and smartness sound good together? Yeah they can be teamed up under one roof if you care to get rid of your garbage in an avant-garde yet eco-friendly style. Since it's no longer an option, not only in UK but worldwide, to ignore recycling and waste management strategies, UK designer, Robert Welby, has conjured up the most basic yet smartest green solution for your household wastes. The issue of effectively managing and recycling household waste has gained ground and Ecomod aims to assist for the same.
Shortlisted for Domestic Greenclean at RSA Design Directions 2007/08, this product intends to get rid of an array of containers used for containing variety of garbage. This all-in-one container is ingeniously designed to keep paper, plastic and aluminum in different compartments without looking too bulky. Not only segregating but also crushing them with some twist-n-turn technique immediately helps save a lot of space to chuck more rubbish. Its slender form indeed deceives its ability to crush and store voluminous garbage with ease.
3. Hub 20/20 Bin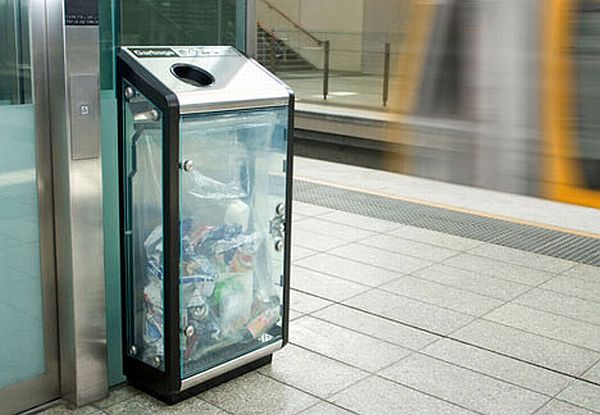 Just like bins from Jianye, this bin to derives its inspiration from an even. After the 9/11 World Trade Center episode, some of the major countries came up with a whole lot of new rules and regulations in every sphere. Some of these were pretty rational, whereas some others have been inconvenient, even absurd. One of the steps taken at this point is removing garbage bins from certain positions in subway stations and platforms so that nobody can place bomb packages inside them.
However, there is a solution at hand, it seems, and it has been possible because of RailCorp. A company in Australia named Hub Street Equipment collaborated with University of Technology, Sidney and RailCorp to come up with the Hub 20/20 Bin.
The bin, made of stainless steel, cast aluminium and clear polycarbonate, was conceptualized after taking feedback from various stakeholders. It is transparent, which makes it easier to view what is being disposed inside it. Hiding a bomb would be harder this way. The aesthetics has not been compromised either, as it has got a nice outer look. Truly elegant, yet simple. Just have one look at the thing, and you will know that it is one of the most pleasant-looking garbage bins to be placed.
The concept behind this product is that people can detect bomb visibly, which is not totally practicable. Bombs are not necessarily like clocks with wires and tubes attached, they can be made look like any thing. Also the fact that you are made to see trash like half-eaten foods can be a bit uncomfortable. However, it is a welcome step towards a safer daily life.
These waste-collectors are available in exquisitedesigns and comes along with some irresistible additional features.
4. Stars Wars R2-D2 Trash Can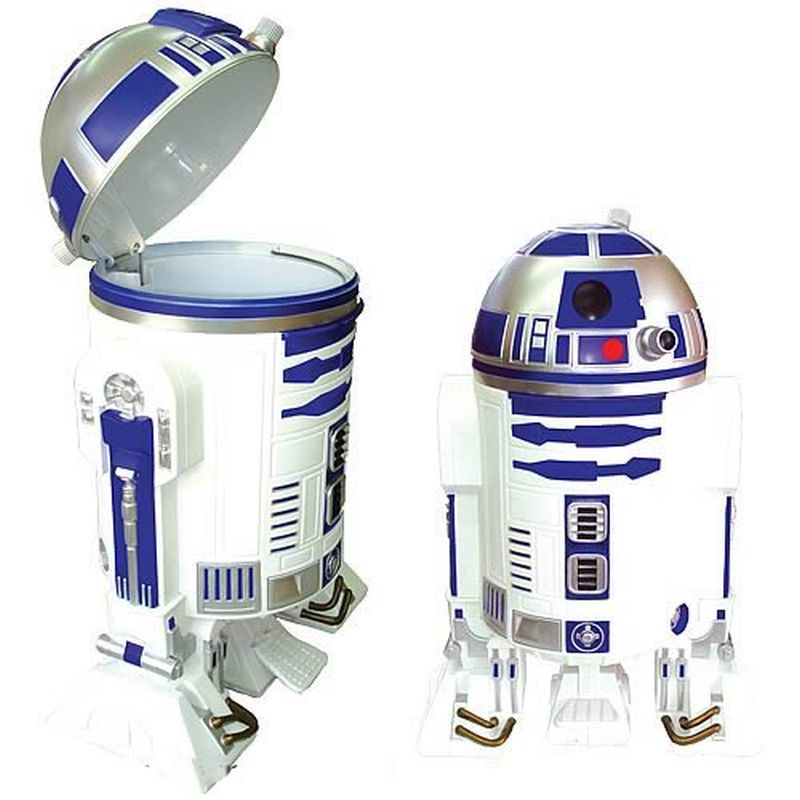 This beautiful and stylish trashcan is a modern trashcan based on the design of a R2-D2 robot.It has a dome-shaped top lid, which opens up when user step up on the pedal of the robot. The dome swings wide to collect the trash in it. Its removable interior makes it easy to dump the trash from the bin. It has a durable vinyl construction for rugged usage.
5. Animal Friendly Trash Can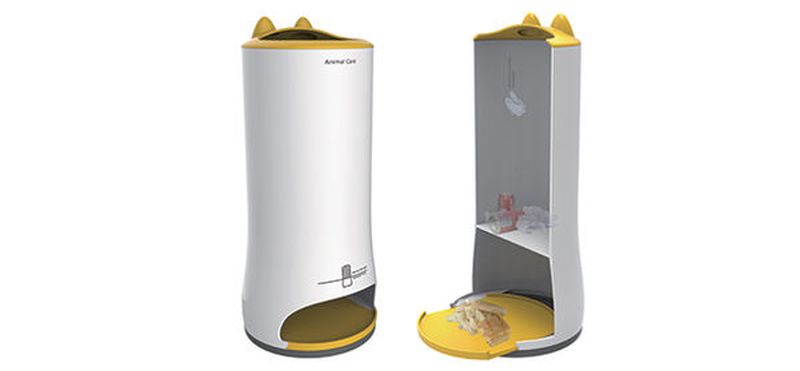 The Animal-Friendly trash can is a Red Dot award winning design concept. The design of this trash can covers the smart way of dumping waste along with the animal welfare. The trash can  comprise of two different sections. Its upper section is for the disposal of normal household garbage while the lower section has a small opening face with a pullout tray integrated in it. User can use the tray to put extra food on it for animals to prevent the food wastage. The tray in the lower section is easily removable for cleaning purposes.
6. Minus Garbage Bin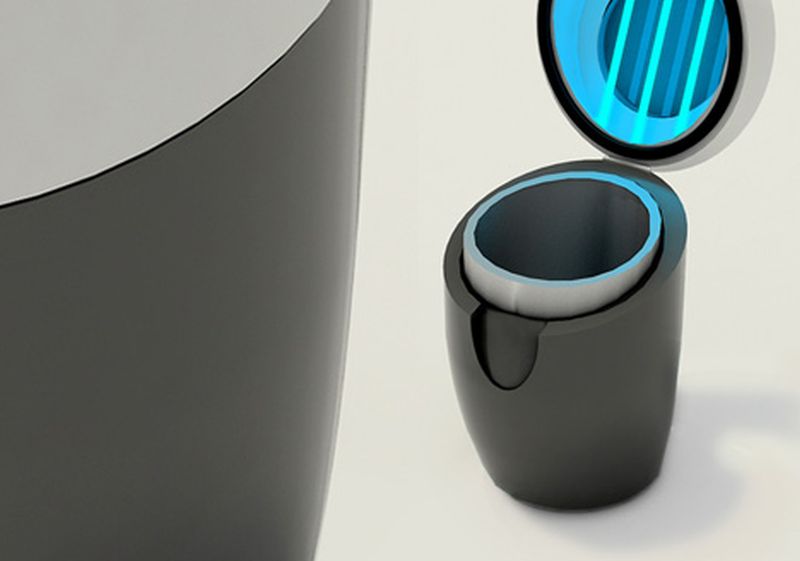 Minus garbage bin is a conceptual garbage bin, which is capable of freezing organic trash. This product uses a cooling grid, which eliminates the smell present in the organic waste. The frozen garbage leaves no marks inside the bin, which allows user for a cleaner disposal of waste. It features an integrated antibacterial UV light, which kills bacteria present in the organic garbage. The top cover of this garbage bin is transparent so that user can see the available space inside the trash bin.
7. Tri3 Trash Can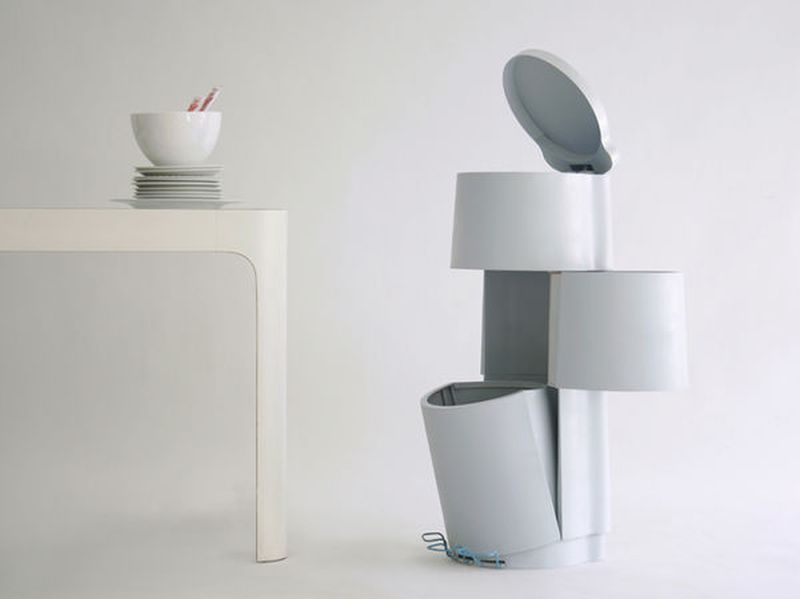 The Tri3 trash can make disposing and recycle easier by stacking three different purpose cans together. The top can of Tri3 trash can is for disposing of normal garbage by using a bag dispenser. The middle can is for the packaging task, and its lower part is for the recyclable goods like plastic and glass bottles. You can open the different parts of the trash can by using foot pedals. There are three separate pedals at the bottom of the trashcan for opening each of the cans. The Tri3 trash can is a much neater and stylish way of disposing of garbage and recycling.
8. Fabriano Waste Paper Basket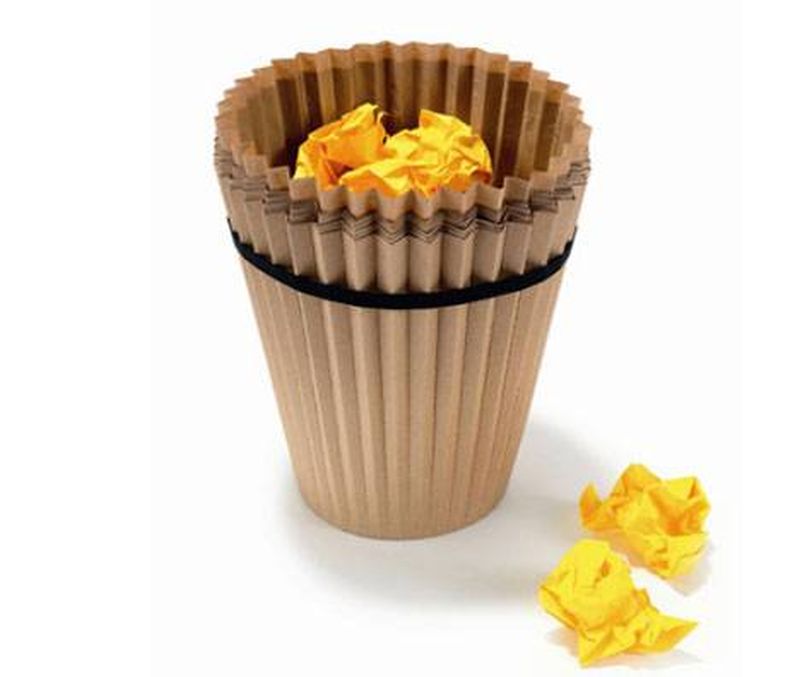 Fabriano waste-paper bucket is an innovative idea of utilizing recycled paper for garbage disposal. The trash basket has 50 disposable paper bags, made from recycled paper. When the basket is full of garbage, you have to pull the bag out and have to throw it away. The next layer of a disposable bag is ready to collect more trash.
9. BIN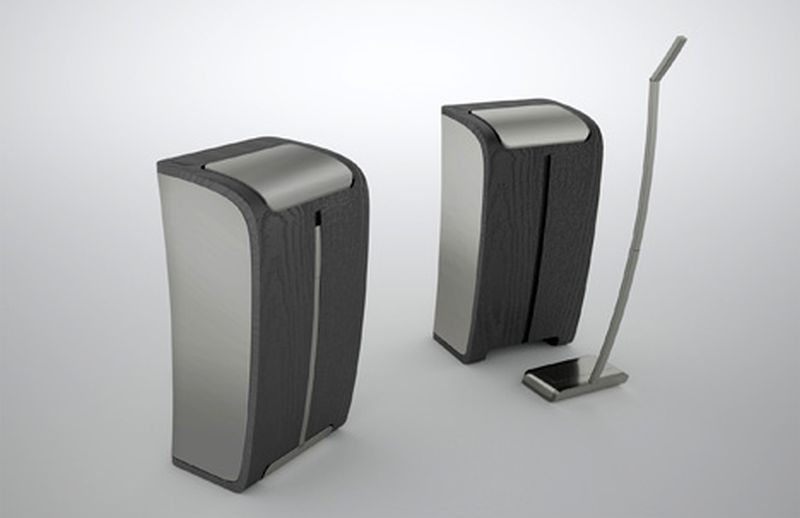 Faris Elmasu has developed the concept of BIN. This trash bin has a capacity of hold 18-litres of garbage and incorporates a motorized sweeper system to collect trash in it. The sweeper is convenient to use and tucks itself into the front portion of the bin for easy storage. It features an integrated charging system in the trash bin to recharge the motorized sweeper. With it glossy finish body the BIN looks very attractive. 
These modern trash cans and bins like bins from Jianye employ innovative ideas for their smart functionality. The extraordinary features provided in these trash cans make them easy to use and have various eco-friendly aspects.