An urban landscape can never be complete without street lights. These are absolutely necessary. However, now the situation isn't the same as it used to be. Now it just isn't about utility, it is about sustainability. Therefore, of late, a lot of complaints have arisen about how these lights tend to consume a lot of energy. In fact, as there are many power-saving street light ideas available, we case save this energy and use it for more important purposes. As such, in this very field, a lot of initiatives have cropped up over the years. Most of these have the aim of lighting up the streets with natural energy sources, namely the sun and wind. Here are 9 such innovative ideas. Making them a part of your street could help you in saving significantly over energy.
9 – Inspiring street light ideas powered by the sun, wind, and humans
1. Solar Tree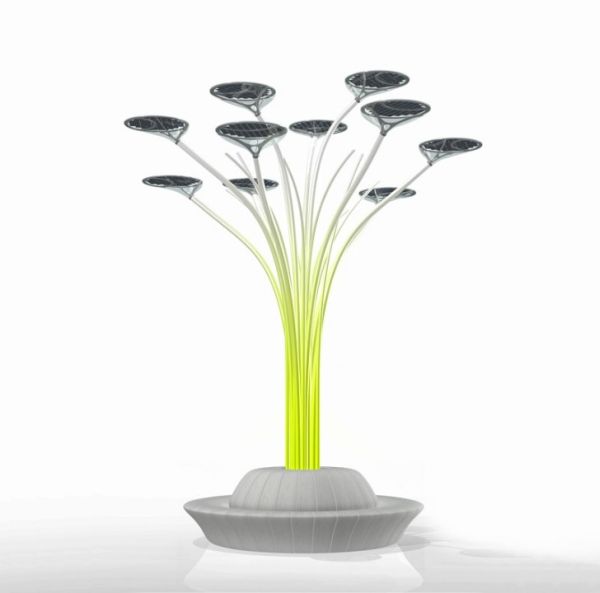 Designed by Ross Lovegrove, the Solar Tree is an LED light fixture. Apart from being a sustainable streetlight, it could also be a good lighting idea for your home. It uses the sun's rays to light up the streets. The structure consists of over 10 leaf-shaped photovoltaic panels that face upwards. During the day, the panels soak up the sun's energy and store it in inbuilt batteries. It has light detectors that sense when the sun is about to set and automatically switch on the lights. Therefore, it helps in illuminating the streets at only a portion of the energy consumed by traditional street lights.
2. WindTulip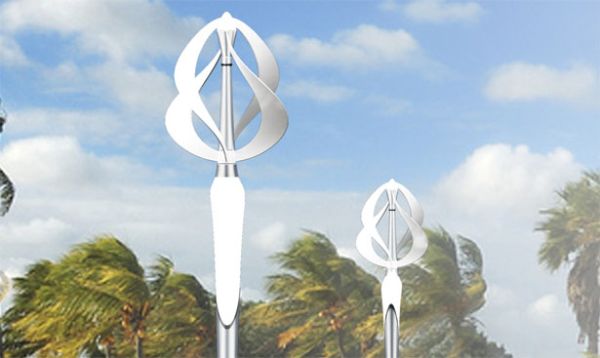 Designed by Mebrure Oral, the WindTulip is a wind powered street light that hardly looks like a wind turbine. The covert design looks like an art piece which in fact hides an in built turbine. The top of the WindTulip spins all day and stores the energy in an internal battery. At sunset, this energy is refueled to the lights to illuminate the streets.
3. EnergyMe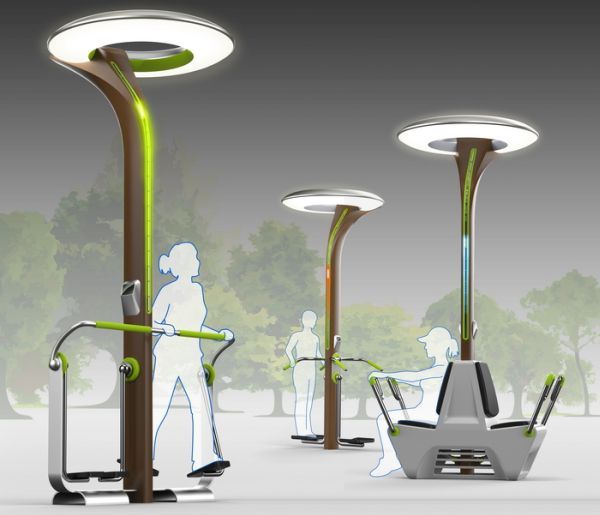 This clever initiative not only lights up the streets but encourages individuals to exercise. It runs purely on the energy derived from exercises like walking, running, pushing, pulling and pedaling. The energy accumulated from these activities is stored in internal batteries which then light up the streets in the night.
4. Combined Solar-Wind Powered Street Light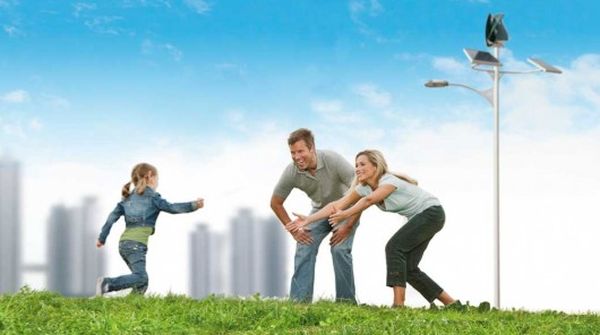 A design concept that shows great promise, the combined solar-wind powered street light is designed by a Spanish startup called Eolgreen in collaboration with the UniversitatPolitècnica de Catalunya. The fixture comes with photovoltaic panels to absorb solar power, a wind turbine to capture wind power, a battery pack, an array of LED lights and an electronic cooling component to balance both the sun and wind power generating components. The fixture will ensure that the lights keep on burning no matter how the weather remains outside.
5. Energy Seed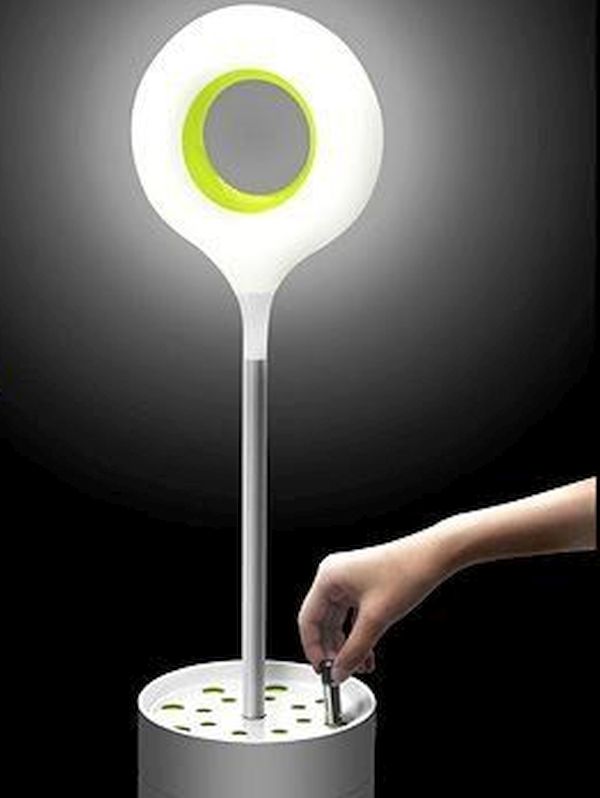 This innovative lighting concept utilizes the remnant charge remaining in used up batteries. Designed by Sungwoo Park and Sunhee Kim, the light uses these leftover batteries that need to be placed in a pot containing the light. The batteries are placed in receptacles that suck in the remaining power in these batteries to light up the streetlight.

A lot of companies are coming forward with their ideas to power streetlights with more abundant energy sources. From lights being powered by the sun and wind to those even powered by humans, these lights will surely help cities conserve plenty of energy to be used for other purposes.
6. Invisible Streetlight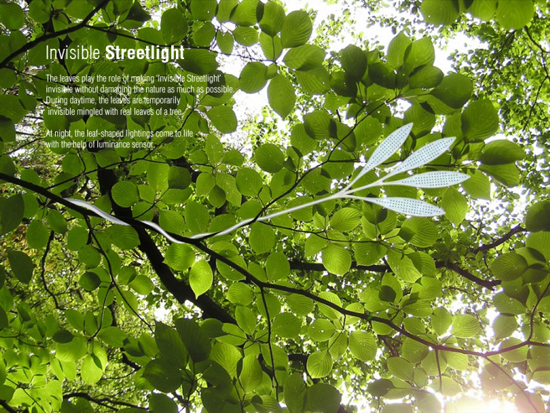 At the first sight you might just think that a bunch of fireflies have arranged themselves on a tree branch along the street. Albeit, the creation drew its inspiration from nature, it's man-made. Known for accrediting out-of-the-box concepts and eco-friendly designs, the International Design Excellence Awards '08 has applauded this piece of innovation which could change the face of streetlights in near future.
The brain behind Invisible Streetlight is Jongoh Lee. With no poles for support and eco-friendly shape, this source of light could just be twisted around a tree branch. Parks and outskirts of cities is where this would be used, as streelights with robust poles spoil the scenery. It works by trapping sun's energy in the day time and then utilizing it during nights when the sun is off for rest.
7. Sustainable street lighting doubles as outdoor seating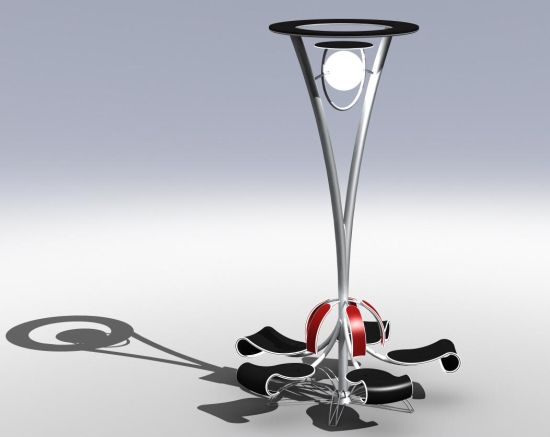 Macedonian designer Darko Kostevski has come up with a smart yet sustainable street lighting project that other than lighting the parks, bicycle paths, or a walkway doubles as outdoor seating for the passersby. Entitled "Jupiter" due to its ring shape, the lighting features the frame finished in aluminum, seats and the red back fenders in ABS high gloss plastic and lamp as well as mirror in glass. Integrating solar panels in the form of a ring at the top, the street light harnesses solar energy and converts it in electricity for illumination. In addition, the eco-friendly lighting locates a mirror on the bottom of the ring to spread the reflection of the light on the ground.
8. Sun flower, solar cell street lamp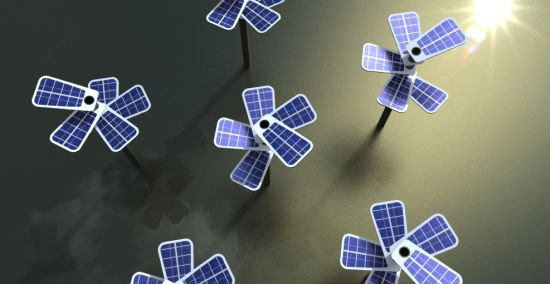 Designed by Danish designers Michel Riss and Jens Rosbjerg, the "Sun flower" is a high intensity, low consumption solar cell streetlight that illuminates public areas, such as parking areas, gardens and streets, in a sustainable manner. Completely autonomous from external power supplies, the sustainable streetlight integrates five photovoltaic modules on top to harness solar power and store in a battery to power five 56 W LED lamps. The LED lamps emit white light and have an average lifetime of 50,000 hours to last over 10 years. The street lamp also features an integral daylight light sensor that automatically controls the on/off function. In case of a single LED breakdown, all other LED modules continue to work and illuminate streets at night.
9. Zava's new solar-powered street lighting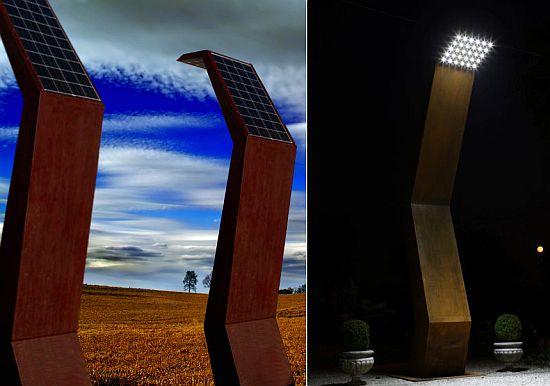 Solar-powered lighting is the most sustainable, carbon-neutral means to provide exterior illumination. It's always good to know that the sources of light that illuminate your way at night are in total energy independence. Enter the PV.LED street furniture LED photovoltaic from the house of Zava, in collaboration with VP Solar. PV.LED street furniture is not just about creating light at night. Instead, it's also about creative design and pleasing aesthetics. The new collection includes Atollo, Girò and "813." The Atollo turns on to generate a powerful and efficient beam of light, thanks to its 30 LEDs.
Next comes the Girò, which takes its name from the opportunity to direct its photovoltaic module to ensure maximum energy efficiency. Its innovative design is highlighted by the slim silhouette. Finally, the "813" is an external lighting unit that features 12 discrete LEDs that spread light in the surrounding areas of commercial or residential buildings.