A compact kitchen isn't just for those who want to save space, it's also for those who want to want everything within their reach. No matter how the way you look at it, small kitchens are the future.  They are our perfect answer to the hyper congestion of modern city life. Furthermore, it could be a true delight for those who want their kitchen to be minimalist and clutter-free.
Here are 15 compact kitchen ideas that would fit no matter how small your home is.
Compact Kitchen by Boxetti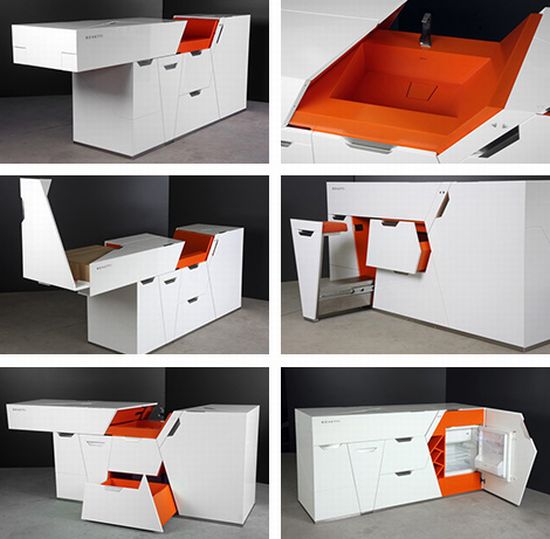 If the these space-saving kitchens were not sufficient to add spice to your life, Boxetti has popped up another cool compact kitchen. You can easily configure it to suit your space. Touting functionality and modern technology, together with contemporary aesthetics, the modular kitchen makes the most out of every inch available.
Presenting the island, which is complete with built-in expandable bar seats, sink, fridge, shelves, and an automatic sliding countertop. Furthermore, the smart kitchen includes functional yet fashionable storage to accumulate your accessories neatly. The compact kitchen maintaining a minimal design not only saves space in small city apartments but also adds fun and style to cooking.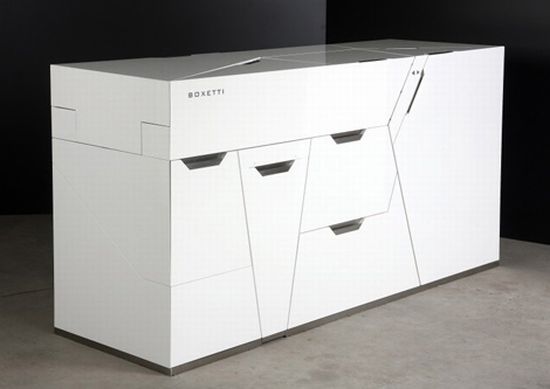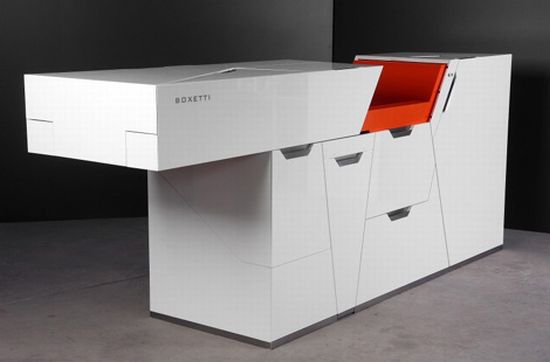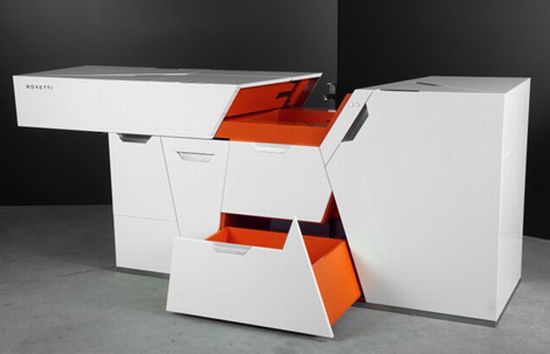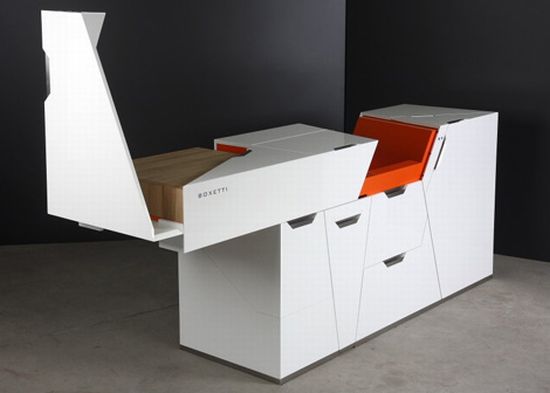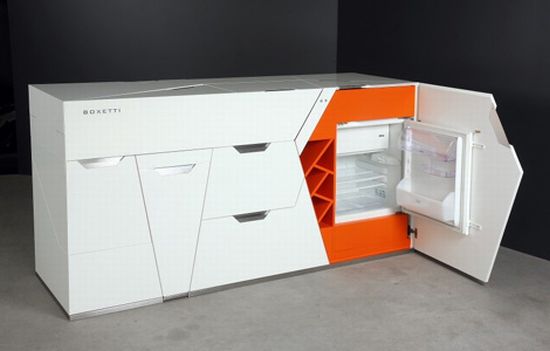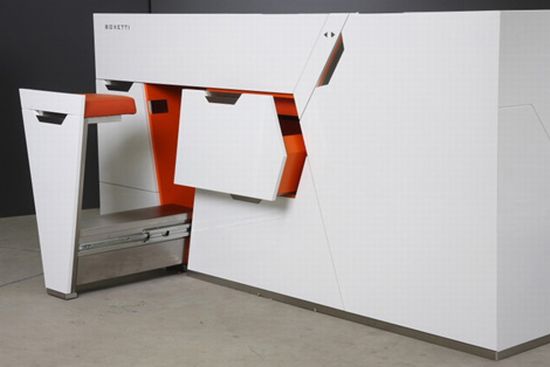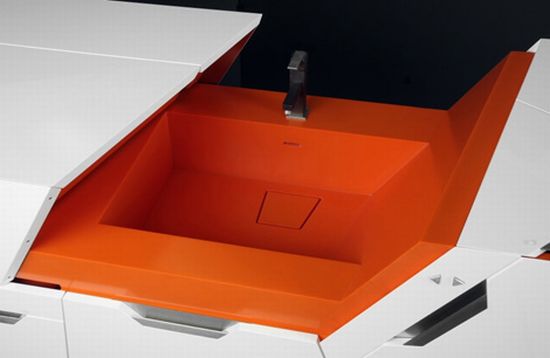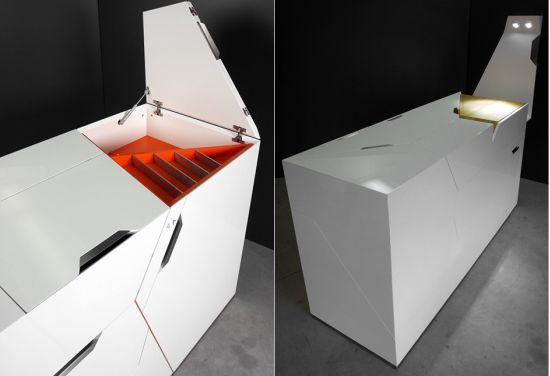 Via: Trendir
More compact kitchen ideas
1. Fruit of Life: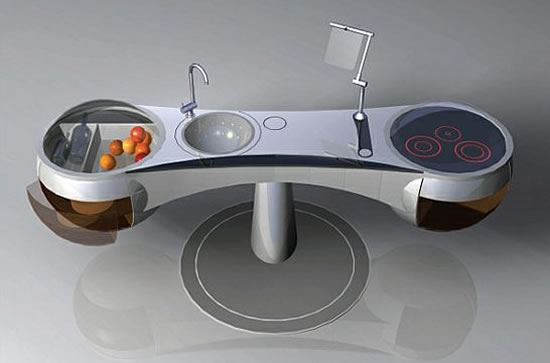 Hieu Tranngoc and Hao Tran have designed a balanced kitchen that fits the lifestyle a geek, for sure. Ideally sized for one or two people, Fruit of Life is an open concept. It gives the user the freedom to move the kitchen with ease. In fact, a fruitful apple tree has been the source of inspiration for the designers. Therefore, they have literally shaped the whole setup like a tree with two fruits hanging from branches on either side.
2. Kitchen 2099 or H2O: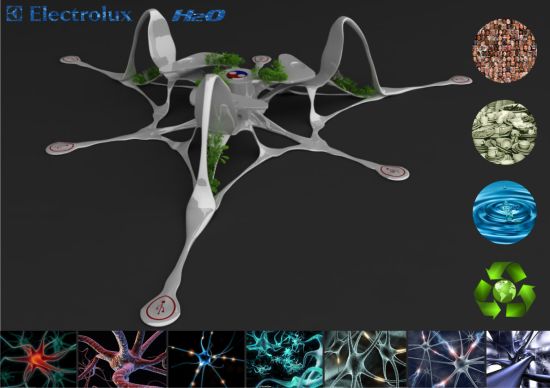 Built on the principle of metamorphosis, the "Kitchen 2099" or "H2O" by Hungarian designer Peter Vardai is a futuristic kitchen. It loses its exclusive part in the household and turns into its center by fulfilling all its necessities. Furthermore, for the basic substance, the claytronic atom, allows the owner to shape his/her kitchen according to their wishes and changing moods. This means that one single acquisition enables the usage of various models.
3. Kitchen Tree: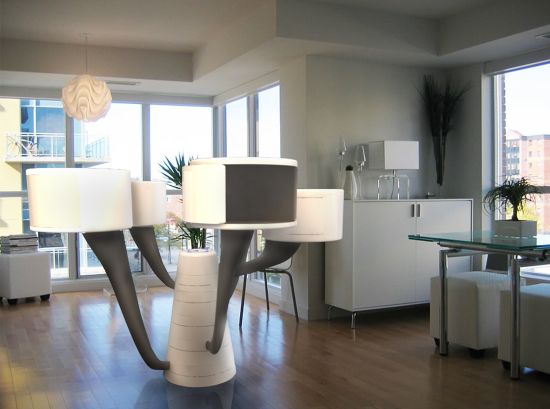 Designed for the recent Electrolux Design Lab Competition, under the theme "a household item for the next 90 years," the "Kitchen Tree" by Balin Lee as depicted by its name is inspired by the growth of trees in nature. Incorporating futuristic technology, the kitchen concept by the Australian designer can be customized to the user's individual needs.
4. Round cupboard kitchen concept: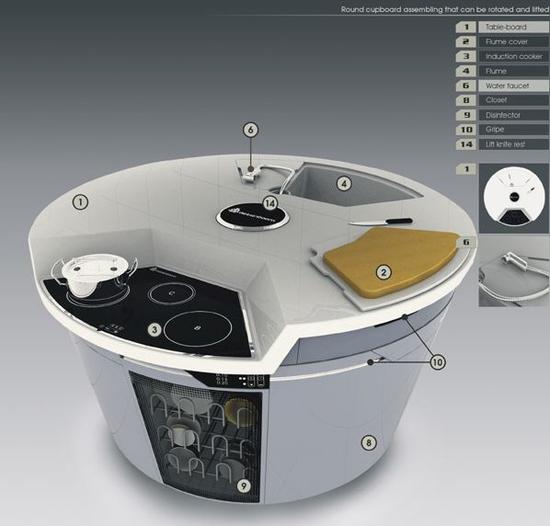 Though its name 'Round cupboard assembling that can be rotated and lifted' certainly could use some professional PR help, the concept behind it seemed quite wholesome to say the least. With each element of the kitchen designed to allow objects to come near the user, rather than the other way around, the concept is a true time-saver, while the unique cylindrical design of the concept also saves a lot of space within the living space!
5. Tube mini kitchen:
Addressing the issue for the working single or a couple, or even a small family for that matter, designer Faith Can Sarioz has come up with a compact, but at the same time unique, kitchen concept that easily fits in the small city apartments, allowing fresh and hygienic homemade food for the working people. Hailed as "Tube," the mini kitchen module takes its shape from 2 tubes that are united by a stem.
6. Portable kitchen for singles: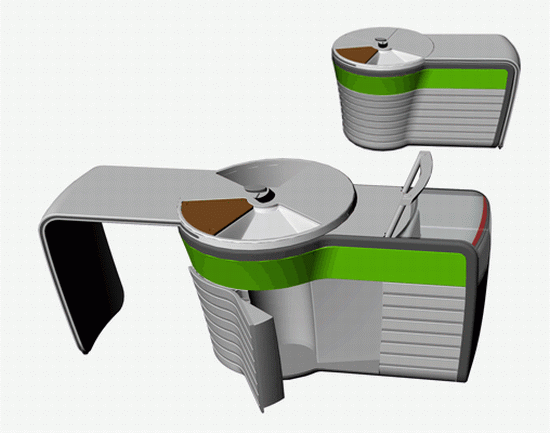 We have seen things evolving in order to serve the way we like them to be, and one of those things that attracts attention is the latest "kitchen for singles" by designer Dzmitry Samal. Featuring an extended kitchen counter and storage space, inspired by the mobile phone rotating mechanism, this adaptable portable kitchen will ensure a good meal from your favorite cook.
7. O Kitchen: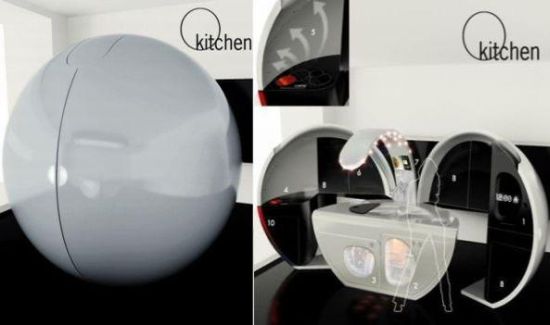 Deriving its name from its spherical shape, the "O Kitchen" is a compact yet complete cooking space for modern homes. This kitchen has everything, name it and it's there. Boasting control panel with internet access, MP3 player function, CD/DVD reader, digital cookbook, kitchen management software and built-in sound system, the futuristic kitchen comes equipped with unified microwave and electric oven, refrigerator, dishwasher, cooktop, smell and steam exhaust, lighting, cabinets, automatic disposal system and high temperature alert display.
8. EGGo Mobile Kitchen: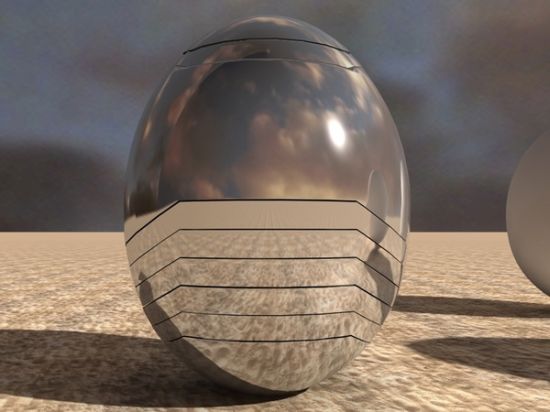 Presenting an elegant egg shape design, designer Zhdanova Irina has come up with a concept kitchen that users can carry with them on their fancy camping trips and enjoy cooking outdoors. Dubbed the "EGGo," this self-sufficient mobile kitchen, apart from water sink, water reservation tank and gas chamber, also includes an extra burner for sumptuous barbecues.
9. Isola S: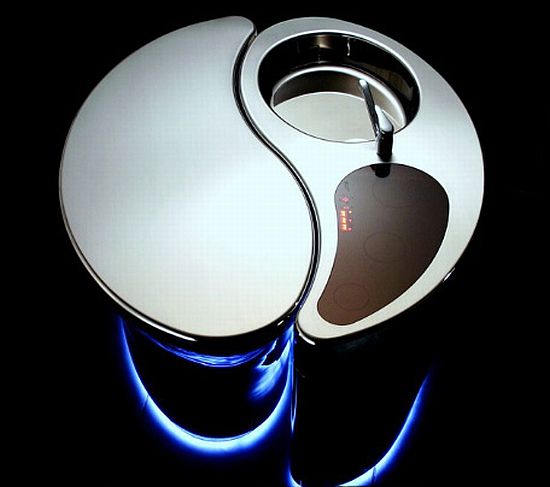 Toyo Kitchen's Isola S kitchen, with its stylish and organized design, looks set to change the gloomy perception of males towards cooking and cleaning up. Featuring three electric cooking rings and a generous circular sink, the Isola S from the Nobody collection, comes with elegant corrugated-bottom drawers for storing different kitchen items.
10. Two Person Cooking Space:

With luxury homes turning into small apartments and cramping living space in modern urban dwellings due to rapid growth in urban population in recent times, demand of portable and multifunctional gadgets has been on the rise. Defining the universal problem, the 2 Person Cooking Space by Tommy Chen is an innovative solution for compact urban homes.
11. Rock – aïl: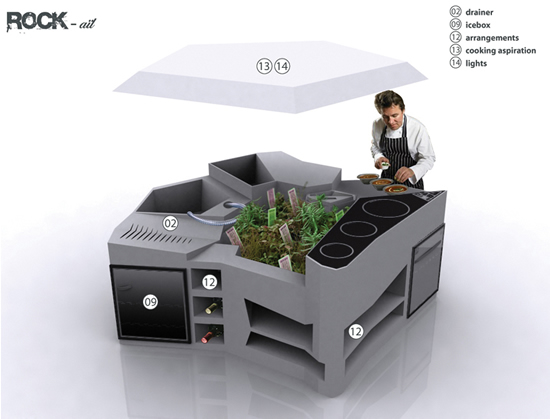 Dubbed as Rock – aïl, it is a polygonal shaped set up that houses all that you can ask for and more! Intending to make people responsible about the feeding habits, well being and ecology at home, it is a whole complete kitchen by itself.
12. Futuristic Kitchen by Aslihan Yilmaz: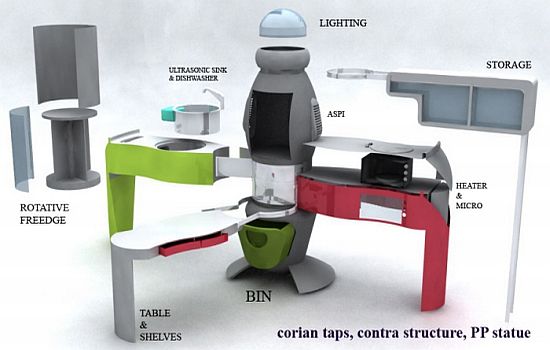 This kitchen concept by Turkish designer Aslihan Yilmaz held a ranking in the X-08 National Kitchen Design Competition(Turkish) 2008. To start with, it is completely foldable and the components and attachments can be folded away when not in use.
13. Alight Kitchen: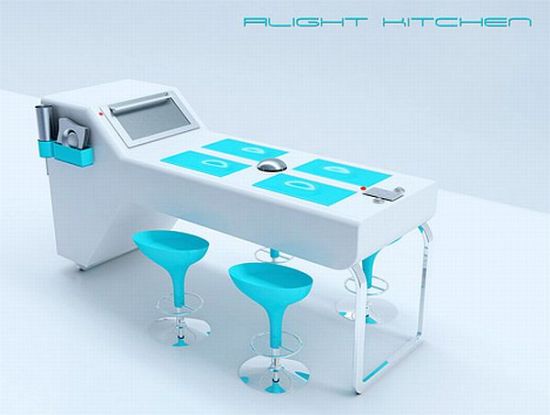 Altera Design Studio's innovative kitchen Concept 'Alight Kitchen' recently awarded at the Incheon International Design Competition 2007, ready to be exhibited at Incheon International Design Fair this December concerns itself with the global shortages of clean water, food, and resources. The system not only helps minimize waste materials but also make people aware of how much they're consuming.
14. Kitchen Design: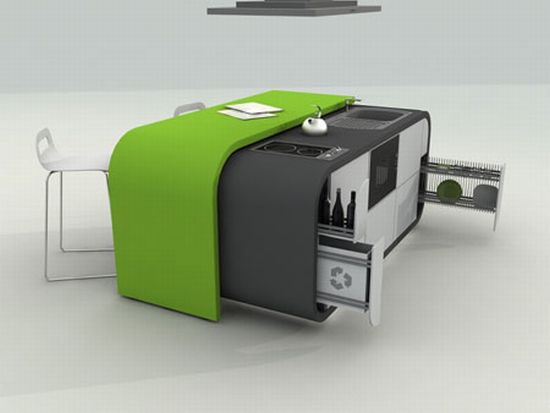 This beautiful and smart kitchen design is made by Fevzi Karaman a designer from Turkey, Ankara who made the kitchen cupboard "silverline" which won a prize at a contest student. In addition, the colors of the kitchen pechues with a green apple that gives a sacred Deco touches to the kitchen.