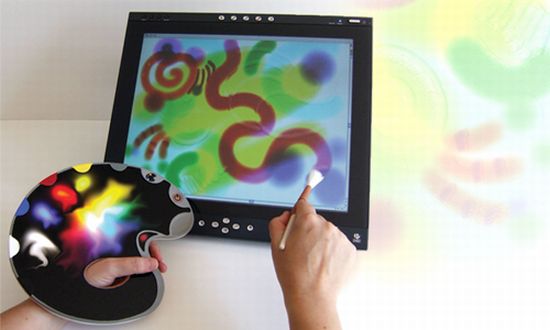 Imagine picking up a paintbrush and painting whatever you want, without any worries about your skills, about how to mix a color and without wasting materials in case you don't like what you've done. Imagine being able to learn how to use different art tools without actually buying them. Virtuo, is a digital art-tool set that combines elements of traditional art and the latest technology to promote creative development in novice or amateur artists. Featuring a digital palette, charger, and five digital art tools, which work on the principle of electromagnetism and therefore do not require batteries, the Virtuo takes advantage of the latest sensor technology to communicate with an interactive pen display and a computer, translating the user's gestures into visual output.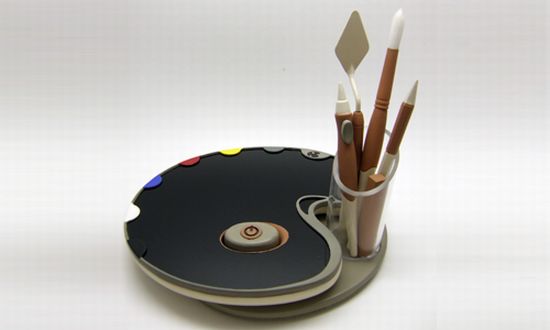 The palette uses Bluetooth technology for communicating with the computer. It mimics real paint mixture techniques with LED lights. The user can also mix dark colors due to the special coating on the palette's surface. The amount of paint 'picked up' by the tool is determined by the amount of time the tool spends on the mixed color. The tools, including pencil, paintbrush, palette knife, airbrush and pastel, use sensors to translate the user's gestures into visual information.
Virtuo comes with software that is based on the real painting process: minimal, leaving the user free to experiment. Most of the time it would look like a blank piece of canvas, with a simple drop down menu showing only when the user wants to start a new digital painting, save, close it or open a previously started one. The cool thing about this software is that it would treat all the digital materials used on the canvas as real ones. For the user would not be able to erase paint, but change the color by using different texture over it.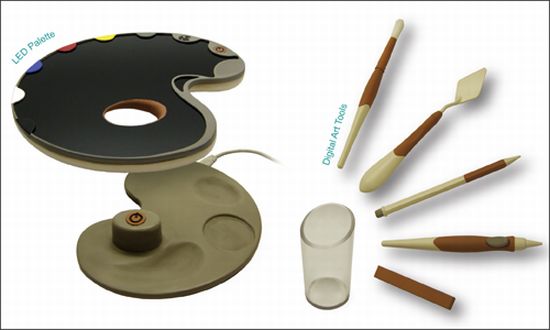 Design Status:
At this point, Virtuo is a concept product displayed at the Carleton Annual Industrial Design Graduation Show in April 2008, where it won a Wim Gilles award for excellent form.

Usability:
The Virtuo is designed to be used by people who are new to the world of art and have doubts in their creative abilities. It could prove handy for senior citizens, who have more time and means, to try new things but are often insecure that they can succeed at producing art at their age. The product could also be tailored to become a fun and mess-free toy for children or a sophisticated instrument for digital artists and designers.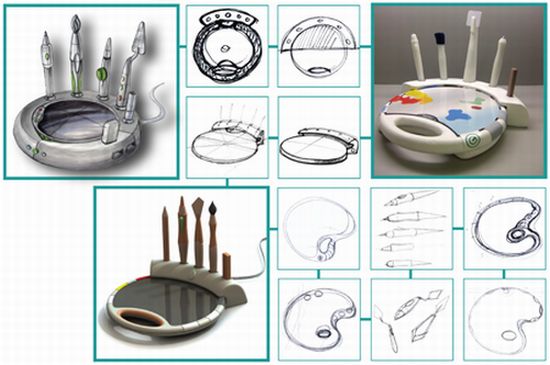 Designer:
Yana Klimava is a high distinction graduate of the Industrial Design program at Carleton, Ottawa. She is currently located in Calgary, working with Taktik Studios, an industrial and graphic design company.
Thanks Yana.