Hotels have been affected by the fall in the dollar value; so now all hotels and resorts irrespective of their ratings are thinking of new ways to get more customers. We know that they have already installed charging stations for the electric and hybrid vehicles, going green is considered to be a top selling point.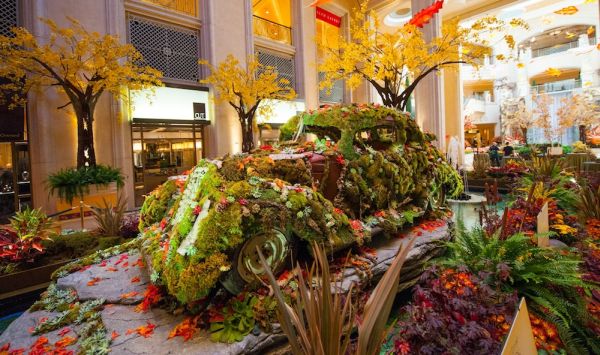 Pushing Forward a Green Message:
The Palazzo is no exception to this rule; they are well known to put up spectacular displays to match the changing seasons in their area where their waterfall atrium is located. Their display for the fall season will focus on their efforts to go green in the Palazzo and other property on the Las Vegas Strip, the Venetian. Their fall display was unveiled on September 24th and will be open till November 10th.
Their display features the 1943 Hudson completely covered in plants like lichen and grapevines, this concept was inspired by the initiatives taken by the Palazzo to use alternative transportation methods. They have an offer where hybrids and vehicles using alternative fuels source will get priority parking, they also have charging stations for electric vehicles. Bicycles are treated to valet parking. The solar panels put next to the car are representative of the Palazzo's efforts to use solar power as an energy source. It has installed solar panels that cover over 18,000 sq. feet, claiming to be the largest, which provides hot water that is used in their spas and swimming pools.
A Tribute to the Earth:
The whole entire theme of the display centers on an artist's version of a recycled forest. This display looks like an environmentalist's wonderland; it is made out of different unconventional items. You will find construction debris, bars of used soap, and bits of steel and wine bottles hanging on the branches of a tree. All of the materials used were found on the site and was reused in keeping with their ECO 360 degree program.  The East Garden Display is representative of their system of water reclamation that reuses five gallons of water for horticultural purposes. The Chocolate Flower Cosmo in the West Bed consist of flowers that synchronize their movement using motion detectors, the idea was to show that nature and structure can co-exist. Glowing leaves are suspended from the sunlight which makes it loof lie falling leaves, this is probably their most whimsical and magical creation yet.