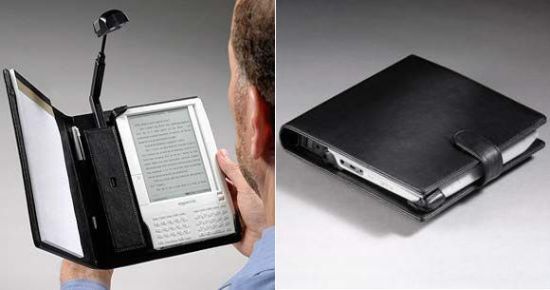 If you are one of those sleepless souls who loves to read late into the night, burning the midnight oil and disturbing your partner's sleep, then this one is for you. The Light Kindle is a simple but effective solution for your late night rendezvous. Presenting a retractable reading light, deluxe Kindle cover, a notepad and a pen holder all in one package, the Periscope Lighted Folio is powered by three 'AA' batteries and keeps going, for as minimum as 40 hours. All you have to do is slot the Kindle into the custom designed holder, pull up the retractable twin LED reading light to start reading without illuminating the entire room.

Design Status:
The Light Kindle is a ready product that will be available by next month for just $4.
Usability:
Apart from your home and conference room, the Lighted Folio is a good option for traveling in a bus, train, airplane or car during the night. It also features a cover with magnetic snap closure that keeps your Kindle safe on tours.
Via: Gearlog
Designer Firm: