The world is fast approaching a crisis like situation. We are fast running out of resources we need to build more houses. However, on the other hand, we still haven't solved the housing crisis. There is still quite a shortage when it comes to the housing of the urban poor. Therefore, we need to ensure the building of houses that have two main characteristics. First, these houses should be eco-friendly, that is, they should not harm the environment and should require only sustainable construction materials to build. Second, these houses should be inexpensive so that the urban poor can afford it. Along with Portable Shelter, we have mentioned a few urban shelter ideas that can help in solving this problem.
Read More: Global Sustainable Home minimizes environmental impact
Portable Shelter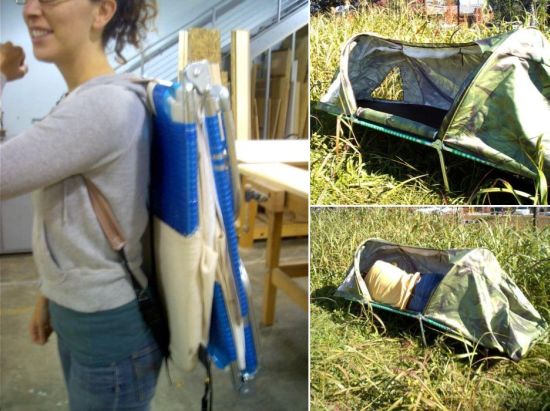 Over the period, there has been a rapid growth in the number of homeless or people living on the streets. This owes to the population burst and partially the economic meltdown, all over the world.Addressing the issue, designer Charles Heydinger has come up with a portable shelter. This shelter provides some sort of refuge to the homeless. It is developed in collaboration with the residents of Union Mission Shelter in Savannah. This portable field shelter has protective features, such as compact, camouflaged, weather resistant and elevated from the ground. It can prove essential to stay alive in harsh weather condition.
Made in inexpensive materials, the portable shelter uses a common beach chair, which is easy to install and deflate. Moreover, it folds into a backpack for easy storage as well as transportation.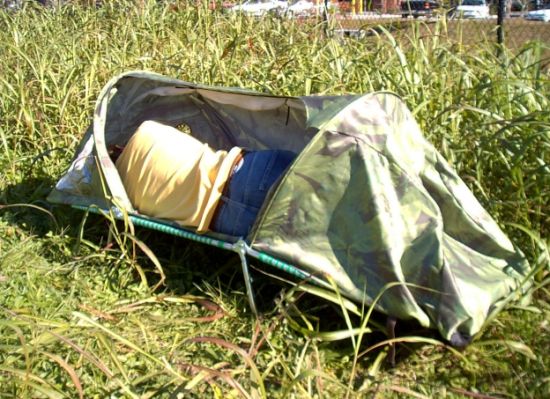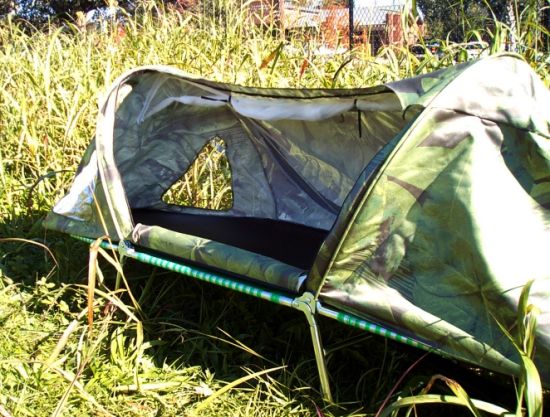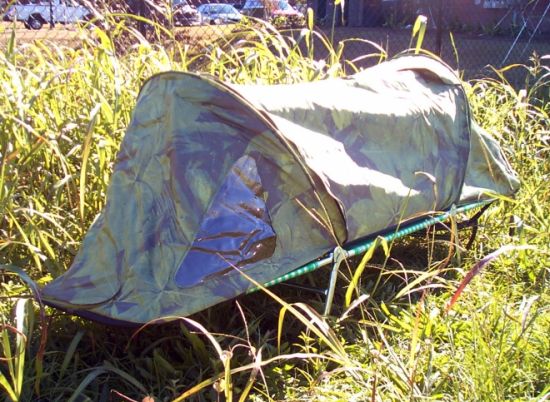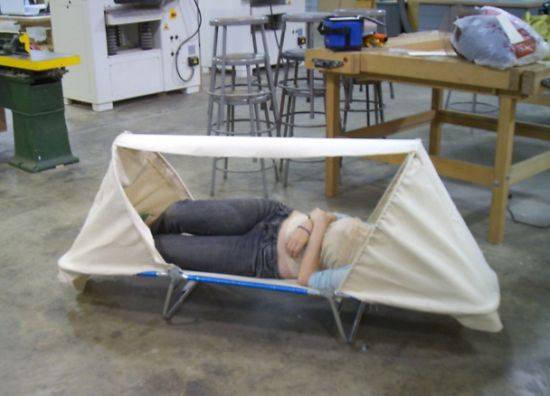 [Cheers Charles]
Some more emergency housing alternatives similar to Portable Shelter
1. Kaluga Floating Sauna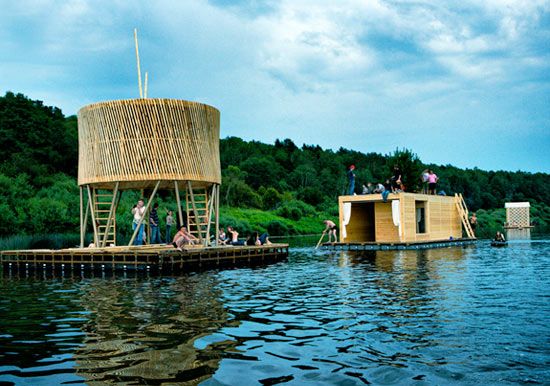 Water is the premier source of life on earth. However, we have also witnessed, rather suffered, some of the deadliest furies of water (occurred in the recent past) across the world. It's almost impossible to evade the wrath of natural calamities. Nevertheless, if we become wise and take proper care of the environment, we surely can negate the damages with better planning. Commemorating the "festival of landscape objects" held in Russia last year,
Finnish firm Rintala Eggertsson Architects called international architects, including Norman Foster (England), Francois Roshe (France), Sami Rintala (Finland), Vladimir Plotkin, Sergey Scuratov, Tatan Kuzembaev (Russia), to design a short-term floating house for extreme conditions. Called the "Kaluga Floating Sauna," the floating house can accommodate up to six persons for a longer duration. After completion, the houses were floated down the Ugra River, from Juhnovo to Nikola-Lenivets village. There they have been used as permanent museum exhibits and guesthouses for visitors. Check out few more images after the jump.
2. Solar-powered Oasis Shelter Bench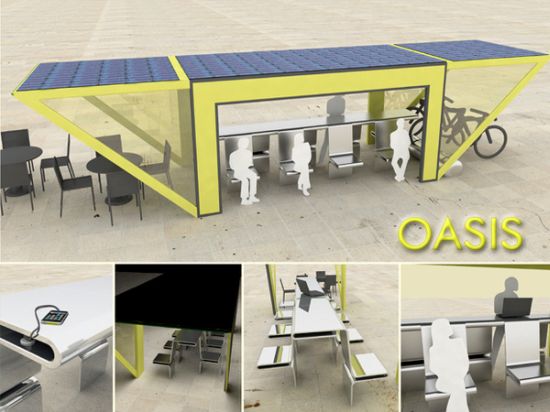 Transforming a simple bench into a meeting point, Brazilian studio Baita Design has popped up shelter bench. It collects solar energy to humanize the urban environment and make the cities a better place to live. Dubbed the "Oasis," the public bench offers a comfortable space and a meeting point. It is a place where you can make a rapid lunch, consult a guide or a map, feed your gadgets or simply rest for a while. Ideal for wide sidewalks, squares or parks, the Oasis integrates a bike stand on one side and a picnic area on the other.
In addition, the shelter bench integrates solar panels on its roof. This helps in generating enough energy for the whole infrastructure. Here pedestrians can charge their portable gadgets. Made in anodized aluminum, the public bench also features a generator, power inverter, and charge controller. In addition, this also turns it into a small power plant, as surplus energy produced by solar panels can be directed to the adjacent electricity network.
3. Uber Shelter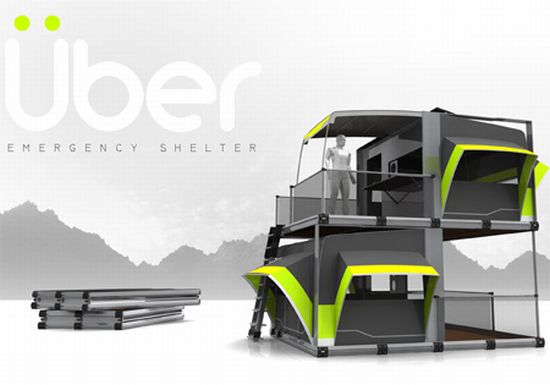 The scenes of a calamity on the telly are hurting. We see millions of people rendered homeless because of the wrath of nature. It is important that we think about the problems faced by the affected people after the damage occurs. It is the designers who can make a lot of difference in that regard by designing things like the Uber Shelter. A shelter which could work wonders for people rendered homeless by such natural disasters.
The uber shelter is ready to ship design. It can be transported as a plain surface and upon reaching the destination. Furthermore, it is ready to be spaced out into a full-fledged lodging.
All major concerns and NGOs that work as beneficiaries for calamity-hit people can bring this shelter to use. Once the calamity stricken people of a particular area are reinstated. It can then be moved to the next place where such assistance is required. Depending on the nature of the calamity, this product can be used differently. Furthermore, you can either use it as a single story house or a full-fledged housing with multiple divisions viz an outhouse
4. Shelter Cart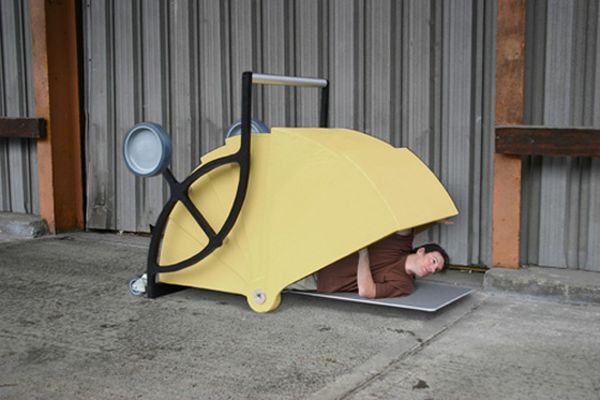 Here at Design blog, we don't always focus on designs and concepts that intend to satisfy the whims of luxurious as well as an easy living. Zeroing down on certain nasty realities of life, here is the Shelter Cart that is designed to help the homeless rag pickers. Along with Barry Sheehan, Gregor Timlin came up with this rich idea to help the poor.
It isn't a rare site, especially in underdeveloped countries, to see these rag pickers who move about the city collecting stuff like bottles which in turn they sell it off to recycling plants for a petty sum. However, many of us may miss to realize that these guys are actually doing a green job by helping recycle trash. And so the designers aim was to bring these eco servants to limelight and design a shelter for them which can also serve as their cart. Moreover, the shelter-plus-cart on wheels provides a mobile roof to rest under. Made of collapsible components, the user just needs to push them back when its time to work.
5. Blackpool rotating shelter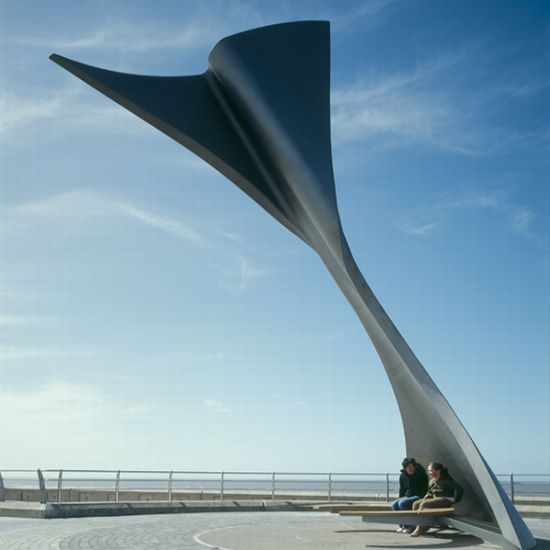 Located at Blackpool's newly regenerated South Shore Promenade, the "Rotating Shelter" by Ian McChesney is an 8-meter-tall wind vane that will counter the strong sea winds and shelter the inhabitants sitting at the base. The shelter is finished with resilient "Duplex" stainless steel and stands tall at eight meters.
Sitting on a turntable (4-meter diameter) with a built-in damper to control the speed of rotation, the shelter is designed to rotate according to the prevailing wind direction. The radical shelter works around two key elements – the vane, which rotates the structure – and a baffle that protects the occupants from the furious sea wind. In addition, the shelter is not just functional in use, but also boasts an artistic design, which bestowed it with the prestigious Civic Trust Award.
6. Daily Shelter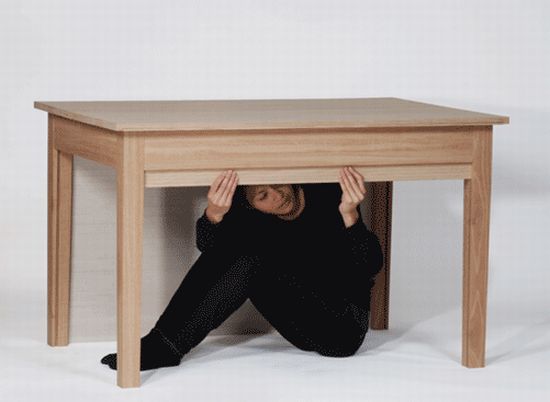 Drawing inspiration from the inventive as well as the humorous work of his grandfather Sigvald Andreas Brandth, an inventive designer, Norwegian designer Ingrid Brandth, has developed a modular table that hiding a secret tale turns into an instant shelter. Dubbed the "Daily Shelter," the multifunctional unit transforms from a table to shelter and vice versa with little effort within no time. Furthermore, all the user needs to do is drag the hidden sides of the table to cover the space underneath from all sides, which becomes a hiding space for kids or a small house for your pets.