When relaxing at your home comes to your mind, what do you think? We bet that you think about sitting on your chair, sofa or bed. What if your chair would give you comfort and massage when you are lying on it? Nothing can be better than that. Portage swan massage chairs do this. Furthermore, they are highly adjustable as well. They can make you forget the world while you are on them. Moreover, these are not the only such chairs out there. The market is teeming with innovative chairs, each one more innovative than the chairs before
Portable Swan Massage Chairs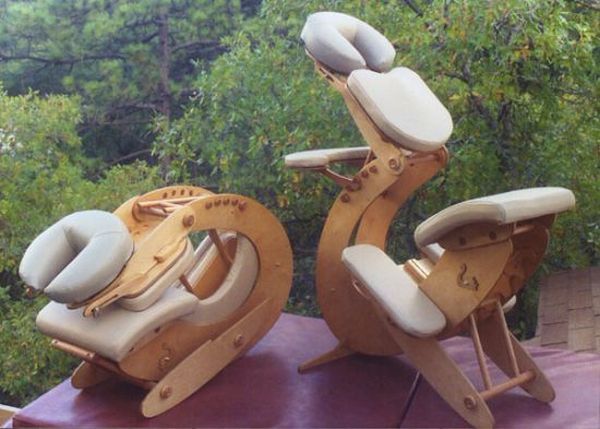 The Swan, portable massage chair, is a product of meticulous years of practical experience in massage therapy by its designer David Winglifter. Made of lightweight, high-strength Baltic Birch plywood and other hardwoods this chair features an adjustable torso tilt and extension, knee to seat distance adjustable, face support tilt and extension and compact carrying size with 90-second setup. This massage chair has been very suitably designed for ultimate comfort for all, including pregnant women. It can be folded into a one-hand carry system for easy storage and transportation. Available both in a standard on-site model and a custom studio version, it is still under production. The previous cost of the standard
Swan Chair was $539 and the company hopes to lower the cost of the chair as soon as they resume production.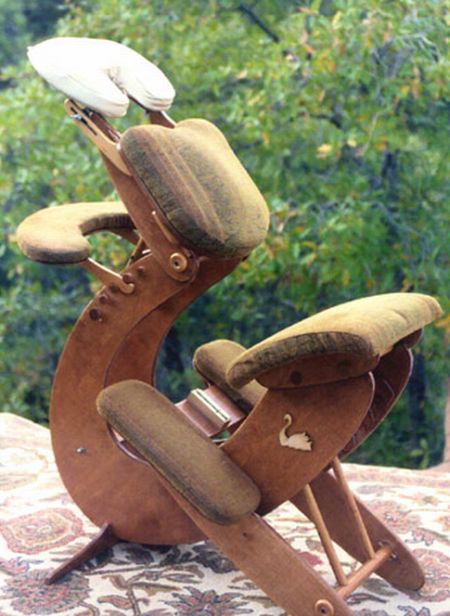 Via: Hlngrvr
Some more innovative chair designs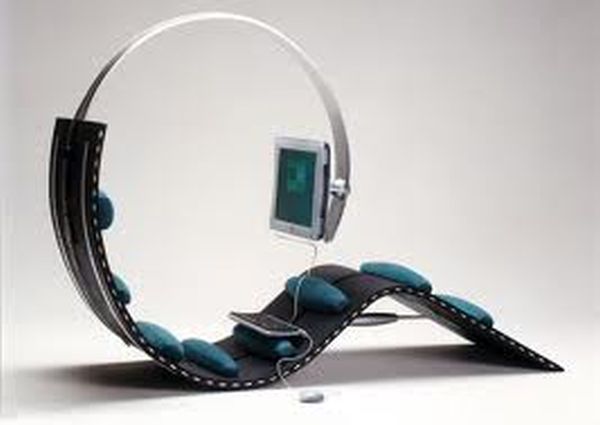 There is not dearth of innovation in this world. Here in this article, when we talk about different kinds of chair designs, we wonder how much innovation and creativity can go into this task. With the advent and introduction of high tech devices, we need chairs that can go along with them.
1. Go!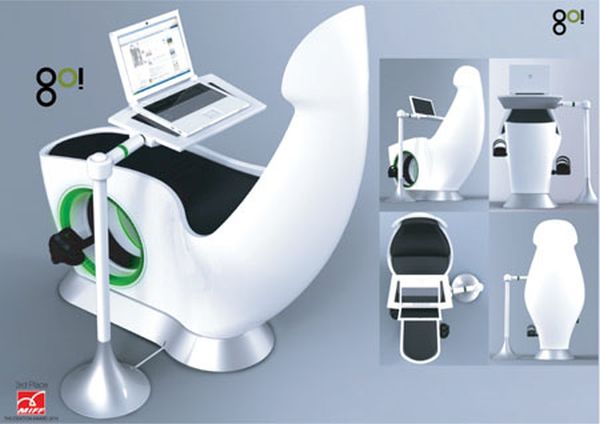 Designed by Rizki Tarisa, the multipurpose chair cum exercise machine flaunts proper space for placing your laptop on the chair itself. That's not all, while you work you can do some exercise also with a built in pedaling machine.
2. Energy Pod
Unlike other chairs, this excellent piece of innovation and novelty does not have the options to integrate your electronic devices. The reclining position of the chair can be adjusted at various levels and for added privacy; you can just cover yourself with the overhead egg shaped structure. A must buy piece of excellence if you have busy schedule and wish to re energize yourself in short time.
3. Organic Workstation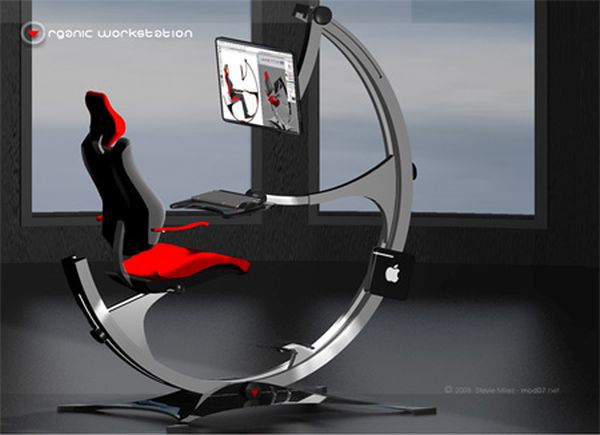 This state of art workstation is designed by Stevie Miles Brewu. You can use it to work for long hours. Not only it's comfortable to sit and work but it's also has a place to hook your monitor (or LCD screen) and keyboard. It's highly inspirational circular design makes sure that it doesn't tire you.
4. Surf Chair
This chair is fitted with cushions at regular and predefined intervals so that you get the maximum comfort once you are seated on this hi tech chair. Surf chair has also won the "Best Product" award at Scandinavian Furniture Fair 2000. The monitor is ergonomically placed so that you get the least strain when you work while being seated on this chair.
5. Tablechair: Table that transforms into a chair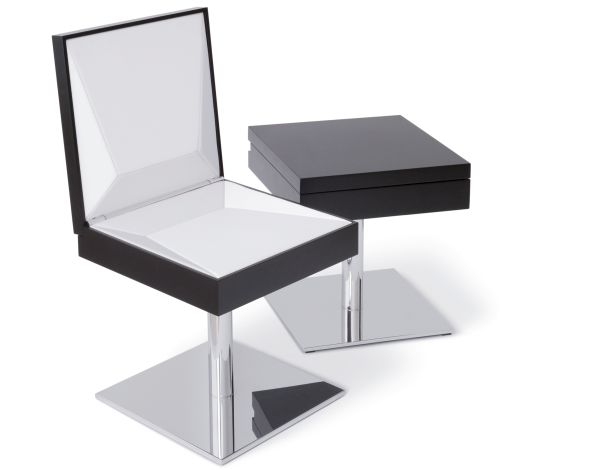 Manufactured by Neue Wiener Werkstätte, an Austrian producer, the Tablechair is a hybrid side table that when required doubles as a chair, composed of individual crystalline surfaces, to receive an extra guest. Designed by Thomas Feichtner, the multifunctional table draws inspiration from a black box that unfolds a bright white leather (mirror-inverted) seat to allow comfortable seating. And when folded, the back and the seat of the chair fit into each other in a space-saving manner. Moreover, the hybrid furniture comes integrated with a mechanic safety lock to avoid unexpected collapsing. Finished in leather, chrome and piano lacquer, the Tablechair when closed measures 42 x 45 x 45 cm, making it easy to store and transport.
6. Amniosense
This ultra hi tech chair is designed by Emanuele Rodella and architect Paolo De Lucch. Apart from having a touch screen LCD and electrostatic loudspeakers, this state of art chair can be connected to Wi-Fi and iPod as well. The reclining position of this chair is set in manner so that you get maximum comfort.
7. The Hollow Chair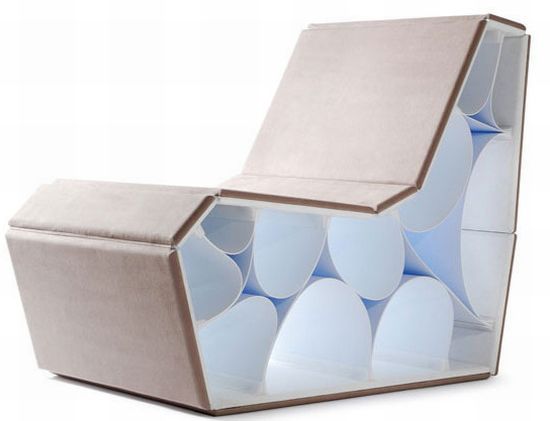 The Hollow Chair by Laurrent Massaloux will not only catch your attention for its unique design but also for its stylish and exclusive way by which it adjusts to the desired position of a person. The curves and counter-curves of the sheets slide depending on your weight giving you the preferred comfort. It is made of tensile polypropylene sheets set within a firm cushioned exterior held in a suede-like microfibre which makes it flexible enough to suit your needs. So hurry and grab one for yourself!
8. Emperor 200
This hi tech chair is a bit pricey and not everybody can afford to buy it. As far as the feature set is concerned, it's quite out of science fiction movie stuff. Emperor 200 has three 24 inches LCD screens and an air filtration system as well. You can adjust the seat and other equipment on this hi-tech chair by the touch of a button.
9. Knit Chair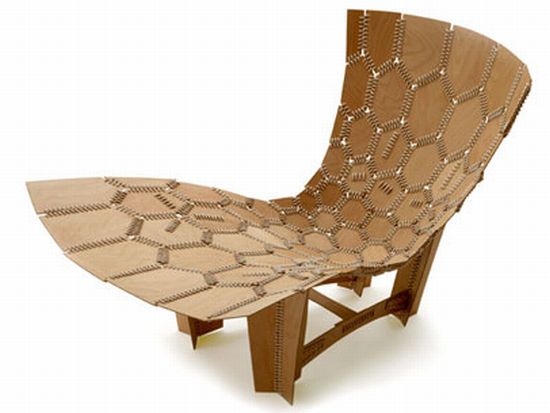 Emiliano Goday combines recycling with the comfort of a lounge chair. The miraculously designed "Knit Chair" offers absolute biodegradability with remarkably beautiful unification of cotton rope and automated aircraft plywood. This creation knits together differently designed smaller pieces, which collectively form a larger structure, making this chair look unique and crafty. And on wear and tear of these pieces, each component can be put for recycling for further use.
As every section grasps the other with a rope, this highly appealing knit chair offers immense flexibility to its user and adjusts itself according to the movement, size and posture of the user. Winner of the Bronze Leaf at the International Furniture Design Award in Asahikawa, this chair is an artistic image, adding dynamism to the range of furniture.
10. Question mark chair

A chair with a big "question mark" is just for you. Have a seat on it and think as many questions as you can. The Question Mark chair is designed by Stefan Heiliger, a professor who teaches vehicle and furniture design. The awards that he received for his designs, including the 'red dot design award', just verify his original ideas.
Though this seating furniture has a question mark, but in spite of that has an individuality and soul. This question mark is an innovative manifestation of advancement of design and style.
This chair is stylish and foamy, has an extraordinary degree of comfort, luxury and efficiently a stunning idea. It's matchless and entirely equipped with present-day qualities that epitomize this wonderful chair. The puffed up Question Mark has an unremitting curved shape with mid chromium-coated metal base. It has fire-resistant infused foam padding, an exclusive stretchy stuff that you can get in microfibre comfort and as well as in leather.