People go for expensive bungalows or cheaper homes according to their needs and budget. However, there are individuals and families who look for something unique. Nowadays more and more people choosing sustainable ways to live. This is bringing several newer types of accommodations. Snail house is one such accommodation for the urban nomads. Not only it provides a sustainable shelter to the urban homeless, if it comes into mass production, it would also be very cheap. Apart from that, right now shipping container houses are in trend right now.
Snail House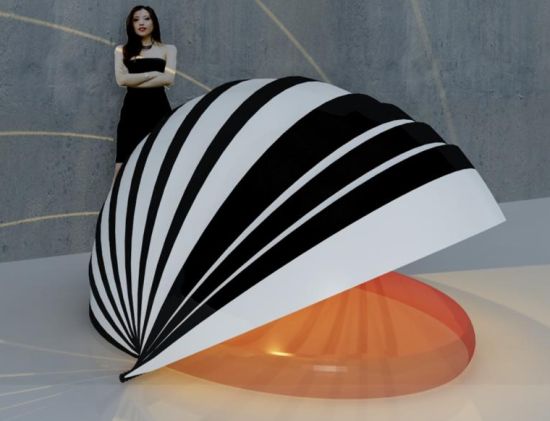 The "Snail House" from Durica is a portable shelter that provides an instant refuge anytime, anywhere. Resembling the coiled shell of a snail, the shelter includes an inflatable bed (120 x 200 x 20 cm WLH), where you may laze in comfort. And the battery-powered LED chains illuminate the shelter in the dark. Finished in transparent plastic, the Snail House offers wide color options, including white, orange, red, green, blue and black, so you may pick one according to your taste. Though the Snail House is available in four versions, for those who believe in a green lifestyle, there is an eco-version that comes integrated with flexible solar cells and harnesses natural energy to power the shelter. Measuring 160 x 215 x 110 cm (WLH), the shelter wraps in a compact size (D 80 x W 35cm) for easy storage and transportation.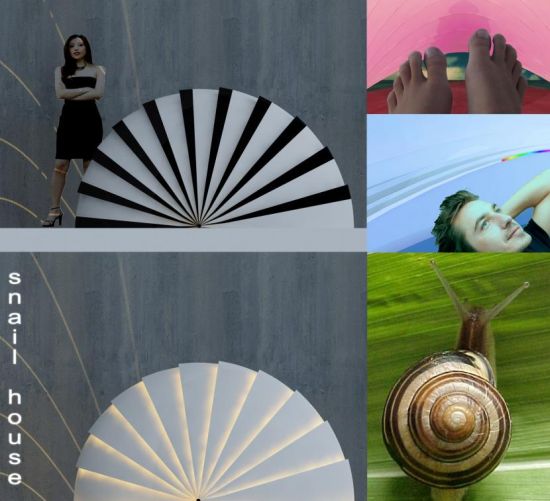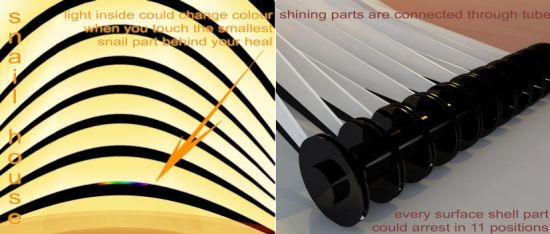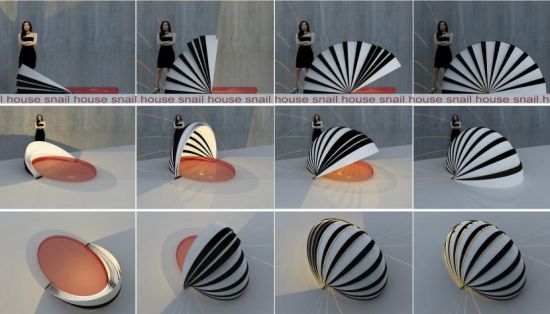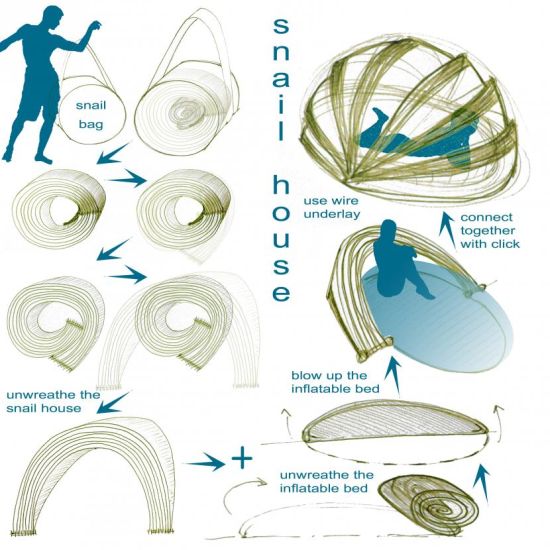 Via: Led-Emotionalize
Some more houses made up of a recycled shipping container
These homes may look somewhat quirky, but shipping container homes certainly helps in sustaining the environment. Here we have listed some cool and amazing homes made using old, discarded shipping containers.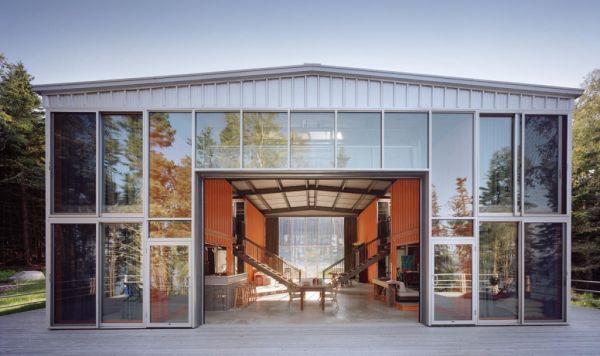 1. Twelve Container House
Twelve Container house by Adam Kalakin is an amazing two-story Shipping container home in Maine's Hill Bay. Adam Kalkin organized twelve recycled shipping containers to build this stunning home with a T shape. Constructed in a modern design and style, Twelve Container house features radiators for floor heating, floor to ceiling windows, concrete floors, and two fireplaces. It is stylish, equipped with classy furniture and very expensive.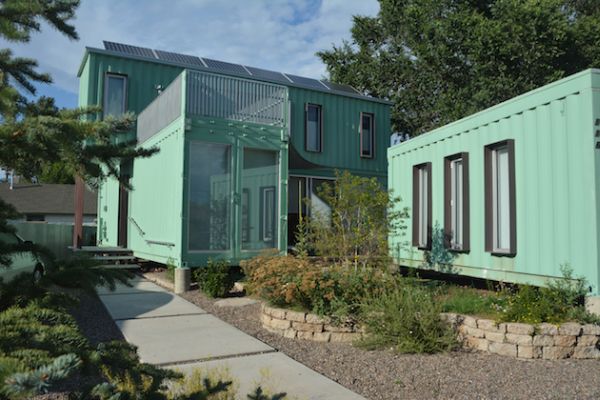 2. Six unit shipping container home
Six Unite shipping container home is a perfect blend of six shipping containers. Well equipped with ultra modern furniture you will surely drop down your jaw after taking a look of it. Enhanced features of the home include large glass windows, concrete made floors, and stairs of red brick, rooftop terrace and industrial finishes.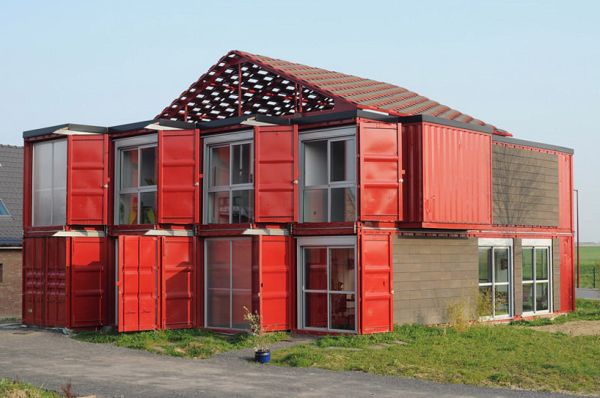 3. Maison Container Life Residence
Maison Container Life Residence is an amazing residential home designed by Patrick Partouche, a renowned French architect. Patrick used multiple shipping containers for constructing the house in just three days. You can see the brilliant use of eight different containers stacked one upon other used to build the home. In addition, the house covers the total living space of some 2,238 square feet and looks heavenly beautiful.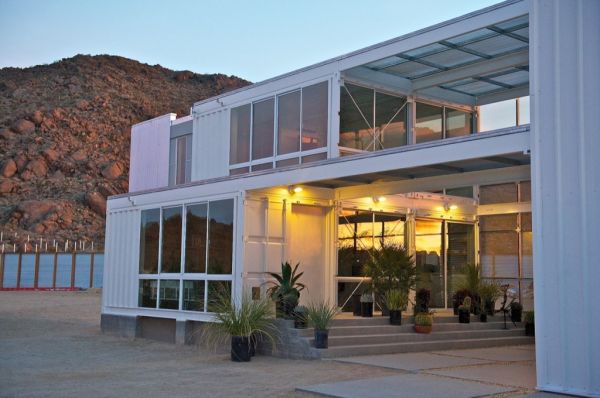 4. Hybrid House
You surely cannot take your eyes off from this gorgeous Hybrid House by eco tech designs. Located in Joshua tree, California, Hybrid House is made with components of pre engineered steel building together with cargo containers. Also known as Tim Palen Studio at Shadow Mountain, the house is based on the concept of fuel-efficient Prius automobiles.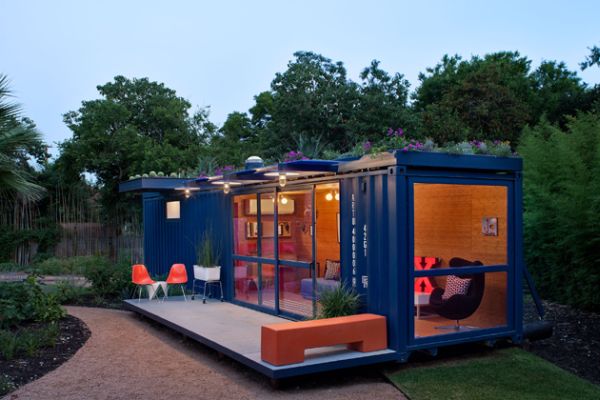 5. Shipping Container guesthouse
Designed by Poteet Architects, Shipping container house is made of recycled shipping containers. Even at a single glance, you can well determine the superior quality of the house. This well furnished house offers its guests a full home feel with amazing infrastructure and enhanced facilities. Furthermore, it covers the living space of 36 square feet together with a living room, bathroom and a study area.
5. Kalkin's Shipping Container Homes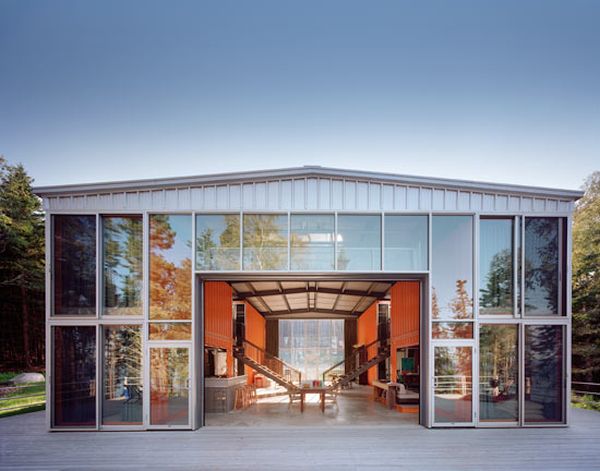 Designed by architect Adam Kalkin, this masterpiece is unbelievably beautiful and attractive. The entire piece is developed by recycling a few shipping containers. Each of these containers is available for just $1,000 and one cannot even beat the durability of these containers. Thus, the house created out of shipping containers is naturally strong and long lasting.
Kalkin's homes are a group of huge structures that have every item of luxury organized in a wonderful manner. These homes are somewhat stacked together to form one big house. The inside and outside boundaries are defined by sliding glass doors. There are marvelous staircases connecting each house on varied levels. In addition, the living room, bathroom, bedroom and kitchen of each house present a great example of aesthetics and sustainability.
6. De Maria Design Redondo Beach House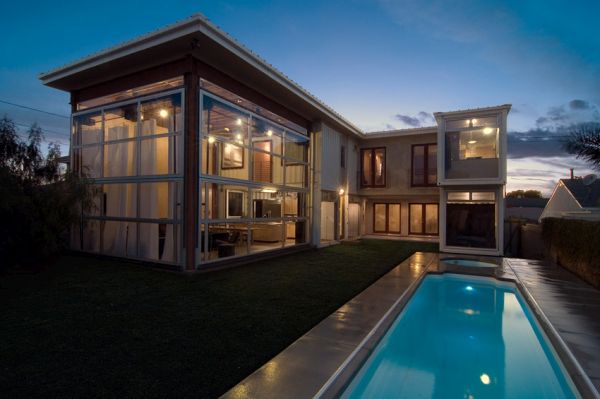 This is another modern living space carved out of eight steel shipping containers. The luxurious residence is none less than a showpiece that amazes all. Assembled in a shop, this home was built by recycling containers that are not only powerful, but are also resistant to fires, termites, and mold. In addition, one of these containers has even been used to make a private pool. Does that not sound amazing?
7. London's Container City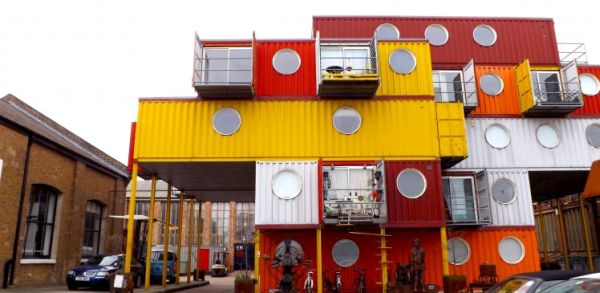 Urban Space Management came up with 12 innovative studios that later welcomed some more studios and apartments. These creative apartments were developed within a few months and that too at a very low cost. This city created out of recycled shipping containers and materials is friendly for the environment too. Furthermore, these container homes accommodate all regular amenities within to ensure a comfortable life.
8. Shipping Container House in Mojave Desert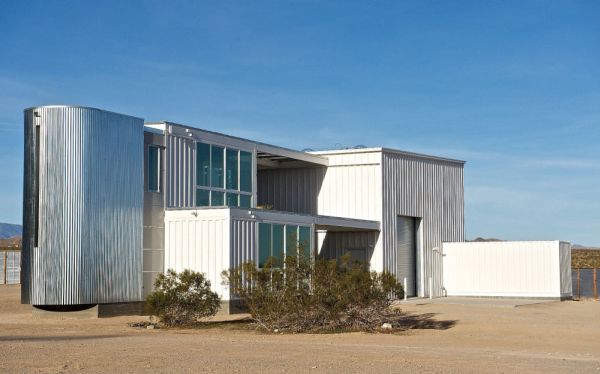 Developed by Ecotech Design, this house made of shipping containers is the first of its kinds in a desert. With an area of 2,300 square feet, this house includes a bedroom, large and small bathroom, and six container residences. The modern appeal and stylish looks of this container house can attract just anybody toward it. ‍Moreover, the home makes use of open space and natural light that simply adds to its sustainability.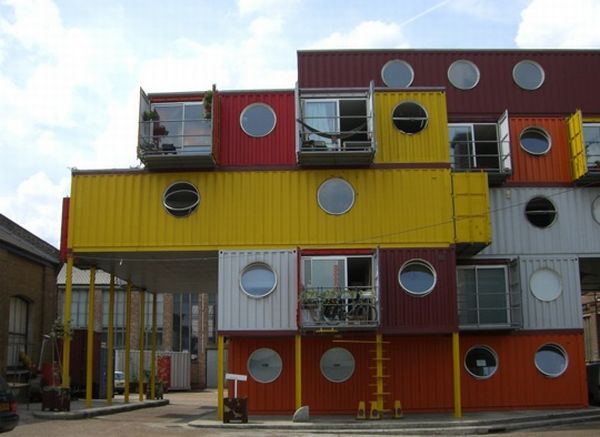 9. Container City, Trinity Buoy Wharf, London
Normally, a building could take months or maybe years to complete, but Container City took just four days for installation and further five months to finish. The residential and office space provided by this rises to four floors; and 20 containers have been used. Beautiful yellow, orange, grey and red tones make it warm and inviting.
10. Kalkin's Shipping Container Homes
Designed by Adam Kalkin from New Jersey, these recycled shipping containers are just like any home, have floors and beautiful, contemporary furniture. And the best part is that they hardly cost $1000 and are extremely durable.
11. Shipping Container Guest Houses
Enjoy luxury in the lap of nature with Poteet Architects' guesthouses! Made from shipping containers, these guesthouses are unique residential ideas for those who wish to live sustainably. Big, bright and bold colors make them irresistible and surrounding landscape contributes to the beauty.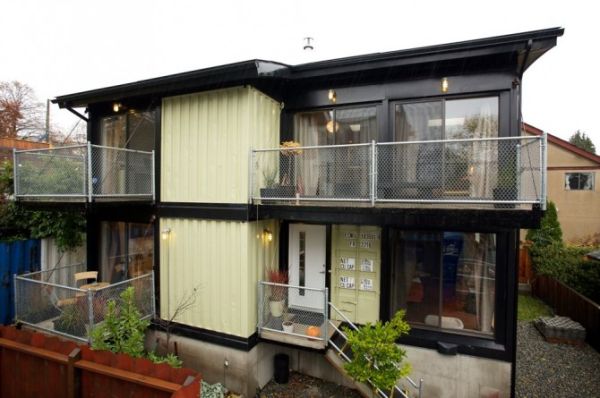 12. Zigloo Domestique
In Vancouver Island, Canada, you may find several affordable, designer shipping container living spaces that offer incredible, innovative living experience. The designer, Keith Dewey lives in one of those shipping containers with his wife and daughter. The home also includes balconies and staircases.
13. Painted Shipping Containers
A single shipping container may not have the required height. Therefore, to solve this problem, an architect created a home with two containers, thereby increasing height and width. Just like a normal home, this one too has vivid colors and incredible brightness with carefully chosen furniture for sophisticated and sustainable décor.
14. Maison Container
Designed by Patrick Partouche, this one is a complex shipping container home that looks nothing less than a traditional house. Covering an area of 2,240 square feet, the home has everything, including stylish staircases, spaces for luxurious sofas and beds along with metallic corners for industrial theme.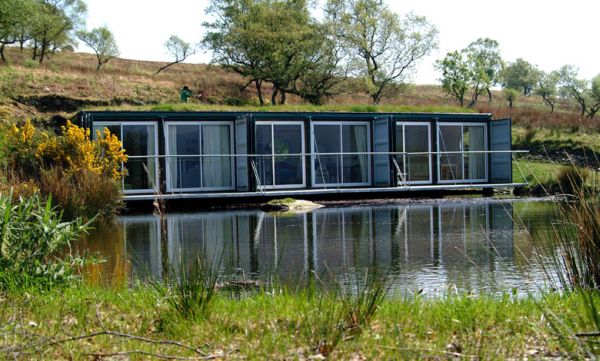 15. Cove Park
The cubes in Cove Park overlooking Loch Long in Scotland are made from shipping containers. The accommodation units are quite famous for their studio apartment styles and beautiful landscapes. Originally designed in 2002, now they have additional residential spaces.
Many people have been experimenting with old shipping containers and coming up with unique homes or structures. These structures are not just energy-efficient and eco-friendly, but also low-cost and beautiful.