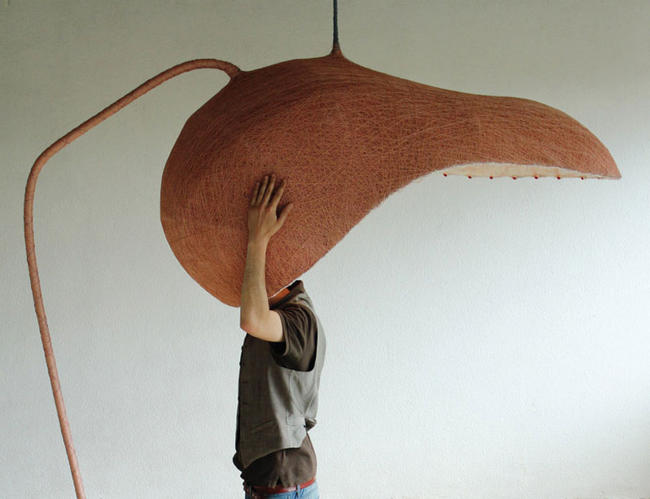 This work of of contemporary art is done by Italian designer Salvatore Franzese who first presented the innovative Procreation Lamp at the DMY Berlin 2011, along with two of his other works. The lamp actually is a symbolic representation of life that you can conceive through its simple, but at the same time unique, design. This resembles a pregnant belly (the suspended lamp shade) with an attached umbilical chord, which is connected to a chair that symbolizes the conceived object.
The whole design is basically centered around light and life. Hence, this is the lamp that provides light and nourishes life. The lamp is a creative piece that amalgamates the progression of life juxtaposed with an artistic representation of it. Franzese's Procreation lamp is an expression of the artist's desire to project himself by showing his evolution – just like procreation, the design is "conceived," then it is "born" and the idea comes out in the shape of the artist's creation!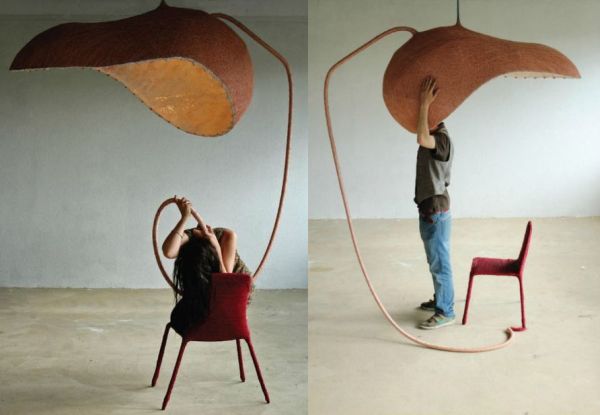 Franzese has given the lamp a very organic and textured look by wrapping thread to clothe the lamp – giving it a very natural and soothing quality. The Procreation Lamp will certainly light up anyone's home with its unique concept. However, some may not be able to understand the "umbilical cord" feature of the lamp. However, the concept and design look great and Franzese would also be coming out with a whole line of "conceived" furniture pieces soon.
Via: Salvatore Franzese